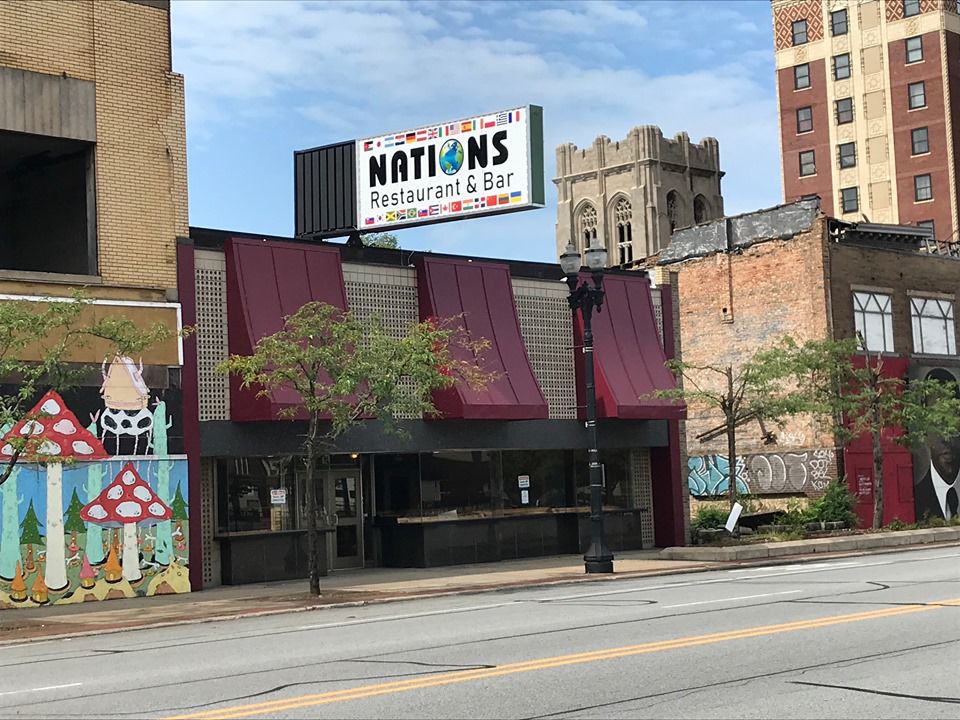 GARY — A local business owner is arguing a restaurant building in downtown Gary is worth $325,000 as he continues his fight against the local housing authority's efforts to physically take possession through eminent domain.
John Allen, operator of Nations Restaurant and Bar at 624 Broadway, says the owners deserved that amount in compensation from the Gary Housing Authority, according to an amended complaint filed in Lake Superior Court.
Tramel Raggs, attorney for GHA, said he could not comment on pending litigation. GHA has filed a motion to strike Allen's amended complaint and the next court date is not yet scheduled. 
Allen first filed a complaint Oct. 16 seeking to ban the Gary Housing Authority from holding a hearing to determine the building's value and take possession of the property.
A judge denied his request for a restraining order the day of the planned hearing, and GHA awarded 624 Broadway, LLC $75,000 in compensation.
"We didn't take the check. We mailed it back," Allen told The Times on Tuesday. 
A new appraisal by the Chesterton-based Gorman Group says the building, with the renovations made in the last year, is worth $325,000, he said.
The appraisal notes the entire interior space is newly renovated while noting the building foundation — original to the structure — has physical deterioration, records show. 
Allen is arguing that GHA wrongfully claimed in eminent domain proceedings that 624 Broadway is unsafe and must be demolished and fails to take into account restaurant renovations that make the building ready for business, records show.
Allen said GHA has little to show for its future plans for the block, whereas his business would put people to work and generate tax revenue for the city now. Allen said the economically depressed city is severely lacking in sit-down restaurants in the downtown area and Nations could be part of the revitalization of the Broadway corridor.
Proper notice
In his latest filing, Allen is also arguing he never received proper notice of GHA's intent to take possession and claims it illegally and unilaterally transferred the restaurant property out of his name.
Raggs has argued in court that the agency's only responsibility was to publish in the local newspapers, which they fulfilled.
Indiana code allows a municipality to acquire properties without a court order if it adopts a resolution, gives notice to the owners in a newspaper publication, holds a hearing to consider remonstrances and then takes final action, Raggs has said. 
Earlier this year, the Gary Housing Authority attempted to take the property through eminent domain action in the courts March 14, but moved to dismiss July 26. It was revealed in court last month that GHA quietly obtained 624 Broadway back in September, bypassing the need for a court order. 
Eminent domain law offers two ways to take property. One lesser-known method allows municipality agencies to take eminent domain action through administrative means. The second, more commonly known method, is through the courts. 
Allen said Wednesday he hasn't been allowed due process. He is making the argument that GHA cannot physically take control of 624 Broadway while the ownership is being disputed. 
"I'm still fighting this because we don't want to set the standard where agencies can do administrative seizures of properties owned by private citizens," Allen said. "This is an arm wrestling match for possession."
 Allen also claimed in court fillings that GHA acted unprofessionally and untimely in negotiations with HTO Investments, the building's previous owner, prompting HTO to sell the property to 624 Broadway, LLC. 
He claimed GHA issued its acquisition offer to HTO Investments LLC after it knew or had notice that HTO sold the property to 624 Broadway. 
Public records obtained by The Times largely dispute Allen's claims. Records show the GHA sent a purchase offer to HTO Investments on Jan. 11 and a scanned certified mailing of the offer was also sent to Allen as the firm's registered agent. Both were deliverable and returned to sender. 
HTO transferred the property to 624 Broadway three days later, on Jan. 14, according to the recorder's office.
In court last month, Raggs argued Allen inserted himself in eminent domain proceedings knowing the financial risks of renovating prior to his purchase of 624 Broadway because he knew negotiations were ongoing with HTO Investments and that property could be subject to a takeover. 
Sign up for our Crime & Courts newsletter
Get the latest in local public safety news with this weekly email.