HOBART — Convicted murderer Kelly M. Cochran referred to it as a game of chess.
But it was no game for retired Hobart police Detective Sgt. Jeremy Ogden, who interviewed Cochran for more than 100 hours and obtained her first confessions to the killings of her husband and a lover in Michigan.
"It was never a game," he said. "It was my job. I had to do things methodically to extract information from her about the different things that occurred."
In a bold move, Ogden carved a message into a tree where he knew Cochran, 35, would see it. The day she read it she began to tell Ogden what she had done.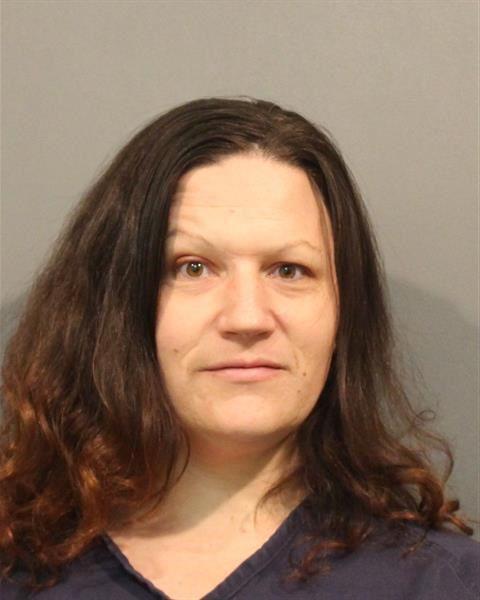 She already was serving a life sentence for killing and dismembering her lover, Chris Regan, a 53-year-old Iraq War veteran and father of two sons, in October 2014, in Michigan's Upper Peninsula.
As Ogden reflected on the investigation he, former Iron River Police Chief Laura Frizzo and others conducted, he said he always knew the key to learning the truth about what happened to Jason Cochran was getting Kelly Cochran to disclose the location of Regan.
It was the most important case of his 20-year career in law enforcement, he said.
Regan was a military veteran who was missing for 18 months. He disappeared days before a planned move to North Carolina with one of his two sons.
"He served his country for 20 years," Ogden said. "This man led a good life. He made a mistake by going out with her a couple of times and having a fling with her."
Authorities found Regan's skull and assorted bones in a heavily wooded area in Michigan in April 2016, after Kelly Cochran led them there.
It's not often in law enforcement that investigators have to deal with someone as calculating as Kelly Cochran, he said.
"Is it normal? No, this isn't normal," he said. "She's thinking about every move along the way."
Ogden didn't deny there have been suggestions of cannibalism in the case, but he declined to comment out of respect for Regan's family.
A silhouette in the window
Regan disappeared Oct. 14, 2014.
When police found his car, they discovered a written note with directions to the Cochrans' Caspian, Michigan, home, Frizzo said.
She sent two officers to the Cochrans' home that night. As they approached, a silhouette could be seen in an upstairs window.
Jason Cochran answered the door and became defensive with officers, telling them his wife wasn't home and had done nothing wrong.
Eventually, Kelly Cochran came downstairs and gave police an excuse for why her husband lied, Frizzo said. Within days, the Cochrans were interviewed by Michigan State Police at the Iron River Police Department.
"By the end of their interviews, I was convinced they were involved," said Frizzo, who watched on a monitor as she prepared search warrants in the case.
Frizzo continued with her investigation, eventually executing nearly 70 search warrants. Searches for Regan went on, often with the help of volunteers.
In March 2015, Frizzo executed a search warrant at the Cochrans's Caspian home. The couple, who both graduated from Merrillville High School, moved back to Northwest Indiana within days.
"They left everything behind in Michigan," Frizzo said. "They just bailed."
Hobart and Lake County detectives assisted Frizzo during three visits to Northwest Indiana, but Ogden didn't become involved in the investigation until after Jason Cochran's death in 2016.
Ogden, who was assigned to the Lake County/Gary Metro Homicide Unit, said the FBI notified Hobart police of an anonymous tip that foul play was a possibility in Jason Cochran's death.
Ogden called Frizzo, who immediately provided all of her documents and sent all videotaped interviews with the Cochrans.
Ogden said he was instantly impressed with Frizzo, who had pushed ahead with her investigation despite pressure to bring it to a close. Frizzo later was fired as Iron River police chief.
"People told her she was completely wrong," Ogden said. "They told her, 'Jason and Kelly didn't do this.'
"I knew she was right. When I started reading documents and watching videos, I knew she was right. I just knew it was going to be hard to get (Kelly) to tell us."
Kelly Cochran made so many conflicting statements. Many questions remain unanswered to this day.
"I wish I could have talked to Jason while he was alive," Ogden said.
Frizzo said, "I would have loved to have heard what the truth was out of his mouth."
Ogden attended Jason Cochran's autopsy in February 2016, where it was discovered Cochran had been suffocated. Investigators had been told he overdosed on heroin, and toxicology results later confirmed he was given three times the lethal dose.
Ogden didn't reveal what he knew to Kelly Cochran for months, he said.
Kelly Cochran never admitted to injecting her husband with heroin, saying only that she made sure his mother saw he was having trouble breathing before she smothered him with her hands in their bedroom.
After Ogden's first conversation with Frizzo, he stayed up until 4 a.m. reading documents. The next day, he watched interviews with the Cochrans. On the third day, he went to the Hobart home where Kelly and Jason had lived with Jason's family.
"It was a blizzard out," Ogden recalled. "As I was walking up the drive, Kelly approached me and said, 'Who are you? What are you here for?'
"I said, 'I'm here to investigate your husband's death,' " Ogden said.
He explained it was protocol to investigate, because Jason Cochran was a young man.
Kelly Cochran repeatedly asked Ogden if he was there to ask her about anything else, he said.
"I said, 'It's really odd the way you're acting. Is there something else I should be asking you about?' " he said.
Ogden asked to go inside, citing the blizzard. Kelly Cochran agreed, and Ogden and another detective sat with Jason Cochran's parents at the kitchen table.
Ogden asked to see the room where Jason died, but Kelly protested. It was too filthy, she said.
"I said, 'I've seen some really bad places, and I don't think it's that bad,' " Ogden said.
They went to the room and began to photograph it. Kelly Cochran asked if they planned to search the room, and Ogden said no.
"The funny thing was the room was pretty immaculate," he said. "There was nothing out of place. I knew right then, there's a lot to this."
'I know what happened in Michigan'
Ogden told the family he needed to interview them, but could wait until after Jason Cochran's funeral out of respect for them. He attended Jason's funeral.
"I hugged her and told her I was sorry for her loss, even though I knew what had happened," he said.
A forthcoming documentary suggests a Hobart woman who's serving a life sentence in prison for her role in two killings may have been a serial …
Ogden knew, after watching previous interviews with Kelly Cochran, she would have to want to talk to him. At the end of his first interview with her, he made a nonchalant statement about something he'd been about to say.
"I said, 'Ah, forget it. You know, I'd rather not say it, because I don't want us to get off on bad terms.' "
Kelly Cochran told him if he wanted her to respect him, he needed to say it like it is.
"I said, 'You asked me if I was there to ask you questions about something else. I know what happened in Michigan.' "
Ogden told her she would tell him what happened to Chris Regan by the time they were done.
"She just sat there and looked at me," he said.
He allowed her to leave. Within 20 minutes, she called to set up another appointment to talk.
The letter that never was
Kelly Cochran didn't like to talk at the police station, so Ogden met her at restaurants, conducting about 40 interviews with her.
"I kept building that relationship with her to try to get her to tell the truth about what they did to Chris Regan," he said.
By early March, he felt he had to do something to make her "squirm." He came up with an idea: He would have one of the Cochrans' acquaintances in Michigan call Kelly and tell her Jason had sent him a letter two weeks before Jason's death.
When the acquaintance called, he told Kelly Cochran he'd received a letter with another letter sealed inside. He said Jason Cochran asked him not to open the second letter and send it to the Iron River police, attention Laura Frizzo.
"Right out of the gate, she's like, 'What? Get rid of it, throw it away,'" Ogden said. "You could hear her sigh."
By the end of the conversation, she was saying, 'Do what you have to do,' " he said.
She later called the acquaintance several times, telling him to get rid of the letter. Each time, the man told Kelly Cochran that Jason had been his friend and felt he needed to forward the letter to police.
"So now, I've put into play, this letter that supposedly was going to reveal what happened to Chris Regan," Ogden said.
Other investigators had doubts about the tactic, but Ogden suspected Kelly Cochran would feel she needed to get out in front of the letter.
Soon after, she began to answer Ogden's questions about blood in her Michigan home and her truck.
All the while, Ogden tailed her as she visited Jerry Pavese Park on Lake George in Hobart.
From a distance, he watched her sit next to the same tree during every visit. When he went into the woods alone, he found the tree had been struck by lightning in the past. Its charred remains were scattered among the debris on the ground.
"When I saw her at this tree, I just felt there's something to this spot," he said.
On March 23, 2016, he traveled to Iron River, Michigan. Frizzo showed him around, and he got a lay of the land. The forest was so vast, he realized then how Regan could have vanished.
He returned to Hobart two days later.
The following morning, he was preparing to visit the gym when he decided to grab a knife and carve a message into the tree to which Kelly Cochran was drawn.
"I ran in here," Ogden said, standing in the woods near the tree where he carved "Chris is here" March 26, 2016. "I carved it at 5 o'clock in the morning."
Nearby, he carved "Regan" down another tree, but then took all the bark off afterward.
For several days, he watched the weather in an attempt to predict when Kelly Cochran might see the message.
On March 29, 2016, the weather was good and Ogden had to be in court in Crown Point for a hearing. He was in a hallway when he was told the hearing had been continued.
He immediately headed to Hobart.
As he was driving across the bridge on Third Street, he could see Kelly Cochran's white truck parked, as usual, by the scout cabin in the park. He arrived at the spot where he would watch her, and saw her.
She was running out of the woods.
He got back in his car and attempted to follow her, but she disappeared.
True Crime delivers some of the Region's worst tales of murder, deceit and betrayal. Check out this slideshow to see where the cases stand.
That day, he went to tell Jason Cochran's family what he suspected. As he sat with them, Kelly Cochran began texting him. She wanted to talk.
Ogden went to meet her at Veterans Park, but she was asleep in her truck and couldn't be awakened. He called for an ambulance.
Medics checked her and determined she was just tired. Ogden stood outside her truck and talked to her until nightfall, then asked her to join him at Lake Park Cafe. She agreed.
As she had before, she told Ogden, "If you tell me what happened to my husband, I'll tell you what happened to Chris Regan," Ogden said.
He'd never answered her before, because he wasn't ready.
"I knew this was the time, so I answered her," he said.
He told Kelly Cochran he knew she was the only person in the room with Jason at the time of his death.
"I told her, 'But the person who overdosed him couldn't wait for him to die,'" Ogden said.
The person who overdosed him also suffocated him, he told her.
It was then that she claimed Jason Cochran killed Regan, cut up the body and disposed of it, Ogden said.
"She was trying to play the role of victim the whole time," he said.
'This is the game she plays'
That night, he drove Kelly Cochran back to Iron County, Michigan.
She asked for immunity from prosecution in Regan's killing. Ogden threatened to drive her back to Indiana, Frizzo said.
She then misled investigators, promising to take them to Regan's body but instead led them somewhere else.
"This is the game she plays," Frizzo said of Cochran who holds a bachelor's degree in psychology with a minor in forensics. 
"She doesn't care. She took us to a location close, but not where we needed to be. So here I am with an evidence response team. The FBI comes up from Detroit, there are all these dog handlers."
The That's So Region panel discusses an upcoming documentary that alleges, among other things, that a Hobart woman may have served human remai…
Ogden brought Kelly Cochran back to Indiana. On April 27, 2016, he was scheduled to interview her yet again, but she put him off.
She texted him the next day, "The West Coast looks good in the morning."
"I texted her back I didn't know it was going to be this way; game on," he said.
He tracked her to Kentucky, and the U.S. Marshals Service set up outside her location. Meanwhile, Frizzo swore out an arrest warrant in the Regan case.
With warrant in hand, the Marshals Service took Kelly Cochran into custody April 28, 2016.
Ogden traveled to Kentucky the next day, but had to terminate an interview after she claimed she'd taken medication before he arrived. The following day, she offered up more confessions, Ogden said.
Authorities still had not located Regan's body, though.
After Kelly Cochran's arraignment in Iron County in mid-April, she again agreed to take authorities to Regan's body. But first, she had a request.
She wanted to talk to Ogden.
'Play well with others today'
Ogden was in the dentist's chair when the call came. He hurried home and spoke with Kelly Cochran for nearly an hour, he said.
"She admitted more to killing her husband," he said. "At the end, I told her, 'Be good, play well with others today.'"
This time, she immediately identified the location of Regan's body, Frizzo said. In fact, she took investigators on a "field trip."
She agreed to disclose the location of Regan's camera, his phone and parts of the gun used to kill him.
When they arrived at her Caspian home, she pointed out a pair of forceps. Frizzo previously had executed search warrants at the Cochrans' home with Michigan State Police and the FBI, but the forceps had never been collected.
They were the only evidence ever found to have Regan's DNA on them, Frizzo said. Kelly Cochran told Ogden she used them in an attempt to extract a bullet from Regan's skull.
"She's actually standing there, eating a piece of pizza," Frizzo said, explaining how she asked Cochran about the forceps. "'Yeah, there they are, there you go,' she says. And there they are, right on the kitchen counter."
Everything Kelly Cochran told Frizzo that day was accurate, so Frizzo believed Kelly Cochran when she said, "I choose my victims by opportunity."
The detectives said they still don't know for sure how Regan died.
Kelly Cochran claimed she had a pact with her husband to lure Regan to their home for sex, and Jason shot Regan while she and Regan engaged in the act.
Ogden said it's possible Kelly Cochran killed Regan alone, and her husband just helped dispose of the body.
So many unanswered questions 
Ogden and Frizzo will be featured in the Investigation Discovery documentary, "Dead North," which will include video footage of a suggestion that Kelly Cochran killed up to nine people.
The detectives were reluctant to put a number on how many other victims there may be, partly because of Kelly Cochran's deceptiveness. Some of her claims have been investigated with negative results.
They agreed there likely are more, however.
"There is a possibility of other victims," Ogden said. "There were things she inadvertently said, and I didn't realize at first."
He noticed only after going back and watching videos again.
"I'm like, 'Oh, my God, what did she just say?' "
Jason Cochran suffered from mental issues after Regan's disappearance, Ogden and Frizzo said.
"By the time he died, his mind, he was really a mess emotionally," Frizzo said. "He did so much for her, and she still treated him horribly."
Ogden and Frizzo agreed Kelly Cochran is now where she belongs — in prison for life.
Without the cooperation between departments in two states, "I would be chasing her still," Frizzo said.
The Investigation Discovery documentary is set to air from 10 p.m. to midnight May 28 and 29. Ogden and Frizzo also will be appearing on national news shows.
But perhaps most of all, the two detectives are happy they were able to help Regan's sons find some closure.
"They're just great kids, and I'm happy I was able to help them," Frizzo said.