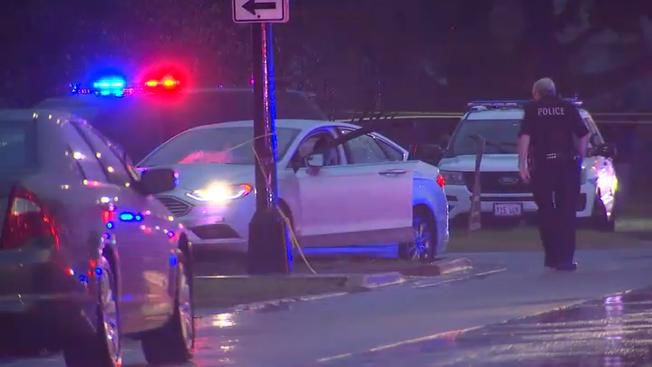 HAMMOND — A 22-year-old woman with a gunshot wound and 3-year-old child injured in a crash were taken to hospitals Saturday after a police chase involving a car suspected in an earlier crime spree in Hammond ended in Chicago, police and fire officials said.
A Hammond police officer was injured before Hammond police fired shots, Lt. Steven Kellogg said.
A spokesman for Chicago police said a shot fired by Hammond police injured a suspect. A fourth man also was taken to a hospital, according to the Chicago Fire Department.
The officer's injuries were not life-threatening, Kellogg said.
A man and woman were taken into custody after the chase ended in the area of 80th Street and South King Drive on Chicago's South Side, Kellogg said.
The pair first came to the attention of Hammond police about noon Saturday, when officers responded to the 6400 block of Indianapolis Boulevard for a report of an armed robbery, Kellogg said.
Two men, age 66 and 73, told police they stopped for a train blocking the road and got out of their truck to get a water bottle from the truck bed.
As they were standing outside the truck, a gray or silver Chevrolet sedan stopped behind them. A man exited from the sedan's passenger side and approached them holding a black semi-automatic gun in his hand, police said.
The man announced a robbery and racked the slide on his gun when the two victims didn't initially empty their pockets. The victims handed over their belongings and the man got back into the sedan, which traveled west on 165th Street toward Indianapolis Boulevard, police said.
A short time later, police were called to the area of 173rd Street and Calumet Avenue for a report of shots fired.
A woman at that location told police she turned south on Calumet from 169th Street and was cut off by a newer-model silver or gray sedan, Kellogg said.
The woman described the sedan's driver as a black woman in her 30s with straight black hair. The sedan's passenger was described as a black man, 30 to 35 years old, 6 feet tall with a stocky build, a medium complexion, a short beard and white tank top.
The woman told police the man got out of the sedan while she was stopped for a light at Calumet and 173rd Street and began yelling at her while holding a black semi-automatic handgun, Kellogg said.
The man fired one round at her car before the sedan continued south when the light turned green, police said. 
The bullet damaged the woman's car, but did not hit her.
The same woman called police again about 4:45 p.m. Saturday to report the alleged shooter was in the area of 169th and Calumet, Kellogg said. Officers arrived and found the man, who ran and got into a vehicle matching the description from the earlier incidents.
A woman was driving the sedan and refused to stop for police, Kellogg said.
Hammond police chased the car into Illinois, because it was believed to have been involved in two felonies earlier in the day, he said.
When the vehicle stopped at 80th and King Drive in Illinois, a Hammond officer was injured before Hammond police fired shots.
The Hammond officer's injury was not life-threatening, Kellogg said.
Check back at nwi.com for updates to this story.
Sign up for our Crime & Courts newsletter
Get the latest in local public safety news with this weekly email.