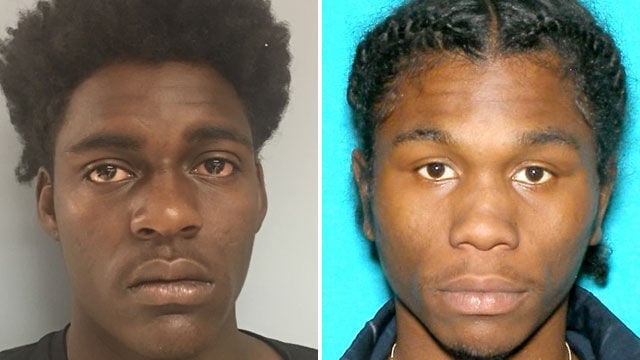 CROWN POINT — The homicide of a Gary man gunned down Feb. 3 inside an apartment in Gary's Miller section has "significantly complicated" the state's case against several of his co-defendants, a deputy prosecutor said.
Cameron Briscoe, 20, was expected to serve as a state's witness, Deputy Lake County Prosecutor Timothy Brown said during a hearing Friday for Briscoe's co-defendant Fo'Tre White.
Briscoe; White, 22; and Kevon Dixon, 21, each were charged in the Feb. 21, 2017, shooting of retired Gary police Capt. Charles Austin in the city's Glen Park section.
Briscoe and White told police they broke into Austin's home with two other men. Austin confronted them with a pistol, but it misfired, and Dixon shot the retired captain in the stomach and White in the wrist, according to a probable cause affidavit.
As White attempted to retreat out of Austin's house, he fell through a hole in a porch and down into a basement area. Briscoe told police White's gun appeared to be jammed. Police found a magazine from White's gun in Austin's home, records say.
A police K-9 tracked a blood trail from the retired captain's residence to a home in the 200 block of West 41st Avenue, where police arrested White and Briscoe. The pair each agreed to to talk with police after being advised of their civil and constitutional rights, records say.
One of the other men with Briscoe, White and Dixon was Tarence M. Smith, 22, who was charged along with Briscoe and Dixon in a robbery of a 17-year-old boy the same day Austin was shot, records show.
Briscoe and White each named a fourth suspect, whom they alleged remained outside Austin's residence, but that man has not been charged in connection with the case.
White and Dixon have been in custody since August, according to police and court records.
Lake Criminal Court Judge Clarence Murray sentenced Dixon on Aug. 17 to six months in jail for "extremely disruptive and combative behavior" in a holding cell. Dixon remained in custody Saturday, Lake County Sheriff Oscar Martinez said.
Smith, who has been wanted on a warrant since Jan. 15, failed to appear for a court hearing Friday before Murray.
White appeared in custody with his attorney, John Cantrell, for a hearing before Murray Friday.
Cantrell told the judge he had anticipated having a plea agreement ready, but Briscoe's homicide and other factors caused a delay. 
"There are just some things going on that prevented us from getting it done," Cantrell said.
Deputy Prosecutor Brown said Briscoe's homicide "significantly complicated the case." A change in the lead prosecutor also has contributed to a delay, he said.
Cantrell said he hoped to have a plea agreement ready by White's next hearing Feb. 15.
Austin, who retired in 2016 after a decorated 40-year career with the Gary Police Department, underwent four surgeries to recover from the shooting. He said the bullet tore through his stomach, hit his pelvic bone and exited his back.
Austin was the first black officer assigned as an instructor for the Northwest Indiana Law Enforcement Academy and spent 23 years as a resource officer for the Gary Community School Corp. He had been injured on the job, but never shot.