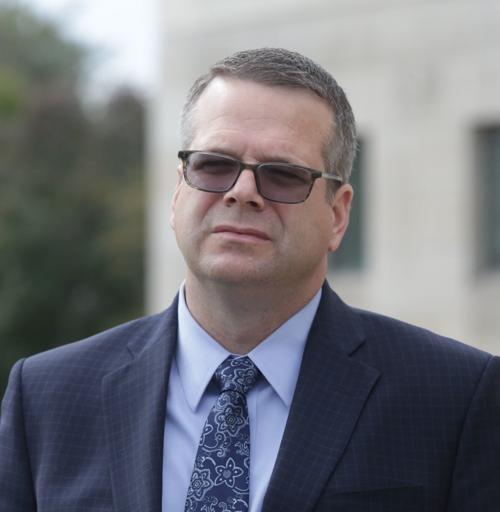 HAMMOND — Porter County Assessor Jon Snyder, who helped feds nab his brother — former Portage Mayor James Snyder — was given probation over a federal tax violation. 
U.S. District Court Magistrate Judge John Martin granted Snyder's request Tuesday to spare him prison time.
Jon Snyder will remain free to continue in office as county assessor as well as run his private assessment business under a one-year term of probation.
Jon Snyder pleaded guilty Oct. 30 to a misdemeanor count of failing to file an IRS tax form for the $6,000 he paid in 2013 to an independent contractor in connection with his private business, Shoreline Appraisals of Portage.
Jon Snyder, 42, a husband and father of 10 children, had no prior criminal history. He has been the Porter County assessor since his first election in 2010.
Voters reelected an unopposed Jon Snyder last year to a new four-year term, a week after his guilty plea.
His defense attorney, Matthew Fech, and Assistant U.S. Attorney Philip Benson both recommended the judge grant Jon Snyder leniency under the terms of a plea agreement.
They said he readily admitted his wrongdoing and cooperated with federal investigators since 2012 following probes into his financial doings and an investigation into his county office over allegations someone in the office was fixing assessment appeals.
Jon Snyder also informed on his brother and testified against him during a 19-day trial earlier this year.
A federal jury convicted James Snyder on Feb. 14 of accepting a $13,000 bribe from former Great Lakes Peterbilt owners Bob and Steve Buha in exchange for $1.25 million in garbage truck bids. They also found James Snyder guilty of a tax obstruction charge in which he was accused of creating a sham company to hide money from the IRS.
Jurors acquitted James Snyder of a third charge, alleging he accepted a $12,000 bribe from former co-defendant John Cortina and Samson Towing owner Scott Jurgensen, also an undercover FBI informant, to put the duo on the city's tow list.
The federal prosecutor said Jon Snyder's cooperation with the government included wearing a wire and made numerous recordings of Cortina and James Snyder.
James Snyder maintains the money paid to him was legitimate campaign contributions. He has asked a judge to overturn his convictions.
Cortina pleaded guilty Jan. 11 to paying a bribe to the former Portage mayor. He is scheduled to be sentenced Oct. 1.
James Snyder is scheduled to be sentenced Sept. 24.