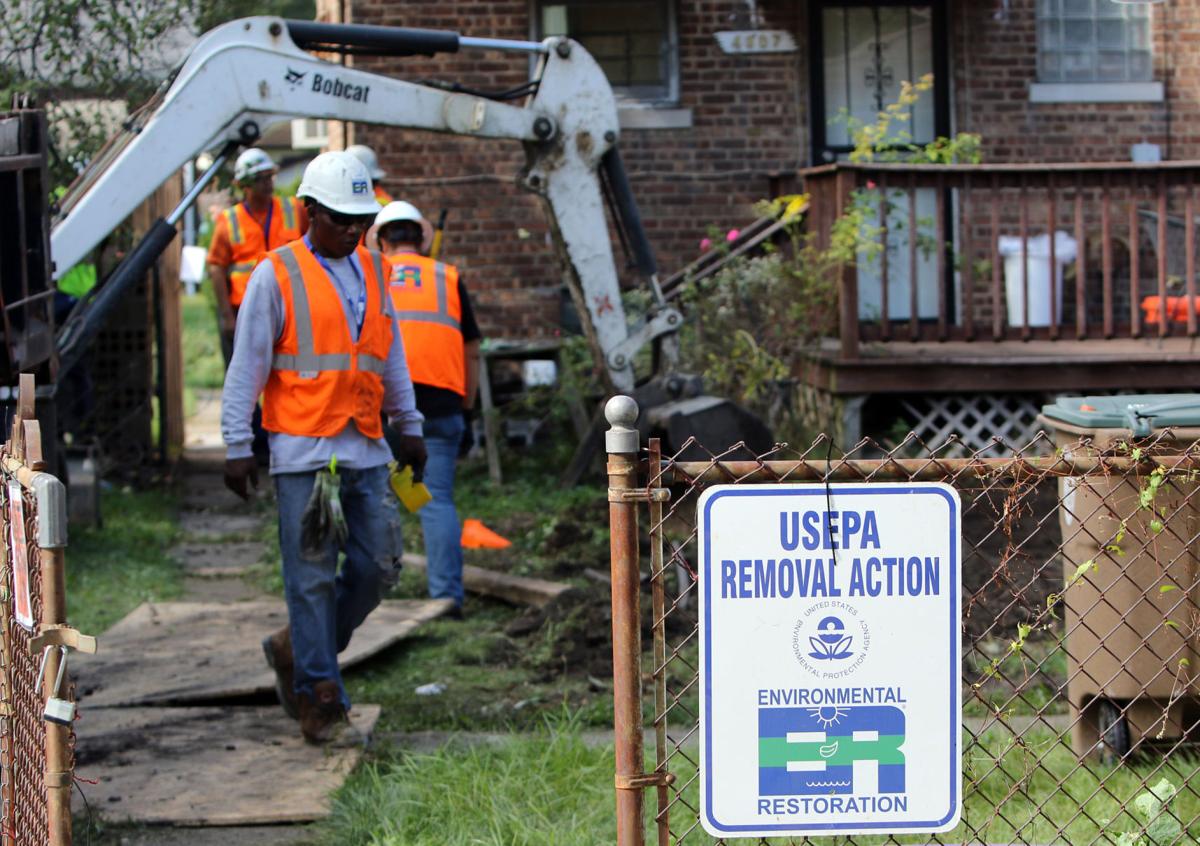 EAST CHICAGO — Low-income, minority homeowners living in the contaminated USS Lead Superfund site who sued big-name polluters in late 2017 are now fighting in federal court to keep their lawsuit alive.
"This case lays bare one of the most pernicious effects of racial inequity — environmental violence. As the country struggles to recognize and solve these problems, the judicial system, generally, and the causes of action pled by plaintiffs, particularly, provide the only remedy for the specific injustices identified here," wrote David Chizewer, attorney with Goldberg Kohn, a Chicago law firm working pro bono for East Chicago residents.
The lawsuit was first filed Oct. 31, 2017 in U.S. District Court for the Northern District of Indiana.
Chizewer filed opposition to the companies' motion to dismiss on Aug. 21.
The original suit claimed polluters like DuPont/Chemours, and Atlantic Richfield that are associated with severely contaminated yards and homes are responsible for declining property values, emotional distress and difficulty in selling their homes to leave the toxic neighborhood.
EPA listed three neighborhoods — West Calumet, Calumet and East Calumet — as a hazardous Superfund site in 2009, but residents argue they didn't learn the full extent of the problem until East Chicago Mayor Anthony Copeland announced the evacuation of more than 1,000 people from the West Calumet Housing Complex in July 2016.
In the opposition filing, 46 residents and Chizewer urged Judge Joseph S. Van Bokkelen to not dismiss the three-year-old case, arguing they are entitled to recoup for the damage done and the emotional distress caused by "decades of environmental havoc" caused by lead smelting, refining and manufacturing.
"In the course of poisoning the properties of the East Chicago residents, defendants pocketed billions of dollars in profit. Yet, defendants ask this court to excuse them from any liability to the homeowners whose properties defendants so badly contaminated," Chizewer wrote.
The Chemours Co. founded in 2015 as a spin-off from DuPont — and DuPont filed a motion to dismiss the case on July 31.
Companies argue statute of limitations
The companies argued the homeowners are well beyond the statute of limitations for suing them for "long-ago manufacturing operations" and that an EPA-led government cleanup is underway.
Chizewer argued that DuPont and Chemours have asked the court to relieve them of their responsibility and liability for "reasons that are both morally and legally bankrupt."
"This Court should consider when was the last time it checked the Federal Register to see if its property had been contaminated," Chizewer countered.
In 2016, Superfund site residents unsuccessfully attempted to intervene in EPA's consent decree court proceedings to ensure EPA's cleanup adequately protected them, but the court rejected the move as untimely, arguing residents received notification years prior.
The companies, in their court filing July 31, note a proposed cleanup plan was mailed to every residence within two miles of the contaminated Superfund site, a public meeting was held July 25, 2012, and the notice was also published in the Federal Register in September 2014.
DuPont asked the courts to dismiss the case because they provided "no facts on when the DuPont conduct occurred; where the DuPont conduct occurred; who at DuPont took part in the conduct; what was wrongful about the DuPont conduct; and how the DuPont conduct supposedly caused plaintiffs' alleged injuries."
"Plaintiffs acknowledge that DuPont Defendants, ARCO, and U.S.S. Lead operated different facilities that manufactured different products, at different times and in different locations … but they resort to insufficient conclusory allegations that the companies are collectively liable for plaintiffs' alleged injuries," the DuPont defendants wrote.
The parent companies of USS Lead — Mining Remedial Recovery Co., Arava Natural Resources Co. Inc., and Mueller Industries Inc. — originally were listed as defendants in the Oct. 31 filing, but plaintiffs voluntarily dismissed their complaint against them.
DuPont manufactured lead arsenate, zinc oxide and zinc chloride from 1893 until 2000 at 5215 Kennedy Ave., blocks away from plaintiffs' homes, according to EPA records.
Airborne contaminants to blame, suit says
The suit claims the companies trespassed on properties with the release of airborne contaminants that settled into soil and through soil fill contamination in yards. DuPont, in particular, remains an ongoing source of groundwater contamination in the area, the suit alleges.
Citing the Indiana Court of Appeals' decision in KB Home Indiana Inc. v. Rockville Tbd Corp., companies fought against the trespassing claim, arguing the defendants have long ceased operations. To uphold a trespass claim, plaintiffs must possess the land during the alleged trespassing, the companies argue.
In his latest filing, Chizewer argues against the defendants' notion that they escape responsibility because it's impossible to know whether the lead and arsenic contamination in the soil can be traced back to a particular company.
"In other words, if the lead and arsenic that Defendants deposited into Plaintiffs' soil and groundwater was not specifically branded as 'DuPont contamination' or 'ARCO contamination,' then all defendants magically escape responsibility. These arguments and others like it are not just legally meritless, they are deeply misguided. Indeed, they further evidence that Defendants have embraced the deep-seated inequities in need of correction. Defendants' motions to dismiss should be denied, and this case should move forward immediately," Chizewer said.