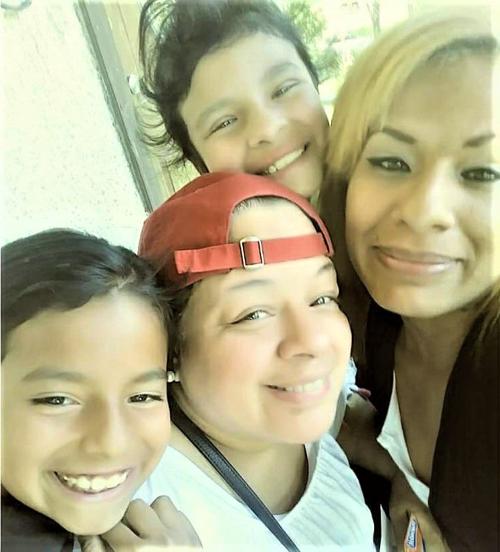 CROWN POINT — A Gary man faces a murder charge in the high-profile disappearance of an Illinois woman who was reported missing late last month.
Drew "Tiny" Carter III, 41, of Gary, is charged with murder in the Feb. 25 disappearance of Jessica Flores, 36, of South Chicago Heights.
A second woman, Melina Cottrell, 26, of Gary, who reportedly was last seen with Flores in late February and also was considered missing, has been located, police said Friday.
The case became somewhat confused Friday when Gary Mayor Karen Freeman-Wilson's office issued a plea for public help in locating Cottrell, even indicating that police would lead a search party for her Sunday.
Detective Ed Gonzalez confirmed Cottrell is safe and no longer missing.
Meanwhile, Flores' body still has not been found, Lake Criminal Court records state.
Flores's sister, Maddy Perez, said she still has faith her sister may be still alive. At noon on Sunday, Perez said, she is organizing a search party that will start from the Gary Police Department at 555 Polk Street.
"We are going to find her," Perez said. "They don't have DNA results as proof or a body. I have faith she is still alive."
Flores is a mother of six children, including a son as young as 8 years old.
"It's hard, but I have to be strong," Perez said. "I have to be strong for the family. It's been horrible. We've not been able to sleep. We are just running on nerves."
The case against Carter was unsealed Wednesday, after his arrest.
Also, a potential witness in the case, George Heath, was found dead from a gunshot to the back of his head Monday at his home in the 3100 block of West 22nd Avenue, court records allege. Heath's homicide remained under investigation Friday.
Police say a female witness in the case met up with Flores on Feb. 24 in Gary, went with Flores to her home in South Chicago Heights and then returned to Paradise Lounge in Gary to meet up with a friend of Flores.
At the request of police, The Times is not identifying the witness for the witness's protection.
The friend never showed up, so Flores and the witness went to Heath's home, where Flores introduced the witness to Carter.
At one point, Carter and Flores began to argue about another woman, court records allege.
At one point, Flores decided to leave, police said, but Carter followed her out and persuaded Flores to allow him to enter her vehicle.
Carter then promised to get Flores and the witness cocaine and drove them to a residence off 10th Avenue and Clark Road.
The three drove back to Heath's residence, but Heath, who was later found dead, did not open the door, court records allege.
At that point, Carter drove around the neighborhood several times while arguing with Flores. Carter asked if he could have sex with the witness, and Flores told him no, court records allege.
The witness told police Carter stopped the vehicle, turned around and shot Flores — who was in the backseat — one time with a revolver, court records state.
Flores slumped to one side.
The female witnesses bolted from the car and attempted to run, but Carter tackled her, according to court records.
Carter then drove the witness back to the home near 10th Avenue and Clark Road, leaving Flores' body in the car as they went inside, court records state.
Carter allegedly provided crack cocaine to the witness and asked her to have sex, police allege.
But the witness refused and instead listened to him talk until he fell asleep. At that point, the witness escaped from the home, police said.
The witness told police she did not immediately report Flores' killing because the witness is a drug user, did not want to get in trouble and feared for the safety of family members.
Flores' boyfriend filed a missing persons report with South Chicago Heights police Feb. 25. That same day, police found the boyfriend's white 2010 Nissan Altima on Chicago's South Side.
The vehicle had been set ablaze, and police found a large amount of blood in the rear passenger area, court records state. Some of Flores' belongings also were in the car.
Police conducted a search of Gary on March 7 but did not locate Flores' body.
A forensic pathologist with the Lake County coroner's office reviewed photos of the car and concluded the blood spray pattern was consistent with an injury to an artery. Such a wound would be fatal without immediate medical attention, the coroner's report concluded.
Perez said she has disputes with the story reflected in the police report, saying people have told her contradicting information that does not match what the witness told police.
She said she believes further evidence, aside from the witness's testimony, allegedly tells a different story of her the events surrounding her sister's disappearance.
She said she fears human trafficking could be a factor, thinking her sister could be being confined against her will.
Anyone with information about the location of Flores' body or Heath's homicide is asked to call Detective Ed Gonzalez of the Lake County/Gary Metro Homicide Unit at 219-755-3855. To remain anonymous, call 866-CRIME-GP.
Anna Ortiz contributed to this report.
Sign up for our Crime & Courts newsletter
Get the latest in local public safety news with this weekly email.