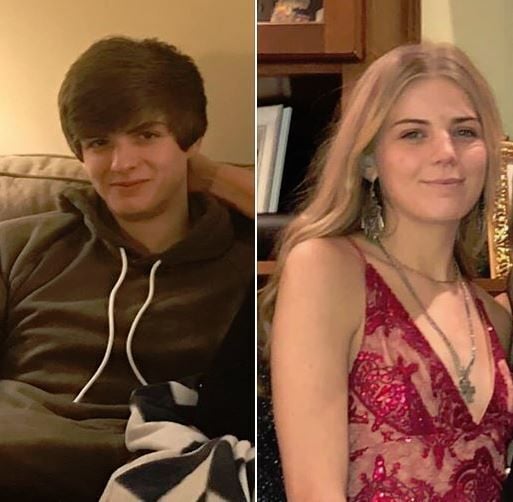 VALPARAISO — Connor Kerner told fellow Valparaiso High School classmate John Silva II that he intended to rob a couple of young people from Lake County and then wanted Silva to kill them, according to a murder charge document released Tuesday.
Kerner then played a song with the words "the end" as they drove to the alleged murder scene, and after the music stopped, told Silva, "This is going to be their end," the document reads.
Silva, 19, of Hamlet, who was booked into the Porter County Jail shortly before 1 p.m. Saturday, has been charged with two counts of murder in perpetration of a robbery, according to legal records.
He is scheduled for an initial hearing on those charges Thursday morning before Porter Superior Court Judge Roger Bradford via a teleconferencing system from the jail.
His co-defendant in the case, Kerner, has been held without bond at the jail since March 2, 2019, and faces two counts of murder in the Feb. 25, 2019, killings of 18-year-old Thomas Grill Jr., of Cedar Lake, and 19-year-old Molley Lanham, of St. John.
Silva, who initially told police he was not present during the killings, reportedly later admitted to leaving high school with Kerner on Feb. 25, 2019, and traveling together to Kerner's grandparents' home in Boone Township.
Silva said he turned off his location service setting on his cellphone and saw Kerner retrieve a black handgun from the glove box of his vehicle before entering his grandparents' home, according to charging documents.
Silva said he went to the basement of the home and heard Kerner meeting with two people before hearing six gunshots and Kerner yelling, "John, John," police said.
When he entered the home's garage, Silva said he saw Lanham lying motionless face down and Grill lying face down but alive and making noises, according to charging documents. While wiping up blood with towels provided by Kerner, Silva said he saw Kerner "grab a wrench and his back swing prior to striking Thomas."
Kerner handed Silva the gun on a towel and he placed it in a trash bag with the bloody towels, police said. Silva said he saw Kerner with a second firearm — a CZ9 handgun — but never saw it before and did not touch it.
The Indiana State Police lab later found Silva's DNA on the CZ9's grip, trigger and slide, according to court documents. The weapon was later determined to belong to Kerner's grandfather, records show. 
Silva reportedly told another person that after leaving school that day with Kerner, Kerner was playing the song "Last Memory" and that Kerner told him, "This is going to be that kid's last memory," according to charging documents.
Kerner reportedly told a confidential informant he shot Grill after Grill tried to rob him during a drug deal in the garage of Kerner's grandparents' home, according to the records.
"Grill fell to the ground and was begging for his life," according to the records. "Kerner advised that he panicked due to being out of bullets in the gun. Kerner then beat him (Grill) with a pipe wrench until he died." 
Lanham, who accompanied Grill, was shown Grill's body and told by Kerner that she could leave but would be killed if she told anyone, police said. 
"Kerner advised that when she turned to leave the garage, Kerner shot her in the head, killing her," according to charging documents. Police said a 9mm handgun and two magazines were missing from the home.
Kerner is alleged to have loaded the bodies of Grill and Lanham in the trunk of a Honda Civic following their slayings, along with various containers of flammable liquids and setting the vehicle on fire, authorities said.
Kerner, who is now 19, has pleaded not guilty to the two counts of murder and felony counts of intimidation and arson.
Kerner is seeking to have his case moved out of Porter County, arguing he cannot receive a fair trial because of publicity and public outrage. A hearing on that request, which was scheduled to take place Tuesday, was postponed until June 3.