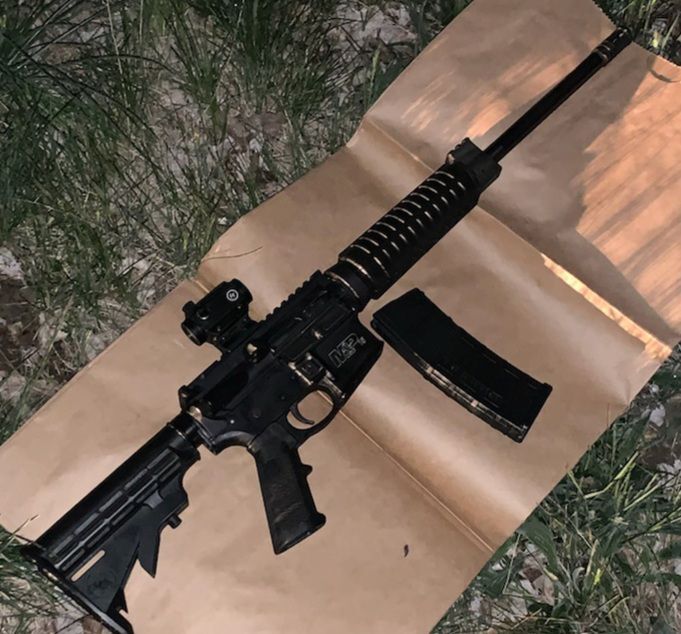 GARY — A driver's failure to stop at a traffic light prompted a traffic stop late Wednesday that eventually led to a pursuit in which 30 rounds were fired from an AR-15 rifle at Lake County police, officials now say.
Police were still searching Thursday afternoon for a passenger who allegedly shot the gun at officers, striking a Lake County squad car, according to the Lake County Sheriff's Department.
A Lake County officer first made contact with the two suspects — a male driver and male passenger — about 9:42 p.m. Wednesday when they were seen traveling in a black Dodge northbound in the 400 block of Adams Street and failed to stop at a traffic light at the intersection of West Fourth Avenue and Adams Street.
The officer then followed the suspects as they headed westbound on Fourth Avenue, traveling about 50 mph in a 35 mph zone. That's when a traffic stop was initiated.
The driver stopped on West Fourth Avenue and Harrison Street and slightly rolled down his window when ordered, but then took off westbound, prompting a pursuit, police said.
A second officer joined the pursuit near Grant Street.
The Dodge was later seen stopped near West Fourth Avenue and Durbin Street, where an officer had attempted to position his squad car to stop the Dodge before the passenger got out of the car and opened fire, police said.
At least four shots struck the Lake County police vehicle.
The suspects then drove into a lawn in the 5100 block of West Fourth Avenue and bailed from the car on foot. All the while, the passenger continued to fire the rifle as he ran.
Police deployed a K-9 police dog, which apprehended and bit the driver, a 33-year-old Gary man, in the 5200 block of West Fourth Place.
The driver was arrested and transported to the hospital for treatment of the dog bite.
Following treatment, the driver was transported to Lake County Jail on probable cause for resisting and fleeing police and possible attempted murder charges, police said.
The passenger fled with the rifle, but police had recovered the weapon, along with 30 casings of .223 rounds, an additional handgun and an extra AR-15 magazine, Lake County Sheriff Oscar Martinez said.
Meanwhile, a Lake County police helicopter was aiding in a search for the passenger.
The Sheriff's Department had deployed its special operations unit to aid in the search.
No police were harmed, Martinez said.
Police were searching and processing the suspect's vehicle and gathering video from homes the passenger ran past early Thursday.
An investigation and search for the suspect is ongoing. Martinez asked anyone with information on the suspect at large to call the Lake County Report-A-Crime Hotline at 1-800-750-2746.