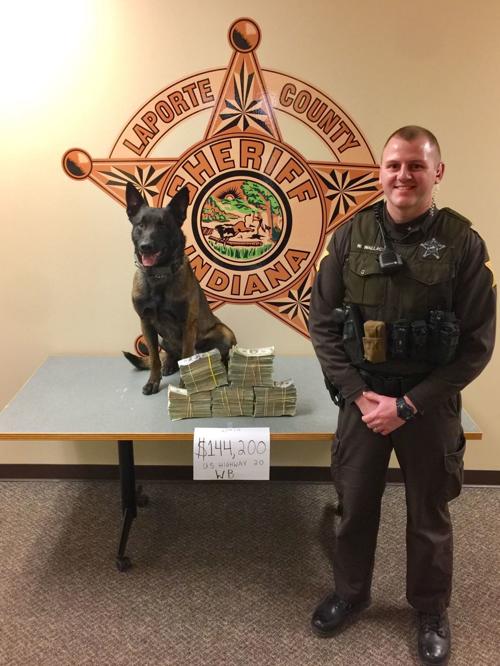 LAPORTE — A traffic stop netted $144,200 in suspected drug money, which police said is among the largest seizures in the history of LaPorte County.
The cash was discovered with the help of a police dog in five square-shaped bundles in a vehicle stopped shortly before 3 p.m. Feb. 19 on U.S. 20, just west of County Road 350 East, police said. The driver was identified as Alberto Rosales, who was wanted out of Elkhart County, police said.
"In a controlled environment, the five bundles were opened and determined to be various denominations of U.S. currency," according to a news release from Captain Derek Allen, public information officer with the LaPorte County Sheriff's Department.
Suspecting the money is associated with drug trafficking, local police said they contacted the Drug Enforcement Administration for assistance and work is underway on the forfeiture process.
Rosales was released Monday from the LaPorte County Jail, police said.
The traffic stop came about 14 hours after another along U.S. 20, just east of Ind. 39 that landed three Crown Point residents in jail on various drug charges, police said.
A police dog reportedly helped officers locate several drugs and associated items in the vehicle.
The driver, Robert Grimm, 22, was taken into custody on a preliminary felony charge of dealing in methamphetamine, and misdemeanor counts of possessing a controlled substance and operating a motor vehicle without ever receiving a license.
Passenger Courtney Milby, 21, faces felony counts of dealing in methamphetamine, unlawful possession of a syringe and possession of a narcotic drug.
Fellow passenger Lauren Milby, 20, faces a felony count of identity deception.
All three were taken to the LaPorte County Jail.
"A concerted effort of enforcement is being made on the major roadways in LaPorte County that is known to be involved in the drug and trafficking industry," Allen said. "Deputies remain committed to holding individuals accountable who traffic drugs, large amount of monies associated with drug trade and firearms into and through LaPorte County."