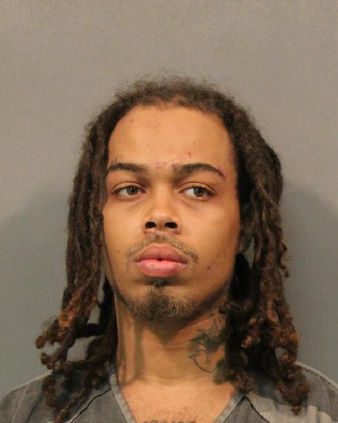 CROWN POINT — A Gary man's trial on charges alleging he shot a friend and the friend's pregnant girlfriend in 2017 was postponed Monday because of allegations that a witness in the case was harmed.
Lake Criminal Court Judge Salvador Vasquez granted Jarod D. Johnson's motion to continue the jury trial after court security officers brought Johnson into to the courtroom in handcuffs to discuss the developments with defense attorney Mark Gruenhagen.
Vasquez cautioned Gruenhagen that delaying the trial could strengthen the state's case against Johnson. Evidence of witness tampering or intimidation often is admissible at trial, the judge said.
Deputy Prosecutor David Rooda said a witness in the 2017 case was in the hospital.
Gary and Lake County sheriff's police did not immediately respond to requests for information about how the witness was harmed.
Gruenhagen said Johnson's mother and brother were in custody and noted the seriousness of the new allegations.
In light of the new allegations, a plea agreement in the 2017 case and possible new case might be an option, Gruenhagen said. He asked that the trial be continued.
Rooda objected to any continuance.
Vasquez said, "Given the turn of events, the request is granted."
No charges had been filed as of Monday in the alleged attack on the witness.
Johnson, 22, been scheduled to stand trial on nine felony charges alleging he shot a friend in the face and thigh and shot the man's pregnant girlfriend twice in the chest June 13, 2017, as they walked away from the Gary Metro Center. The woman's unborn child survived the attack, court records say.
The victim told police Johnson likely targeted him because Johnson's family believed he gave authorities information about Johnson's brother's whereabouts before the brother's arrest in Chicago, records say.
Vasquez warned the victim in January 2018 to cooperate with Johnson's defense attorney after he refused to answer questions during a deposition.
Johnson was released to court-ordered GPS monitoring and home detention in September because of delays ahead of his trial.
He is accused of violating the terms of his pretrial release by not recharging his ankle monitor over the weekend, Rooda said. The monitor was charged Monday before Johnson arrived at the courthouse in Crown Point.
Vasquez ordered Johnson held without bail and set a hearing for Thursday on the alleged monitoring violation.