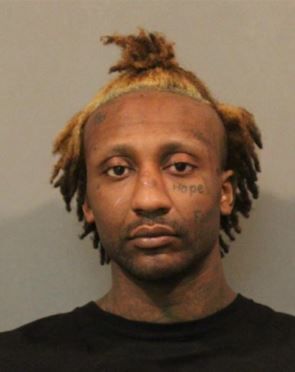 LAKE STATION — A carjacking suspect was charged with attempted murder after attempting to flee in a stolen car and crashing into an officer's vehicle, police said.
Dandre M. Hunter, 26, of Chicago, was charged with two level 1 felony counts of attempted murder; two felony counts of battery by means of a deadly weapon; two counts of battery resulting in bodily injury to a public safety official; two felony counts of criminal recklessness; and two felony counts of resisting law enforcement.
A chase began late Sunday after a Lake Station officer pulled up behind the suspect vehicle, which was parked in the middle of Central Avenue, said Police Chief James Richardson.
At 9:43 p.m., an officer turned on his emergency lights after pulling up behind a silver Buick with no rear license plate that was blocking traffic.
The driver then fled eastbound on Central Avenue. The Buick sped through a red light at the intersection with Grand Boulevard and then jumped the curb on the 3400 block of Central Avenue, turned around in a business parking lot and headed back westbound on Central Avenue, according to a probable cause affidavit.
The car then spun around, changed direction and drove back east, striking the front passenger side of a police car, according to the affidavit.
The Buick continued to spin around and change direction to try to get away before accelerating and driving hard into the squad car, police said. One of the officers involved in the chase testified in the affidavit that he suffered a cut to his finger and soreness in his body.
The driver, identified as Hunter, was arrested after other officers arrived at the scene. Hunter had credit cards in the names of three different people in his possession, police said. Officers discovered the car he was driving had been reported stolen out of Chicago in an armed carjacking, Richardson said.
An increase in carjackings across the state line has prompted local police agencies to be on high alert.
Authorities say Northwest Indiana typically sees a rise in carjackings, and related crimes, when Chicago does.
"There seems to be a trend of stolen autos from Illinois traveling to Indiana to commit crimes. When confronted by the police, they begin to flee," Dyer Police Chief David Hein said.
This story will be updated. Check nwi.com throughout the day.