HAMMOND — Two people were charged Wednesday in connection with a "road rage" shooting July 4 that left an 18-year-old father dead and his friend wounded.
Vincent Thomas, 31, of Gary, is accused of shooting into a maroon Chevrolet Monte Carlo occupied by Jorge Roman, of East Chicago, and three other people as Thomas' wife, Tamia Hinton, sped alongside the Monte Carlo in a white Kia Soul along 165th Street in Hammond.
Hinton, 35, of Calumet City, kept driving after Thomas shot into the Monte Carlo and its driver veered off through three yards, crashing into a porch at 165th and Blaine Avenue, Lake Criminal Court records say.
Roman was pronounced dead at the scene. The driver of the Monte Carlo was shot in the neck and taken to a hospital.
Police identified Thomas and Hinton as suspects in part because of the city's license-plate reader system, which showed a white Kia Soul belonging to Hinton's mother traveled into the city shortly before the shooting.
Thomas and Hinton later hired defense attorney Scott King, who accompanied them while they each gave statements to Hammond police, records say.
The couple told police Hinton drove into oncoming traffic to pass the Monte Carlo, which didn't immediately start moving after a traffic light at 165th and Calumet Avenue turned green.
Thomas said he yelled "wake up" as they passed the Monte Carlo and headed west on 165th Street, but the Monte Carlo quickly caught up with them, records say. The couple claimed they through the Monte Carlo was chasing them, records say.
The driver of the Monte Carlo told police he didn't immediately turn when the light turned green, because of a sign that said, "Left lane yield on green." A white car drove in the wrong lane to pass them and someone yelled "wake up," he said.
The man told police he planned to pick up another passenger in the area, so he sped up to pass the Kia and got into the left lane to turn. The driver of the Kia again drove into oncoming traffic lanes, pulled alongside the Monte Carlo and the driver of the Monte Carlo felt a shot and crashed, court records state.
Thomas claimed a passenger in the Monte Carlo appeared to be "leaning forward with something dark in his hand" as the two cars traveled side by side, but he could not describe it as a handgun, records say. Thomas told police it might have been a cellphone the passenger was using to record.
Thomas claimed he believed he and Hinton were in danger, so "he fired once and told his wife, 'go, go, go,'" records state.
A witness who ran to the aid of the people in the Monte Carlo after it crashed told police he never saw anyone in the car have a firearm or discard a firearm while he was helping them out of the car, court records state. 
King said the couple fully cooperated with police and that Thomas was facing a level 5 felony count of reckless homicide. Thomas turned himself in, and Hinton was expected to do the same, he said.
"We anticipate them both bonding out," King said. 
Thomas' bond was set at $30,000 surety or $3,000 cash, while Hinton's bond was set at $15,000 surety or $1,500 cash.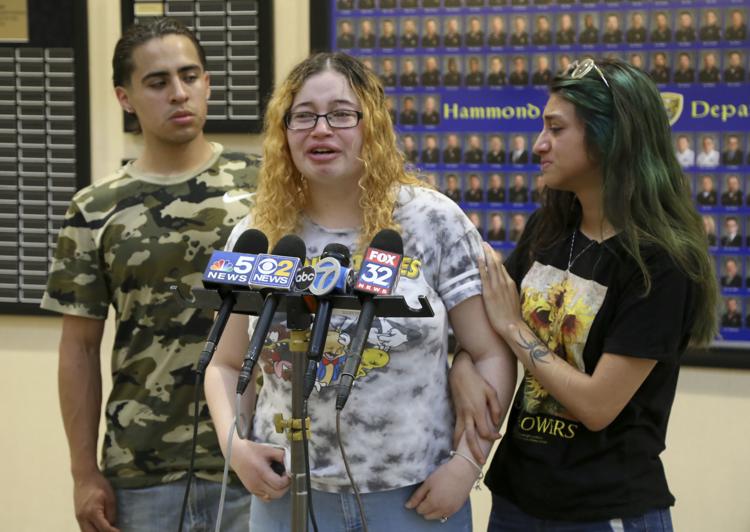 Thomas was charged with reckless homicide and four felony counts of criminal recklessness. Hinton is facing four felony counts of criminal recklessness and a misdemeanor count of leaving the scene of an accident. 
Check back at nwi.com for updates as this story develops.