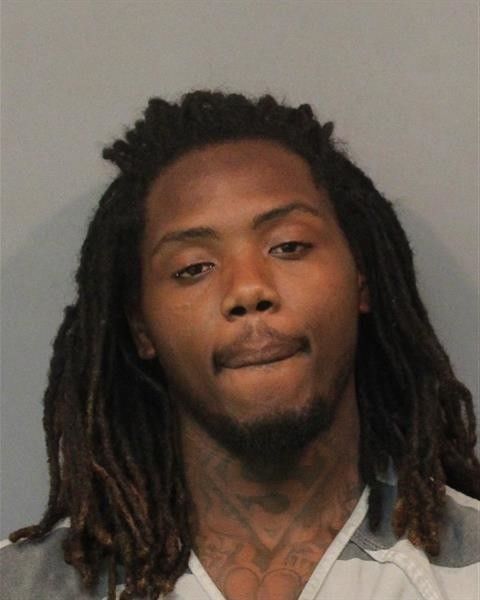 CROWN POINT — A 24-year-old man who has served two prison stints for robbery and burglary was charged Wednesday with raping a woman multiple times at gunpoint during a home invasion the night of Dec. 30 in Hammond.
Jahmal D. Sanders, of Hammond, could face additional charges as police continue to investigate his possible involvement in two more home invasions Sunday night into Monday in the 6400 block of Tennessee Avenue and the 2200 block of 167th Street, Hammond police Lt. Steven Kellogg said.
Sanders, who was taken into custody Monday, also is a possible person of interest in two other home invasions in late December and early January in Hammond, police said.
Sanders is accused of waking the woman Dec. 30 and demanding money, as he stood near the foot of her bed in the 6600 block of California Avenue holding a flashlight and silver handgun.
When the woman said she didn't have any money, he asked if he could "be her man," threw a blanket over her face and raped her, Lake Criminal Court records allege.
The woman told police she stayed in her bedroom as Sanders ransacked the house because he had a gun and she was scared. Sanders returned to her room and raped her two more times before leaving with her cellphone and money from a child's piggy bank, documents allege.
Sanders was charged Wednesday with three counts of rape, a level 1 felony; burglary; armed robbery; criminal confinement and unlawful possession of a firearm by a serious violent felon.
Kellogg said detectives and gang unit officers from the Hammond Police Department and agents from the U.S. Bureau of Alcohol, Tobacco, Firearms and Explosives have worked around the clock to secure charges in the case.
Police Chief John Doughty said Monday police activity shortly after the home invasions in December and January put a stop to the crimes until Sunday night, when two additional home invasions were reported.
Police were waiting on test results before securing charges against Sanders in an alleged home invasion on California Avenue, Doughty said.
Police received results from the Indiana State Police lab Feb. 5 linking Sanders to the sexual assault, court records state.
Other recent home invasions include two cases Dec. 30 in the 4300 block of Elm Avenue and the 4900 block of Oak Avenue, and one case Jan. 2 in the 7300 block of White Oak Avenue, Hammond police said.
Sanders already has received two separate four-year prison sentences breaking into homes and robbing people in Hammond, court records show.
Sanders was 18 years old when he was charged with carjacking, armed robbery, theft, criminal confinement and other counts in 2013.
According to court records, Sanders and another man approached two women Aug. 20, 2013, in the 4900 block of Chestnut Avenue in Hammond and each pulled a gun.
Sanders and the other man attempted to force the women into a car but failed, so they got into the car and drove off. They later pawned an amplifier and guitar pedal in the car and split the proceeds.
Just four days later, on Aug. 24, 2013, Sanders entered a man's home in the 1100 block of Summer Street through an unlocked door, pointed a gun at the man and took off with a bicycle, records state.
Sanders pleaded guilty in November 2014 to robbery and was sentenced to four years in prison.
He was on parole for that conviction in February 2016, when broke into a home in the 1200 block of Summer Street, flipped over a dresser and took an Apple watch, jewelry and a radio. His fingerprints were collected from the bedroom window, records state.
Sanders pleaded guilty in June 2017 to burglary and was sentenced to another four years in prison. He received credit for more than a year spent in jail, plus good time, before his case was resolved.
Anyone with information or video surveillance related to this week's home invasions is asked to call Hammond Police Department Detective Lt. Mark Tharp at 219-852-2988 or Detective Lt. Mark Detterline at 219-852-2962.
Anyone who observes any suspicious activity is asked to immediately call 911.