HOBART — Bill Johnsen had just intended to buy fishing supplies and brownie mix from the Walmart off U.S. 30 late Sunday afternoon during a shopping trip with his family.
Instead, Johnsen — an East Chicago police detective — apprehended a 24-year-old Merrillville man accused of shooting another man in the abdomen inside the store about 3:50 p.m.
"I was shopping for about 30 minutes when I heard the gunshot," he said. 
Johnsen paused to see if there were any additional bullets fired. Hearing none, he then stepped into action and escorted his wife and two sons from the Walmart in the 2900 block of East 79th Avenue. At this point, he said employees and customers had started to flee from the business, as well.
The off-duty detective went back into the store and found a wounded 23-year-old Merrillville resident, who pointed out his alleged shooter to Johnsen.
Johnsen said he then approached the man, who surrendered a firearm.
The officer disassembled the gun, and Hobart police soon arrived on the scene, taking over the investigation and finding the 24-year-old suspect already secured and on his stomach — in the custody of Johnsen.
Sunday's shooting marks the second in less than a year at the Hobart Walmart.
On Sept. 30, 2018, Alex Hughes, 27, allegedly opened fire outside the store, wounding a 26-year-old man and his son, then 9 years old, and shattering some store windows. 
In last year's case, an off-duty cop also helped respond to the scene. Gary officer, Keon Parker, had been shopping there with family and tended to the victims while waiting for police to arrive. 
Hughes faces charges of attempted murder, aggravated battery and criminal recklessness stemming from the 2018 incident, which police believe was gang-related.
Authorities have not yet released information on a possible motive in Sunday's shooting.
But police said they think it was "an isolated incident between known parties."
You have free articles remaining.
Keep reading for FREE!
Enjoy more articles by signing up or logging in. No credit card required.
That suspect has since been released from police custody.
Lake County Prosecutor Bernard Carter said his office is still trying to determine culpability in the Walmart shooting.
Security camera footage is being reviewed and more witnesses are being sought to determine who is at fault for the shooting, he said.
Police also arrested a woman who had accompanied the suspect into the store, Gonzales said. She was released without any pending charges.
Gonzales said the victim underwent surgery Sunday night at a local hospital. As of Monday afternoon, his condition was listed as stable.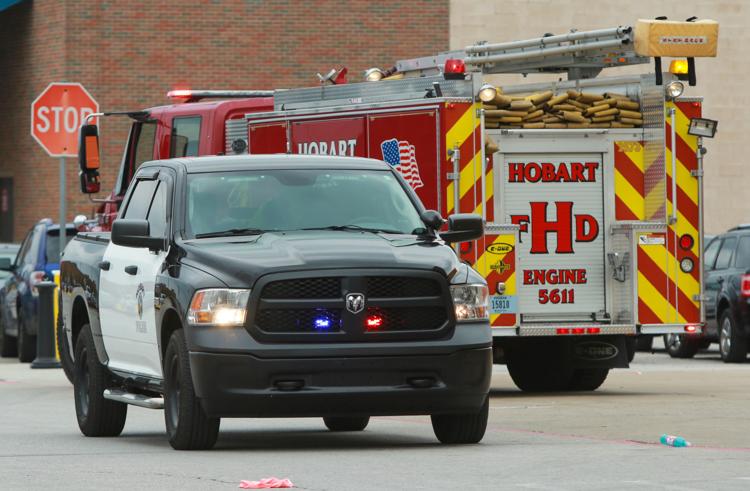 East Chicago Police Chief Hector Rosario said he was extremely proud of Johnsen for "going above and beyond the call of duty."
"Had it not been for his swift, selfless actions, the situation could've been worse. He was able to stop the threat and prevent any further harm or danger to the patrons and workers inside of that store," Rosario said. "I'm grateful to have such a dedicated officer on my department serving the City of East Chicago."
Johnsen credited police department training for his ability to quickly assess and deescalate the situation.
"If I hear one gunshot, then it's isolated, and I'm going to handle it differently than if I hear five or six shots," he said. "In this case, it was isolated. ... Luckily, I was able to stay calm enough to listen to the situation at hand."
Johnsen said his family remains shaken up from the incident, particularly his wife, who doesn't plan on returning to the store anytime soon. 
"I think it'll be a bit before we go into a Walmart," he said. 
Check back at nwi.com for updates as this story develops.