CROWN POINT — Dan Murchek, a former high-ranking administrator, is charged and will plead guilty to lying to the FBI about his involvement in the deepening Region towing bribery scandal.
The U.S. Attorney's office made public early Friday a one-count indictment against Murchek, shortly after the 24-year veteran of the Lake County police force ended his law enforcement career with an abrupt resignation.
U.S. District Court Magistrate Judge John E. Martin arraigned Murchek, 57, of Schererville on the felony, which carries a maximum penalty of five years in prison and a $250,000 fine. He was freed on bond.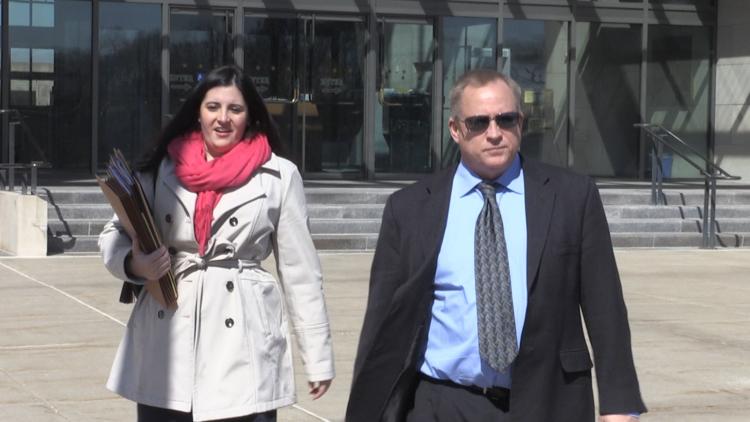 Although Murchek pleaded not guilty Friday, attorney Caitlin Padula, who represented Murchek in court, said Murchek already has signed a plea agreement admitting he lied to FBI agents Nov. 14, 2016, when he denied receiving an illegal campaign contribution from an undercover FBI informant.
The agreement, made public Friday, states Murchek has provided enough assistance to federal authorities investigating his misconduct to induce the government to recommend he receive the minimum sentence under federal guidelines and a fine of only $3,500.
His potential sentence won't be calculated until after he formally pleads guilty before U.S. District Court Judge James T. Moody. No date is set for that plea.
Murchek rose in the ranks of county police to third-in-command as deputy chief of the Lake County Sheriff's office between 2011 and last fall under former Sheriff John Buncich.
Murchek also has been president of the Northern Indiana Area Labor Federation and the Lake County Police Association Local 72.
Murchek's since abandoned plans to run for Lake County sheriff in next month's Democratic party primary election brought about his downfall.
The indictment alleges Murchek began asking for campaign financial support in the fall of 2015 from Willie Szarmach, owner of CSA Towing in Lake Station, and Scott Jurgensen, owner of Samson's Towing in Merrillville.
Unknown to Murchek or Szarmach, Jurgensen was recording their conversations. He was an undercover informant who had been helping the FBI uncover bribery among towing firms doing business with area police and politicians since 2013.
The indictment alleges Murchek again met with the two towing owners in June 2016 to explain how they could disguise campaign contributions to him in the name of other people to avoid the maximum limit for business corporations, a practice the FBI calls a structured donation.
On Sept. 23, 2016, Jurgensen gave Murchek a $1,000 contribution in the name of the towing business and a $500 check illegally structured to look like a separate contribution from one of his towing employees. Jurgensen told Murchek he was the source of the money for both checks.
Four days after the FBI raided former Sheriff John Buncich's home and office Nov. 10, 2016, for evidence of illegal contributions from towing firms, FBI agents questioned Murchek about whether he received a structured contribution from Jurgensen.
You have free articles remaining.
Keep reading for FREE!
Enjoy more articles by signing up or logging in. No credit card required.
Murchek said he didn't, but now admits his denial was a lie.
U.S. Marshals escorted Murchek into the U.S. District courtroom early Friday in civilian clothing. He answered the magistrate's questions and acknowledged he had turned over his passport and that he cannot possess any firearms in his home while free on bond.
U.S. Attorney Thomas Kirsch II issued a statement early Friday that public corruption is a priority for his office.
"Mr. Murchek lied to FBI agents who sought truthful information from him in connection with what was then an ongoing public corruption investigation of which he was aware. Mr. Murchek did so purely to protect his self-interest and conceal his criminal conduct from the FBI," Kirsch said.
"Mr. Murchek was a police officer, sworn to uphold the law, at the time he told the lies, making his conduct particularly egregious."
Investigation has long reach
The federal investigation into the Lake County Sheriff's Department has swept up a number of local government figures, including in neighboring Porter County, and is expected to claim more in the near future. Rumors abounded Thursday that other figures under Buncich's administration and municipal officials who controlled towing would be next.
Check back at nwi.com/news/local as The Times reporter Bill Dolan profiles political leaders from around Region who have been charged with cor…
Timothy Downs, who was second-in-command under Buncich, pleaded guilty Dec. 16, 2016, to cheating the public of honest government services by using his authority within the department to do political fundraising for Buncich while he was on duty and using his publicly provided police car.
Downs is still awaiting sentencing.
Portage Mayor James E. Snyder and John Cortina, owner of a Portage towing firm, are now set to stand trial June 4 in U.S. District Court — Snyder for allegedly soliciting and receiving $12,000 in exchange for a Portage towing contract, and Cortina for allegedly offering the money. They are pleading not guilty.
Tom Goralczyk, a former Merrillville town councilman, pleaded guilty in January to accepting bribes — a 2000 Jeep Grand Cherokee and a 2008 Ford Focus — in return for promises of a lucrative contract to Jurgensen, the undercover FBI informant. Goralczyk is awaiting sentencing May 16.
A U.S. District Court jury last August found Buncich guilty of soliciting and accepting campaign contributions from Szarmach and Jurgensen in return for giving them more lucrative towing work.
Buncich is serving a 188-month prison term, currently at a federal secure medical facility in Springfield, Missouri.
Last fall, Democratic precinct committee members selected as the new sheriff Oscar Martinez, who demoted Murchek to a deputy patrol commander.
Martinez said Friday the alleged crimes that led to Murchek's indictment occurred before his administration, but they were of great concern to him.
"Since becoming Lake County sheriff, I have done my best to set a high bar and a good example for the men and women of this department," he said.