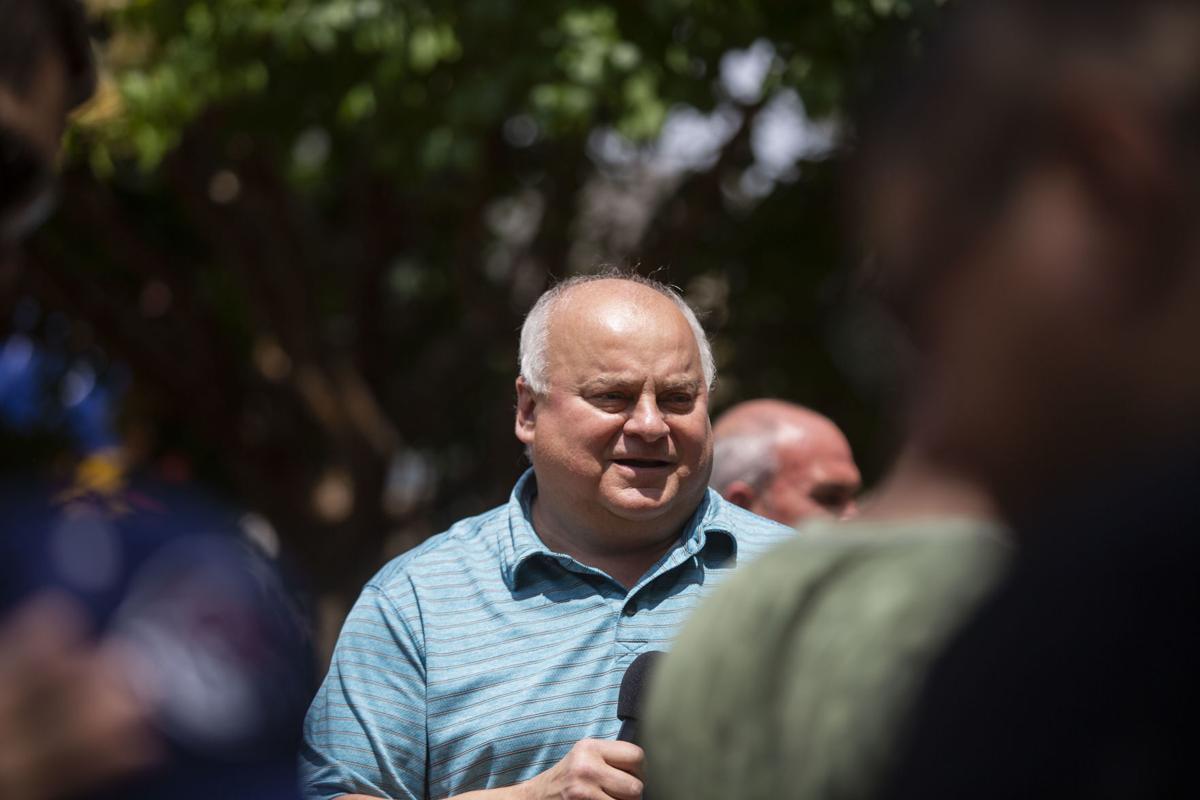 HAMMOND — Former Whiting Mayor Joseph Stahura is not going to prison for misuse of his campaign contributions.
U.S. District Court Judge James T. Moody imposed a sentence of two years' probation, including one year of home detention, and a $7,500 fine Wednesday on a man who many consider a trusted political figure, but who looted his campaign funds to gamble, lend money to his family and cover other personal debts.
Moody said a large number of corrupt Lake County politicians have appeared before him. "You are different," he told Stahura. "You are the first to show sincere remorse for what you did."
Moody also chided Stahura for conduct he knew was wrong, and for disappointing so many people who looked up to him, including 130 who wrote letters of support for him. 
Moody said he read about 40 of the letters submitted to him.
"They speak so highly of you," Moody said.
Stahura, a 64-year-old Whiting native, was forced out of public office and pleaded guilty Sept. 9 to wire fraud and to filing a false tax return, felonies that carry a maximum penalty of 20 years in prison.
Stahura and the U.S. attorney signed a plea agreement granting him leniency in return for giving up his right to trial.
Assistant U.S. Attorney Philip Benson said Stahura and his wife, Diane, dipped into the Committee to Elect Joe Stahura campaign fund more than 200 times between 2014 and 2019 and transferred more than $200,000 to their personal bank account.
Benson said much of it — more than $55,000 — covered the couple's gambling debts at the Horseshoe Casino in Hammond; the Horseshoe Casino in Council Bluffs, Iowa; and Blue Sky Casino in downstate French Lick.
The government isn't charging Diane Stahura with any crimes, at this time, in connection with this case.
Stahura also admitted covering up misuse of campaign funds by filing a false 2018 federal income tax return that didn't account for the diverted money, as well as filing several false 2018 campaign finance disclosure reports to the county.
Stahura told the court, "I sincerely apologize. I deeply regret what I've done. I've embarrassed my wife, my family, the citizens of Whiting and everyone who believed in me."
The judge asked Stahura if he had a gambling problem. Stahura replied, "I like to gamble, but I don't believe it's a problem." Stahura said he hasn't entered a casino since November 2019.
Kerry C. Connor, his defense attorney, said Stahura has agreed to pay the Internal Revenue Service at least $28,977 in delinquent taxes.
She said he already has paid back, in full, all the campaign contributions he diverted, and has donated the $106,000 remaining in it to non-profit, charitable organizations.
David Sabotka, one of the few members of the public to attend the sentencing, said afterward he was overjoyed that Stahura was not imprisoned.
Sabotka said Stahura is a godfather to his son, and he has donated money for Stahura's elections.
"I don't feel betrayed. He is a great man. I've lived in Whiting all my life, and it's a shame we lost a great mayor. He bleeds (Whiting High School) green," Sabotka said.
Benson said Stahura is still well liked, "but being liked is only part of the job." He said Indiana law forbids candidates from making personal use of publicly donated money for election campaigning.
Connor said the crime was out of character for the hardworking, public spirited and compassionate man who served 20 years on the Whiting City Council and 17 years as mayor, until his resignation Sept. 2 in the wake of the public corruption case.
Connor said Stahura is fundamentally a good person. "He has no prior criminal history, and the likelihood that he will recidivate is nil," she stated in a memo to the court she wrote prior to Wednesday's hearing.
Connor argued that Stahura's disgrace and the financial penalties he may still have to pay the IRS are punishment enough.
She said Stahura has lived his entire life in Whiting, graduating from Whiting High School in 1974, where he was an avid baseball and football player and wrestler.
Stahura attended Lakeland University in Sheboygan, Wisconsin, on a sports scholarship, but he had to give it up after suffering a knee injury.
He married his wife of 44 years, Diane, in 1976, and they have had two daughters and three grandchildren.
Connor said Stahura has worked his whole adult life, first operating a sporting goods store from 1977, then working at the BP refinery, where he rose to become a supervisor until his retirement in 2003.
As a Whiting public official, he helped manage a bail-out of the city from previous debt, which reduced residents' taxes, and prepared the city for revitalization as a tourist destination, Connor said.
She said he helped establish the city's Mascot Hall of Fame, Lakefront Park, Oil City Stadium and WHOA ZONE recreational area, and aided the renovation and preservation of the historic 119th Street Business District, World War II Memorial, Sheridan Avenue Plaza and Whihala Beach.
During his administration, Whiting became well-known for the Pierogi Festival, 4th of July Parade, Cruise Night, Wickedly Whiting and the Farmer's Market, which together had been attracting hundreds of thousands of visitors to Whiting annually.
She said one of Stahura's final acts as mayor was creation of a Whiting COVID-19 relief program to help businesses otherwise unable to survive closure during last year's pandemic lockdown.
Connor said Stahura's age and history of significant health problems, including diabetes, high blood pressure and obesity, were mitigating factors that argued for probation.
Benson argued in a memo to the court he submitted earlier that Stahura's crime has further undermined the public trust in Lake County's local government.
Benson said Stahura used his political supporters as a source for interest-free loans and kept most of his gambling winnings to himself.
He said Stahura was withdrawing campaign donations in the face of the prosecution and conviction of several other local government figures during those five years, but wasn't deterred.
The judge also set, as a condition of Stahura's probation, that he must take part in a gambling addiction treatment program at his own expense and cannot enter any casino or engage in any kind of gambling.
Gallery: Recent arrests booked into the Lake County Jail