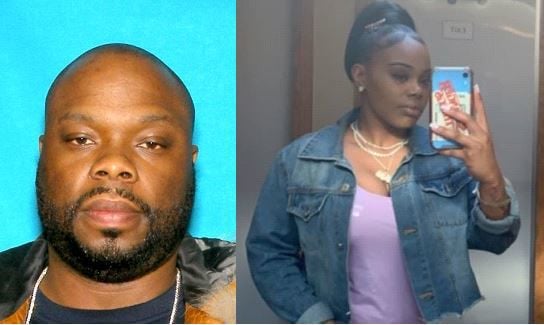 CROWN POINT — A man charged with murdering a Gary mother told his friend he "lost it" and killed the woman because he believed she was involved with another man as he and the friend drove to Illinois a day after her disappearance to find a location to hide her body, court records allege.
James E. McGhee, 38, is accused of beating 27-year-old Sidne-Nichole Buchanan to death at his Gary apartment after they attended a concert July 27 in Tinley Park and dumping her body in a forest preserve off Illinois 394 in unincorporated Cook County.
It's not the first time McGhee has been accused of abusing a girlfriend. He is currently on probation for beating a 25-year-old pregnant woman in 2017, causing her to lose three of the four fetuses she was carrying.
McGhee was accused of kidnapping that woman months later, despite a no contact order, and holding her and her then-6-year-old son against their will. He pleaded guilty to felony intimidation in 2018 and was placed on probation for three years. In exchange for his plea, prosecutors dropped all remaining charges in both cases.
Lake County Prosecutor Bernard Carter on Thursday defended his office's decision to offer the plea agreement, saying the woman in the 2017 cases didn't fully cooperate and gave conflicting statements. Carter also said rumors that he is related to McGhee are false.
Buchanan, a mother of two, went missing July 27 after posting a video on social media of herself and McGhee attending a Wiz Khalifa concert in Tinley Park, Lake Criminal Court records state.
McGhee's friend, who was granted immunity from prosecution, led police to Buchanan's body Monday at the Thornton-Lansing Road Nature Preserve in unincorporated Cook County, court records say. The man previously took police to the preserve, but claimed he didn't know where Buchanan's body was located.
Sabrina Short, Buchanan's grandmother, said Wednesday after McGhee's arrest that she was happy he was in custody.
"Women in Northwest Indiana can sleep safely now that he's been caught. He should not have been walking the streets," she said.
Buchanan's mother, Kaneka Turner, said in a Facebook post that Buchanan "was full of ambition, altruism, passion and love."
"Sidne was a dynamic person. She cared deeply about her family and friends. Sidne was loved by many," Turner wrote.
Tip led police to witness
Defense attorney Jamise Perkins, who negotiated McGhee's plea deal in the 2017 cases and anticipated she would be hired to represent him in the murder case, said McGhee had been in contact with detectives at the FBI's Gang Response Investigative Task Force and Buchanan's family before his arrest.
He was on his way to turn himself in Wednesday night when he was arrested, she said.
"He's always maintained his innocence," she said. "I think he's just looking forward to his day in court."
McGhee is being held without bail in the murder case. Prosecutors have not yet moved to revoke his probation in the earlier cases, but Perkins said she is expecting the filing.
Turner, Buchanan's mother, told police she spoke with McGhee by telephone and Facebook voice after her daughter disappeared, and he claimed he dropped Buchanan off at home in Gary after the concert and she was highly intoxicated, court records say.
However, Turner told police she and other family members were up all that night and Buchanan never came home.
Buchanan's on-again, off-again boyfriend told police he received a call from Buchanan about 11:45 p.m. July 27. He attempted to call back and eventually spoke with a man who said he was dating Buchanan, court records say.
The man said he heard Buchanan in the background using profanity against him, but described her speech as slurred and said he had never heard her sound so "weird," documents state.
A Gary detective investigating Buchanan's disappearance called McGhee, who again claimed he dropped her off at home. McGhee also told the detective he had exchanged words with a man who placed an unwanted call to Buchanan on their way home, records say.
Police first spoke Aug. 7 with the witness who eventually was granted immunity, after receiving an anonymous tip that the friend had helped McGhee dispose of Buchanan's body after McGhee killed her, court records state.
'I beat her up bad'
The friend told police McGhee called him July 28, picked him up and drove on Interstate 80/94 toward Illinois. As they drove, McGhee said he had gone through Buchanan's phone and discovered she was involved with another man, according to court documents.
At one point, McGhee showed the man a picture of a woman believed to be Buchanan, saying, "I beat her up bad. This is when she was living," documents allege. He told the man he thought Buchanan was asleep, but she didn't wake up, and that he "messed up," records say. 
During the drive, McGhee was on the phone with someone the witness believed was a drug dealer from Chicago who directed McGhee to the area of the forest preserve, documents allege.
McGhee at one point told the person, "I got it," and drove his friend back to McGhee's apartment at the Concord Commons complex in the 1900 block of Burr Street in Gary, records say.
McGhee's apartment was in disarray when they arrived, and the friend saw blood on mattresses in both bedrooms, documents state.
The friend said "he observed what he believed to be a body of a person concealed inside black plastic bags near the foot of the bed," records say.
The man became overwhelmed and left the apartment. Minutes later, McGhee exited the apartment dragging a suitcase that he placed in the trunk of his car, records allege.
They got back in McGhee's Chevrolet Impala and drove back to the forest preserve, where McGhee dragged the suitcase into the woods, documents allege. 
The man told police he refused to help McGhee clean his apartment, but later returned to open the door for a mattress delivery team. He remained outside as the team removed the old mattresses, according to court records.
"He observed the mattresses had different stains on them, and it looked to him as if McGhee attempted to cover up the blood stains with some sort of substance," records say.
Police canvassed the Concord Commons Apartments after learning McGhee's and Buchanan's cellphones had both been active there between about midnight July 27 and 6 a.m. July 28. A neighbor showed police where McGhee lived, court records state.
When police executed a search warrant at the apartment Aug. 1, they found no one inside but smelled a strong odor of cleaning products.
Further investigation revealed the carpets in two bedrooms recently had been cleaned. When authorities removed the carpets, they found dark stains under both of them.
Tests detected blood on the carpet in one of the rooms, court records allege. The carpet in another bedroom smelled like urine, but tests did not detect blood.
On Monday, McGhee's friend led police back to the forest preserve, pointing out a row of trees and brush that ran parallel to a frontage road.
There, a detective detected an odor of death and discovered human remains in a small void along the tree line, records state.
The remains were in an advanced state of decomposition, but a tattoo matched Buchanan. The cause and manner of death has not yet been determined, court records state.
Prosecutor defends plea deal
In a statement, the Lake County prosecutor's office said it offered a plea agreement in McGee's prior cases to avoid having to dismiss them, because his prosecution had become questionable.
Prosecutors met with the victim in those cases several times, but she was unavailable for depositions and objected to a no contact order against McGee. During one hearing, she testified in support of McGhee, the statement said.
"There were numerous hearings in which the state of Indiana attempted to hold the defendant responsible for his conduct, including revoking his bond," prosecutors said.
Perkins said video evidence in the case showed the woman attending a concert and visiting a salon while she allegedly was being held against her will.
"The case was very complicated in terms of what the evidence was and what the state was or wasn't going to prove," she said.
Lake Criminal Court Judge Clarence Murray granted the no contact order over the woman's objections, she said. The case involving the attack that caused her to lose three fetuses came down to her word against McGhee's, because there were no other witnesses, Perkins said.
Lake Criminal Court Magistrate Natalie Bokota accepted McGhee's plea agreement in fall 2018, but not without reservation. She asked attorneys at the hearing to explain the agreement in light of what was alleged.
Hobart police said they also had contact in 2016 and 2017 with the woman, though no criminal cases were filed.
The woman reported her car stolen in November 2016 and her house ransacked in January 2017, Capt. James Gonzales said.
She initially told police she suspected McGhee stole her car, but later reported she had found it in Gary. Neighbors told police they saw two suspicious people outside her home the day of the burglary, Gonzales said.
Lake County Deputy Prosecutor Infinity Baulos, a member of her office's special victim's unit, and Supervising Deputy Prosecutor Eric Randall have been assigned to the murder case, the prosecutor's office said.
McGhee's initial appearance in the murder case is scheduled for Friday, Perkins said.
Sign up for our Crime & Courts newsletter
Get the latest in local public safety news with this weekly email.