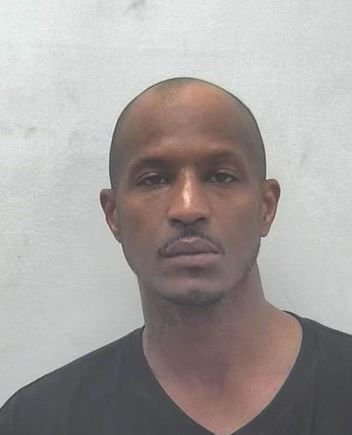 CROWN POINT — Prosecutors filed charges Tuesday alleging a Hammond man sent threatening text messages about a gun to a woman's relative days before he was arrested near the scene of the woman's shooting death in Hammond.
Mark J. Halliburton, 38, was charged with murder and unlawful possession of a firearm by a serious violent felon in the homicide of Monica J. Mills, 43, late Sunday in a parking lot at Bishop Noll Institute, Lake Criminal Court records show.
Halliburton has not yet entered a plea. He was being held without bail at the Lake County Jail.
Hammond police found Mills, of East Chicago, unresponsive and suffering from a gunshot wound inside her blue 2000 Ford Focus after responding about 10:20 p.m. to the private Catholic school, 1519 Hoffman St.,  for a report of a gunshot victim, according to court records.
Mills was taken to St. Catherine Hospital, where she was pronounced dead, police Lt. Steve Kellogg said.
As officers continued to investigate, Halliburton exited an apartment building to the east of the crime scene and approached police as he talked on the phone, court records state.
Halliburton claimed Mills was his girlfriend and that two males approached the Ford and shot her through a passenger-side window.
Halliburton appeared "extremely shaken" and "started to become incoherent while officers spoke to him," court documents say.
Police learned Halliburton's relative lived nearby and that he had called another relative and said he and Mills were fighting over a gun, which "went off," records state.
Detectives obtained surveillance video of the area, which showed a bright flash of light emanating from Mills' car before a person exited from the passenger side and ran to the driver's side, according to documents.
The person ran from the car to the apartment building across the street multiple times before police arrived.
At no point did investigators observe two suspects, as described by Halliburton, in the video, court records state.
Mills' relative told police Halliburton recently sent several text messages about a gun Mills purchased in March at Deb's Gun Range.
In the messages, Halliburton allegedly said Mills better give him the gun, or the money, and that he was "not playing." At one point, he directed Mills' relative to drop off the gun at his relative's apartment just east of Bishop Noll, records allege.
Police executed a search warrant at the apartment and found a Girsan brand 9 mm semi-automatic pistol hidden above a vent in the basement, records state.
Halliburton told detectives during an interview Monday he paid Mills an extra $100 to purchase the firearm for him, because he cannot legally own a gun due to his 2010 felony conviction for dealing in cocaine, records state.
Halliburton claimed he and Mills were sitting in her car and he was pulling up his jogging pants when the gun came out of its holster and accidentally went off.
Halliburton said he made up a story about two suspects shooting Mills because he was scared, according to court records.
Bishop Noll Principal Lorenza Jara Pastrick said Monday the shooting was not connected to the school in any way and offered condolences to Mills' family.
Mills' homicide marks the fourth so far this year in Hammond, police said. The city recorded six homicides in all of 2020 and nine in 2019.