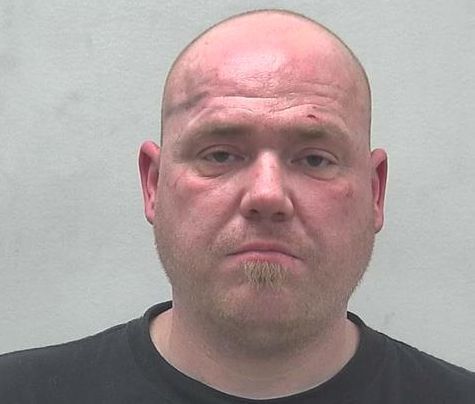 CROWN POINT — A Lake Criminal Court jury found a Hammond man guilty on all counts Friday after the man admitted on the stand he was "popping Xanax like Tic Tacs" and drank a fifth of gin before attacking another man with a sledgehammer in 2018.
Patrick J. Ross, 41, represented himself for much of his trial this week after telling Judge Diane Boswell on Wednesday he no longer wanted to be represented by his public defender.
Ross took the stand Friday and said Hammond police should have taken him to jail when they removed him from his home hours before the hammer attack Jan. 25, 2018, because he was arguing with his ex-wife.
Ross testified he was taken to a relative's home, but later returned to his home and subsequently went to Scott Middle School in Hammond upon learning his longtime adversary would be picking up one of Ross' children from school.
The man Ross attacked fathered a child by Ross' ex-wife while Ross was incarcerated for breaking a beer bottle over the man's head in 2012.
Lake County Deputy Prosecutor Daniel Burke urged the jury to convict Ross of attempted murder, criminal confinement, battery committed with a deadly weapon and battery resulting in serious bodily injury. Burke said the evidence was clear that Ross wanted to kill the man.
Ross said in closing arguments he didn't think he should be convicted of attempted murder because he didn't intend to kill the man.
Despite testimony from three witnesses that Ross hit the man in the face with a sledgehammer, Ross said he didn't recall hitting the man with a hammer. 
Ross said he's a mechanic, so he knows how to swing a hammer.
"I definitely would have done some serious damage if I ever smacked him with a hammer," Ross said. "I ain't no murderer, and I certainly didn't attempt to murder this guy."
During his testimony, Ross said he took more than his prescribed dose of Xanax that day because he was feeling "stressed" and drank a fifth of gin. He admitted his memory of the day's events was less than perfect.
Ross admitted he "punched the guy up."
When Burke displayed a photo from an officer's body camera showing a man holding a hammer covered in what was suspected to be blood, Ross admitted he was the person photographed.
Later, while answering a question from the jury, Ross said the hammer was left in the van he was driving that day. He was not sure of the current location of the hammer.
Burke asked the jury to consider whether Ross may have been so drunk, he simply couldn't wield a hammer as skillfully as he might have if he were sober.
Ross wasn't provoked, Burke said. He didn't exchange words with the man, and the man's car window remained rolled up until the moment Ross broke it with the hammer, he said.
Ross' former mother-in-law testified she wasn't aware of any controversy between the men in the days and hours leading up to the attack.
Ross testified he and the victim had not been friendly since 2012, when he confronted the man about hitting his son. The man hit Ross with a bottle, so Ross took the bottle and broke over the man's head, Ross said.
Ross repeatedly attempted to discuss drug use by his ex-wife, but Burke repeatedly objected because of a court order barring testimony about drug and alcohol use outside of the day of the attack.
Ross testified the man made repeated threats on Ross' life, but later said he never reported the alleged threats to police. He testified the man came to his home about three weeks before Jan. 25, 2018, made threats and refused to leave until police arrived.
Boswell sustained multiple objections from Burke as Ross attempted to discuss allegations the man had beaten up Ross' ex-wife prior to the hammer attack.
Burke asked Ross if he meant to insinuate that Hammond police might be responsible, because they didn't take him to jail when they removed him from his home in the hours leading up to the hammer attack.
Ross said, "No, I'm responsible."
Ross denied he was jealous of the man, but he accused the man of stealing a $500 leather jacket given to him by his late mother.
Burke played several audio files of conversations between Ross and his former mother-in-law in which he says he and the woman need to tell the same story. 
On the stand, Ross denied attempting to get the woman to change her testimony.
Lake County Deputy Prosecutor Maureen Koonce said in opening statements Monday that the case was about Ross' hatred for the man.
When Burke asked Ross how he feels about the man, Ross denied that he hates him.
"I feel a certain way," he said.
Later, he said, "I'm a good-hearted person. I don't hate nobody."
When Burke asked Ross if he thought the attack was the man's fault, Ross said, "Somewhat."
"He knows he should have stayed home," Ross said.
Ross said he believed the man had a plan to provoke Ross to beat him up.
Attorney fired mid-trial
Ross represented himself, because he told Boswell on Wednesday he no longer wanted attorney Casey McCloskey to represent him. He accused McCloskey of colluding with prosecutors.
Ross renewed a request Thursday morning for more time to prepare for trial on his own. He said he needed an attorney.
Ross said he previously wrote to the Lake County public defender's office, but he was told he could stick with McCloskey, represent himself or hire private counsel.
Ross said McCloskey failed to ensure that he receive medications he previously was prescribed before his incarceration starting in January 2018. He admitted he was told the jail will not prescribe the medications, including Xanax and Prozac, but would administer comparable medications.
Burke said Ross' issues with McCloskey were personal and had more to do with strategy than actual malfeasance on McCloskey's part. He asked to move forward with the trial. Boswell agreed.
Ross could face 20 to 40 years in prison on the attempted murder count. A sentencing date was not yet listed in online court records.