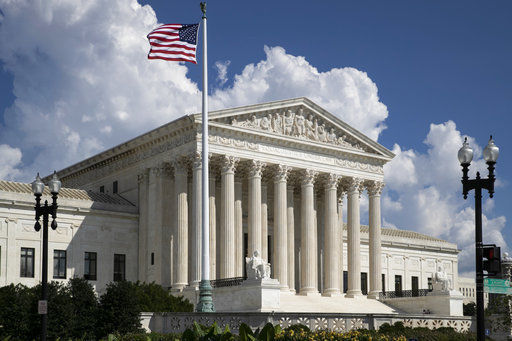 The U.S. Supreme Court ruled Tuesday that a provision of a 2016 Indiana law mandating the burial or cremation of aborted fetuses by abortion providers is legally permissible.
At the same time, the nation's high court declined to address a separate portion of the statute, enacted by now-Vice President Mike Pence, prohibiting sex- and race-selective abortions and requiring a pregnant woman who learns her child will be born with Down syndrome, another genetic disease or physical deformities that aren't immediately lethal, to carry the pregnancy to term and give birth.
In an unsigned opinion, the justices concluded the Seventh Circuit Court of Appeals in Chicago got it wrong last April. The appeals court ruled there was no rational basis for Indiana's requirement that aborted fetuses be disposed of by abortion providers in the same manner as human remains in part because Indiana law also permits a woman to claim and dispose of her fetal remains however she wishes.
The Supreme Court said it has long acknowledged that states have a "legitimate interest in proper disposal of fetal remains," and Indiana's law is rationally, if imperfectly, tailored to that end.
Justice Ruth Bader Ginsberg dissented from the court's per curiam decision concerning the disposition of fetal remains because she said it improperly implicates "the right of [a] woman to choose to have an abortion before viability and to obtain it without undue interference from the state."
In addition, Justice Sonia Sotomayor said she would have denied the state's petition for high court review in its entirety, allowing the Seventh Circuit decision striking down the law to stand.
Meanwhile, the court said the question of whether Indiana may prohibit the knowing provision of sex-, race-, and disability-selective abortions is not yet ripe for a decision, since no other circuit courts have yet to consider the constitutionality of such restrictions.
"Only the Seventh Circuit has thus far addressed this kind of law. We follow our ordinary practice of denying petitions insofar as they raise legal issues that have not been considered by additional courts of appeals," the Supreme Court said.
Justice Clarence Thomas, in a lengthy concurring opinion, said he agreed with the court's decision not to address the issue at this time.
But Thomas said he expects the Supreme Court soon will need to rule on the constitutionality of laws similar to Indiana's.
"This law and other laws like it promote a state's compelling interest in preventing abortion from becoming a tool of modern-day eugenics," Thomas said.
Pence, the nation's Republican vice president who served as Indiana governor from 2013 to 2017, in a tweet cheered the high court decision as "a victory for life."
"As governor of Indiana, I was proud to sign a law that requires remains of aborted babies be treated with dignity and respect," Pence said.
Indiana Attorney General Curtis Hill, a Republican whose office defended the Indiana abortion law in court, also said he was satisfied with the result of the fetal remains ruling.
"The highest court in the land has now affirmed that nothing in the Constitution prohibits states from requiring abortion clinics to provide an element of basic human dignity in disposing of the fetuses they abort," Hill said. "These tiny bodies are, after all, human remains."
The Indiana law was challenged by the American Civil Liberties Union on behalf of Planned Parenthood of Indiana and Kentucky, which operates four abortion clinics in the state, including a Merrillville location, and heretofore incinerated aborted fetuses through sanitary medical waste disposal.
"The court's decision today upholds a woman's right to decide to have an abortion, no matter the reason," said Ken Falk, ACLU of Indiana legal director.
"The court's decision on the provision of the law pertaining to the disposition of fetal tissue may have been struck down had it been reviewed — as subsequent laws in other states have been — based on whether it poses an undue burden on a woman's right to have an abortion. We will continue to fight to ensure Hoosiers have safe access to abortion."
Jennifer Dalven, director of the ACLU Reproductive Freedom Project, condemned the court's decision as "another unwarranted restriction on abortion."
"While this ruling is limited, the law is part of a larger trend of state laws designed to stigmatize and drive abortion care out of reach," Dalven said. "The ACLU will continue to fight to ensure that every person who needs an abortion can get one."
Sign up for our Crime & Courts newsletter
Get the latest in local public safety news with this weekly email.