FAIR OAKS — One of the men accused of abusing animals at Fair Oaks Farms was arrested Wednesday, while the other two are still being sought by law enforcement. 
Edgar Gardozo Vazquez, 36, of Brook, Indiana, was arrested Wednesday by the Jasper County Sheriff's Department and Indiana State Police and was being held in the Newton County Jail. U.S. Immigration and Customs Enforcement has placed a hold on him, police said.
Police are still searching for the other two men — Santiago Ruvalcaba Contreros, 31, and Miguel Angel Navarro Serrano, 38.
The charges came after a video was released last week by a Florida-based animal rights organization, Animal Recovery Mission, showing alleged abuse at Fair Oaks Farms.
A federal lawsuit has also been filed against Fairlife for promoting the "extraordinary care and comfort" of its cows on milk labels after the release of several videos depicting animal abuse at one of its main supplying dairy farms, Fair Oaks Farms.
The suit filed Tuesday by a California man also names Fair Oaks Farms owners Mike and Sue McCloskey as defendants in the alleged fraud case, which seeks class-action status for "all persons in the United States that purchased the milk products."
The plaintiff, Alain Michael, of Thousand Oaks, California, claims he purchased Fairlife milk solely because of the company's guarantee it provided "extraordinary animal care" — a stark contrast from the mistreatment seen in recent videos released by ARM.
"Defendants preyed on consumer desire for dairy products sourced from farms that ensure high levels of animal welfare by making animal welfare claims a central tenet of their labeling campaign," the lawsuit alleges. "But Fairlife's and its founders' 'promise' is a sham. Their cows do not receive 'extraordinary care and comfort.' As a matter of routine and practice, Fairlife's cows are tortured, kicked, stomped on, body slammed, stabbed with steel rebar, thrown off the side of trucks, dragged through the dirt by their ears and left to die unattended in over 100-degree heat. ... To add insult to injury, the abuse is rampant even at Fairlife's 'flagship farm in Indiana' that customers are urged to visit on the products' labels."
Fairlife officials said the Chicago-based company, which partners with Coco-Cola, is reviewing the lawsuit.
"Fairlife is committed to the humane and compassionate care of animals," officials said in a statement to The Times. "As we shared last week, we are taking immediate actions to ensure our high standards of animal welfare are being executed at each of our supplying farms."
News conference addresses new footage
A new video released by ARM on Wednesday morning shows adult cows being abused during the milking process allegedly by employees at Fair Oaks Farms.
The recent footage is said to come from a second undercover investigation at the Newton County company by ARM, focusing specifically on the older animals there.
At a news conference Wednesday in Chicago, ARM founder Richard Couto said the group was able to infiltrate an operative into the Fair Oaks milking operation, where the person was hired as a milker. The ARM investigator obtained clandestine video for about 30 days between February and April, Couto said.
Citing the undercover video, Couto said adult cows are milked just hours after giving birth, with the placenta sacks still visible and blood coating their legs. He further alleged newborn calves were sent to open fields during blizzard-like conditions and extreme cold, causing some of the animals to die of exposure.
The second investigation shows animal abuse is a routine occurrence at Fair Oaks Farms, in contrast to the humane image cultivated by farm management, Couto said.
"It's not just four individuals ... it was everyone we worked with," he told reporters, alleging abuse on the part of low-level workers and supervisors alike.
The McCloskeys have not released a statement in light of the new video, where employees are shown striking the cows with their hands and large metal poles as the animals are loaded into the rotary milking system. Some can be seen falling off the metal platform or being kicked for insubordination.
"Workers discipline cows by snapping tails in half," the video's narrator says. "Cows are brutalized three times a day, 365 days a year for life."
The five-minute video is supplemented with a clip of a public tour at Fair Oaks Farms, with the guide telling visitors the cows "want to be there." It then cuts to cows being abused by employees for failing to stand during milking.
The video's narrator alleges sick and injured cows are denied medical treatment, later dying as a result.The footage concludes by urging viewers to go dairy free after showing the discarded corpses of cows and calves on company property.
Workers are seen using drugs and transporting calves to a veal farm in North Manchester, as well.
Mike McCloskey said he was unaware calves were being sold to the veal industry, citing a lack of communication between the general manager in charge of livestock sales and himself.
"It was not our practice in the past ... and (I) apologize for the unintended false claim made previously," McCloskey said in a statement to The Times on June 6. "Our bull calves will no longer go to veal."
Fair Oaks Farms accounted for less than 4% of all calves purchased by Midwest Veal, the Wabash County farm shown in the June 4 video by ARM investigators.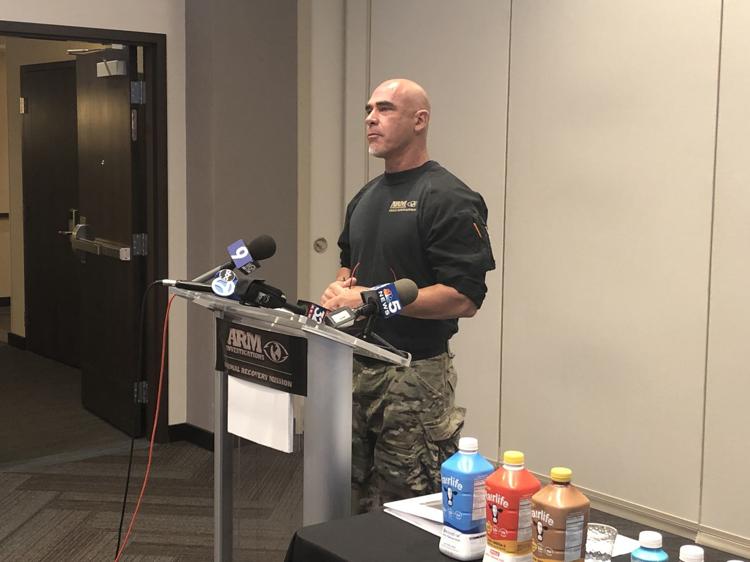 As with its earlier operation, ARM has shared its latest videos and a report of investigation with law enforcement, Couto said. The group turned over the new evidence to the Jasper County Sheriff's Office because the dairy barns where its operative was assigned lie within that jurisdiction.
Couto urged police to send a message by focusing their investigation on farm management instead of low-level workers.
"Blaming lower-tier workers … and doing nothing to management — it will all be for nothing," he said, adding that misdemeanor arrests were "a waste of time."
Alongside having random audits frequented at Fair Oaks Farms, McCloskey announced June 6 that cameras will be installed around the farms in areas where interactions between animals and employees occur.
McCloskey said the camera's footage will be watched by a trained animal welfare professional and put on public display for visitors.
"I am committed to never again have to watch a video of our animals suffering the way that they suffered," McCloskey said June 6 in a video posted to Fair Oaks Farms' Facebook page. "I guarantee you that this will never happen again at Fair Oaks Farms."
On Wednesday, Couto blasted McCloskey's response to the ARM investigation, accusing him of hiding behind carefully edited "YouTube videos" instead of directly addressing the media.
"We took a tour (at Fair Oaks) mere days ago, and again they are still lying to the public" about the treatment of cows, Couto told reporters.
Couto also called on Coca-Cola, which markets and distributes Fairlife products nationally, to cut ties with the brand.
ARM and its founder
Founded by Couto in 2010, ARM conducts undercover investigations — similar to what has been done at Fair Oaks Farms — using "direct-action" techniques in hopes of exposing abuse and "extreme criminal acts" committed against animals, according to the group's website.
Last spring, Couto said he visited the Fair Oaks Dairy Adventure and saw what he perceived as "red flags" during the presentation.
"Knowing what I know about the dairy industry, it all seemed very staged," Couto said. "I went home and quickly put together Operation Fair Oaks Farms Dairy Adventure."
On its website, the nonprofit organization lists more than 30 operations it's conducted, including at alleged illegal slaughter farms, animal fighting rings and dairy farms.
For 2019, ARM received an overall score of 55.69 out of 100 from Charity Navigator, a national charity assessment group that looks at an organization's finances, accountability and transparency, according to Charity Navigator's website.
ARM's recent score is based on data from fiscal year 2017, when the most recent IRS form 990 revealed the nonprofit's financial data, the website states.
The Times writers Anna Ortiz and Will Racke contributed to this story.