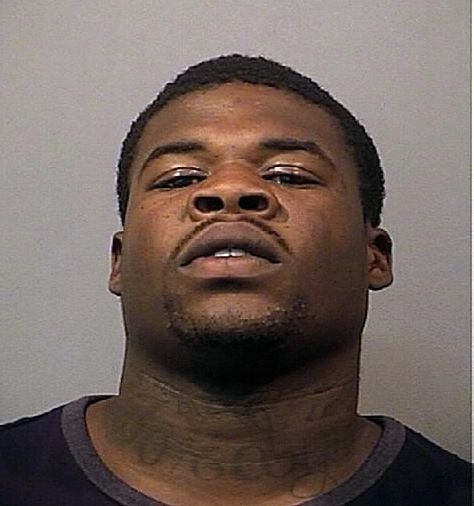 CROWN POINT — The Gary Police Department complied with a court order Tuesday to give a prosecutor a personnel file for a former detective accused of theft as attorneys prepare for a murder trial next week, a city attorney said.
Damonta L. Jarrett, 26, is charged with murder, murder while committing robbery and attempted robbery in connection with the fatal shooting of 40-year-old Steven Marquand, of Cedar Lake, on Oct. 18, 2016, near a gas station in the 4800 block of Maryland Street.
Jarrett is scheduled to stand trial starting Monday, but defense attorney Thomas Mullins said Tuesday he subpoenaed the Gary Police Department in March for copies of lead Detective George Dickerson's personnel file and has not yet received a response.
Dickerson, who led the investigation into Marquand's slaying as a member of the Lake County/Gary Metro Homicide Unit, was placed on administrative leave in May 2017 after allegations surfaced that he stole money from a Hammond Walmart while working security there.
According to court records, Dickerson received $495 more than he should have in change during repeated purchases at a self-checkout register in March 2017, because a Walmart employee erroneously filled the machine with the wrong demonstrations of currency. 
Dickerson resigned from the Gary Police Department in October 2017, Assistant City Attorney Rodney Pol said.
Pol said he did not recall reviewing any requests or subpoenas for files for Dickerson before Tuesday. The city complies with lawful court orders, and the Gary Police Department turned over Dickerson's personnel file to Burke, he said.
Mullins said he wanted to review Dickerson's personnel file for any evidence the Gary Police Department may have been aware of possible questionable behavior by Dickerson while the former detective "quarterbacked" the investigation of Marquand's homicide.
Lake County Deputy Prosecutor Daniel Burke did not object to Mullins reviewing the personnel file, but said the case against Dickerson was ultimately dismissed and there was no indication it was relevant to the state's case against Jarrett.
Burke said he didn't plan to call Dickerson to testify at Jarrett's trial.
"It has no bearing on anything but to sling tar at the Gary Police Department," Burke said.
Lake County Superior Court Judge Diane Boswell said Mullins had a right to review Dickerson's personnel file and ordered the Gary Police Department to turn it over. She planned to review the file for anything relevant to Jarrett's case.
Boswell set a status hearing for Friday and said she would consider a request to continue the trial if any relevant evidence is found.