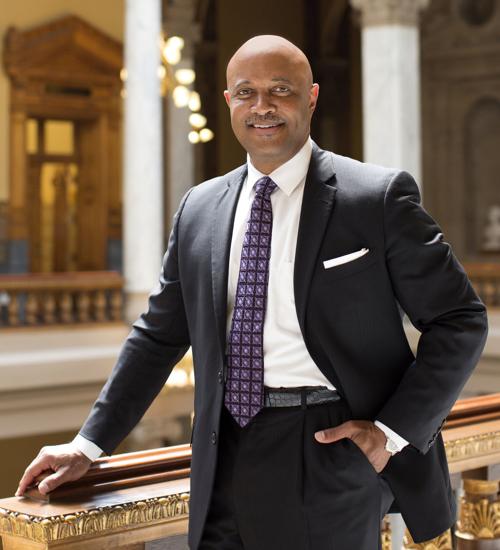 The Indiana attorney general's office aims to shut down and penalize an unlicensed Porter County midwife following the death of an unborn child and life-threatening complications of a mother in the midwife's care.
"(Julie) Lentz misleads consumers to believe that she is qualified to practice midwifery in Indiana when she is not, resulting in increased risk of harm being placed on consumers and their unborn children," according to a civil lawsuit filed against her by the attorney general's office.
Lentz, who operates Sacred Lotus Midwifery Services in Chesterton, declined comment when contacted Wednesday morning.
Porter County Prosecutor Gary Germann said Wednesday afternoon he intends to have Lentz's case investigated for potential criminal charges.
Court documents show Porter Circuit Court Judge Mary Harper granted an emergency temporary restraining order for Lentz to cease operations until a hearing at 2:30 p.m. Monday.
The allegations for the restraining order claim Lentz had been working toward a home birth since February with a Valparaiso woman, who ceased seeing her doctors, leaving Lentz as her only health care provider.
The woman's amniotic fluids began leaking April 22, which was six days before the child's due date, according to court documents.
Among other symptoms, the mother experienced stomach burning, high temperatures and head pain over subsequent days and twice voiced to the midwife interest in going to the hospital, the attorney general alleges. But the pregnant woman was talked out of seeking other care by Lentz, according to court documents.
When the woman did call an ambulance to go to the hospital May 2, Lentz reportedly told her to tell staff that her water broke within the prior 24 hours, even though it had partially broken 10 days earlier and completely broke three days before, according to court records.
An ultrasound at the hospital revealed the unborn child was dead, according to court records.
Doctors told the mother she was lucky to be alive and that she had one of the worst infections the doctor has seen in her 10 years of practice, the filings allege.
The doctor said the amniotic sac was completely drained of fluid, according to court documents.
Lentz has been operating in Indiana since at least July 1, 2018, and has contracted with multiple clients to serve as a midwife during the labor and births of their children, according to the civil lawsuit.
She bills herself as a "traditional midwife" and offers to assist in home births and provide "all postpartum care up to six weeks," the suit states.
State law requires that anyone practicing midwifery in Indiana first obtain a license or certificate, according to the attorney general's office.
"Requiring all individuals practicing midwifery to first be licensed ensures that they possess the required education and training to manage any unexpected problems affecting the mother or child during birth," the lawsuit states.
Those hiring Lentz as a midwife are required to sign a contract in which Lentz acknowledges she is not licensed by the state, according to the lawsuit. In an attempt to bypass state licensing requirements, Lentz has her clients join a private membership association called Dar a Luz, the lawsuit states.
"This means that the midwife and all clients are private members and not a part of the public sector," the contract reportedly reads.
"The Dar a Luz PMA purports to allow its members to bypass any governmental regulatory or licensing requirements," the lawsuit states.
Lentz reportedly said in a 2018 email to the Indiana attorney general's Medical Licensing Section that, "I am a traditional midwife, services conducted in private homes; as a matter of common-law and constitutionally secured perfect right; as members of a Private Membership Association (PMA) only with other members of the PMA; and pursuant to private contracts," according to the lawsuit.
She further argued, according to the lawsuit, that while the state has jurisdiction over medical facilities, "such public (corporate) laws do not apply to people acting in their private character and capacity, in the privacy of their own homes."
The lawsuit accuses Lentz of practicing without a license, misrepresenting her services and acting deceptively.
The action seeks to stop her operations until she obtains the required licenses or certificates. It also seeks civil penalties of $5,000 and $500 for each violation, as well payments to the Indiana attorney general's office to cover costs associated with the case and for "consumer restitution."
In addition to the lawsuit, the attorney general's office has filed a motion to cease and desist against Lentz with the Indiana State Board of Nursing, according to a news release. The board is expected to hear the motion July 18.
Sign up for our Crime & Courts newsletter
Get the latest in local public safety news with this weekly email.