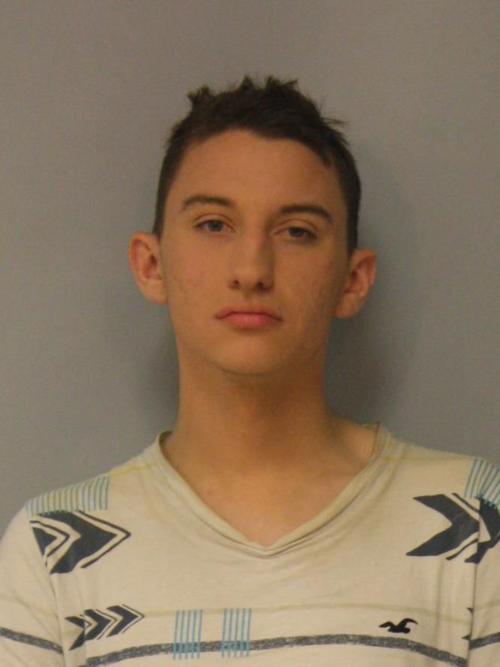 SCHERERVILLE — Police went undercover using Grindr to catch a man who once again is accused of using the dating app to rob victims at gunpoint.
Police said the idea on how to catch him came from his last robbery victim, who advised officers to use the same method the suspect used to lure him.
Nineteen-year-old Jacob Trosper, of Dyer, has been charged with armed robbery and theft and is in custody at Lake County Jail, Cmdr. Jeff Cook said.
Trosper is still facing charges of armed robbery, robbery resulting in bodily injury and kidnapping from an incident Dec. 2, when he allegedly used Grindr to lure in a 52-year-old Dyer man to injure and rob him.
Trosper was on work release after the arrest but was charged with failure to return to lawful detention April 17, court reports state. It was then that Trosper allegedly got back on the dating app in search of more victims.
When 20-year-old Zach Keil rode his bike to meet Trosper on Monday night at a business near the 1000 block of West U.S. 30 in Schererville, he had no idea he would be met with the barrel of a gun.
"You see it in the movies and don't realize how scary it is to have a gun pointed at you in real life," Keil said.
As he walked with his bike outside of the business, a person shouted, "Hey!" The person then asked if Keil was "from around here."
"I turned around, and they pulled out a gun," Keil said. "I didn't know what to say. They said give me your money. I only had $20 on me; it wasn't much."
Keil said the man, wearing a long dark hair wig, repeatedly asked him what he was doing there. When Keil said he was meeting someone, the man became angry.
"He pointed the gun at my foot and said, 'Are you still trying to play games?' " Keil said. "He said he would shoot me in my foot."
When Keil said he was there to meet a man, the thief became more irate and yelled, "Do I look like a man?"
Trosper allegedly made off with Keil's $20 and the mountain bike he used to get there.
"I thought, 'There's a guy in wig who pulled a gun on me for $20; obviously they're not stable,' " Keil said.
Keil told the business staff about what happened, and the police were called.
"I was shaking for 45 minutes after, until my best friend came over," Keil said.
Schererville police searched the area, but the suspect was gone. Keil went back on his Grindr account and saw the man who had just robbed him was still active on his account. The app displays a general area location of each user, showing Trosper was still in town, Keil said.
Keil told police that Trosper's account was still online and that if they made a fake profile, Trosper likely would try to do the same thing.
"He sent a real photo of himself to me, so it shows he's not very smart," Keil said. "We're lucky he's not the brightest because he did, he messaged them to meet up."
Detective Matt Djukic was shown a picture of Trosper from Keil's cellphone and immediately recognized him as the same person who was charged with a similar armed robbery in December 2018 in Schererville, Cook said.
Early afternoon Tuesday, Schererville detectives learned that Trosper was active on Grindr. Schererville Police Detectives and Crime Reduction Enforcement Unit officers enlisted the assistance of undercover Bureau of Alcohol, Tobacco, Firearms and Explosives agents and arranged a meeting with him through the app, Cook said.
The app showed that Trosper was currently near a business in Dyer, and the agent agreed to meet him there.
Trosper arrived at the location wearing the same long, dark wig Keil described and walked to the undercover vehicle while holding his hand on his waistline, Cook said. His face also was masked with a bandanna.
As Trosper began to pull on the vehicle door, he was apprehended by Schererville detectives and other ATF agents.
Detectives found a black and silver handgun tucked in his waistband, Cook said.
Trosper allegedly admitted to detectives that he "finessed" his victims during the meetings, reportedly saying he would "rob them of money and/or marijuana during the meetings," Cook said.
Detectives also recovered Keil's bicycle.
With the incident fresh in his mind, Keil ultimately made the decision to publicly talk about what happened to spread awareness to others, so that they take precautions to be safe.
"I think people should know I'm 20 years old, and there's a lot of people who are only 18 using these apps," Keil said. "I wanted to put the message out there. People, especially young people, need to be aware that not everyone is good. And just because they're around your age or younger, doesn't mean they can't be dangerous."
Keil said above all, "It's more important for people to safe than be discreet."
"I would say, that if you plan to meet someone, do it in a public space like a park with other people around," Keil said. "Have their photo, have their name and get their phone number. And tell someone where you're going. I didn't tell anyone I knew where I was going, and something did happen."
Sign up for our Crime & Courts newsletter
Get the latest in local public safety news with this weekly email.