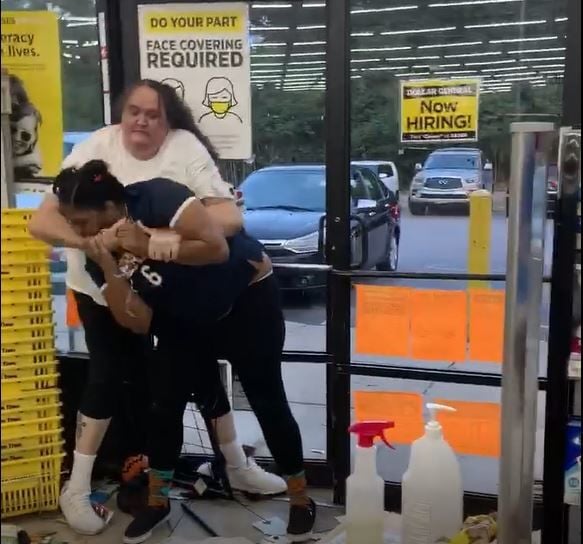 HOBART — Sales racks flew and merchandise tumbled after a brawl between shoppers at Dollar General left the store with hundreds of dollars of damage.
Two Hobart women face charges including battery, criminal mischief and indecent exposure, Hobart Capt. James Gonzalez said.
The fight broke out Sunday afternoon in Dollar General at 760 N. Wisconsin St. in Hobart, according to Hobart City Court documents. A shopper took video and posted it on social media, showing the two exchanging blows and throwing sales racks, which was used in the police investigation.
A store manager told police the battle caused $600 in damages, including a broken printer and $300 worth of destroyed merchandise, Hobart court records state.
Tanchanta Hopkins, 28, of Hobart, faces charges of battery causing bodily harm, criminal mischief and indecent exposure. Julie Ortiz, 45, of Hobart, faces charges of disorderly conduct and criminal mischief, according to the Hobart Police Department.
The video begins with Hopkins yelling, "You (expletive), do you know who you are (expletive) with?" while punching Ortiz while she is on the ground by the cash register, court reports state. Hopkins replies from the floor, "Yeah, a stupid (expletive)."
At one point, Hopkins is seen trying to hit Ortiz with an umbrella but an employee deflects the blow and Hopkins ends up falling down, court reports state. 
Hopkins then backs away from the fight, walking toward the exit, but Ortiz pursues her and knocks her into a display of Halloween decorations, the video shows.
Merchandise flies everywhere as Hopkins picks up the display and throws it at Ortiz. Next, the women grapple in front of the Dollar General door. Ortiz gets behind Hopkins and holds her right arm around her neck, after which Hopkins bites her arm.
Ortiz is then heard saying, "You're going to fight me, like the dog that you are," to which Hopkins replies, "I'm tired as hell, let me go." Ortiz replies, "You better get off me because you started this (expletive)."
All the while, the employee is yelling at the women to leave because they are destroying store property.
Ortiz is next seen pushing Hopkins out of the store and throwing a plastic skull at her, the video shows. Hopkins responds by throwing a bottle of hand sanitizer at Ortiz before the two part ways, while an employee is heard saying, "What is wrong with you guys? Get out of here. Get out."
After Ortiz drove away, police stopped her vehicle to question her. The woman had a cut on her face and a bite on her forearm, court records state. The woman claimed that Hopkins allegedly antagonized her and threatened to beat her up, telling police that Hopkins had started the fight by yelling at her and striking her hand.
In an interview with police, Hopkins said she was arguing with another customer over the checkout line when Ortiz stepped in and also began to argue with her. Hopkins said Ortiz stepped too close into Hopkins' personal space and she felt threatened due to the woman being taller than her, court documents state. That's when Hopkins said she grabbed Ortiz by the hair to try to "take her down," court reports state. She said after she tried to walk away from the fight, Ortiz came from behind to push her.
After both women left the store, Hopkins said she walked outside and pulled down her pants and smacked her buttocks because "the devil had taken control over her actions," court documents state.
While charges have been filed Wednesday, neither person was in police custody as of Wednesday, Gonzalez said.
Gonzalez asked that anyone who witnesses a physical fight to call police, stay on scene and wait for officers to arrive to provide a witness statement or share any recordings taken that will aid in the investigation.
"This donnybrook between these two ladies at the Dollar General was released on Facebook and their behavior in the video leaves a lot to be desired," Gonzalez said. "It seems that tempers have been easily flared during this pandemic and people aren't treating each other with dignity or respect. We encourage the public to try to remain respectful to others. We understand that many of us are under a great deal of stress with all of the things occurring in our society and our professional and personal lives. Please bear in mind that life's current challenges shall pass, and we will all move forward as we have in the past."
Sign up for our Crime & Courts newsletter
Get the latest in local public safety news with this weekly email.