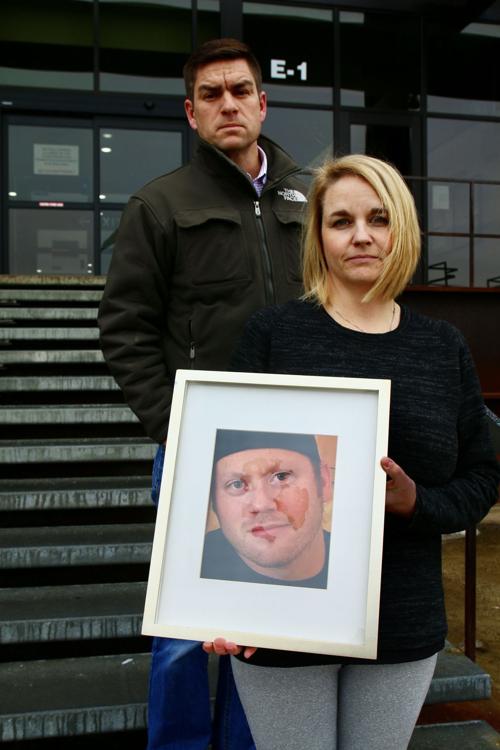 CEDAR LAKE — Two years after the death of a father of four in a fatal crash, the driver responsible has pleaded guilty to one count of reckless driving, a Class A misdemeanor, court reports said.  
Nick DeVries, 32, of Lowell, died after a two-vehicle head-on crash May 21, 2019, in the southbound lanes of U.S. 41 in Cedar Lake. 
Megan A. Zyla, 25, of Cedar Lake, pleaded guilty reckless driving, which is punishable by up to one year in jail, and a $5,000 fine, according to the Superior Court of Lake County.
The state agreed to dismiss several charges against her at her sentencing hearing, including causing death while operating a vehicle while intoxicated, two counts of causing serious bodily injury when operating a vehicle while intoxicated and four additional misdemeanor OWI charges, the plea agreement stated. 
DeVries' wife, Keri DeVries, remembers her husband as a loving husband and dedicated father of four. She said that their youngest daughter was only 8 months old when he died, robbing him of the chance of watching her grow up. 
"We are doing as good as we can," Keri DeVries said. "Nothing is going to bring him back. We have been trying to heal and I have been taking steps to get help in healing. I got to be there for the kids. ... He was my best friend. He was everything all in one, if you ever thought of a Prince Charming, he was it."
Nick DeVries' brother, Brian DeVries, and Keri Devries said they are upset that Zyla will not be convicted on any OWI counts or any of the other charges she initially faced.
That morning around 4:30 a.m., Zyla's Dodge pickup truck crossed the center line, smashing head-on into a box truck Nick Devries was driving for work, court records stated. A co-worker was riding in his work truck's passenger seat.
Nick DeVries died at the scene from traumatic injuries and autopsy reports showed he was not under the influence of any substances. 
Zyla was airlifted with a fractured jaw, broken collarbone, fractured ankle and numerous fractured ribs from a Crown Point hospital to a Chicago hospital, court records state. She was able to recover. 
The engine of the truck ended up on the chest of Nick DeVries' co-worker. The man was able to recover from his injuries after emergency surgery and months of physical therapy, according to court reports. 
Zyla originally faced three felony charges and four misdemeanor counts. Zyla was accused of having cocaine, marijuana and sedatives in her system during the wreck. 
The DeVries family has been waiting for closure of this case for two years, which lagged originally due to a delay in hospital toxicology results being provided to investigators.  
After eight months of regularly checking in with the Lake County Sheriff's Department and Lake County Prosecutor's Office hoping for updates on the case, they had been repeatedly told that the hospitals involved still hadn't responded to requests for the results of toxicology tests on Zyla. 
After efforts by The Times to aid the family in their search for answers, Prosecutor Bernard Carter, the investigating deputy and Carter's chief deputy sat down with Keri and Brian DeVries. Carter apologized to the family for the delays and had his office intervene to file for the toxicology reports. Carter previously said that it shouldn't have taken that period of time to file formal subpoenas.
Afterwards, authorities received the results from the Crown Point hospital, which led to charges filed against Zyla. Zyla was arrested and booked into Lake County Jail 11 months after the fatal wreck.
Lake County prosecutors, finally armed with toxicology results from the alleged culprit of the crash, are seeking three felony charges and four misdemeanor counts. 
As a result of the Devries family's efforts, Carter and Lake County Sheriff Oscar Martinez began holding monthly meetings to review open crash investigations to ensure the cases were moving efficiently, The Times previously reported.
Keri DeVries said due to the alleged lack of evidence collected in the investigation, she was told the other charges had to be dropped. She said Lake County Sheriff's Chief of Police Vincent Balboa met with her last week to discuss issues with the case.
"I hope that Lake County can have stricter penalties on driving while under the influence and I hope they can take what happened and fix it so this doesn't happen to others," Keri DeVries said. "I also pray that Megan can get help and become a better citizen."
Brian DeVries said he saw the reckless driving plea as a "slap in the face." He said 
"Nothing is going to bring my brother back," Brian DeVries said. "Two years ago, the accident happened that took his life. The system is not working right now."
The formal acceptance of the plea and sentencing of Zyla is set for July 2.