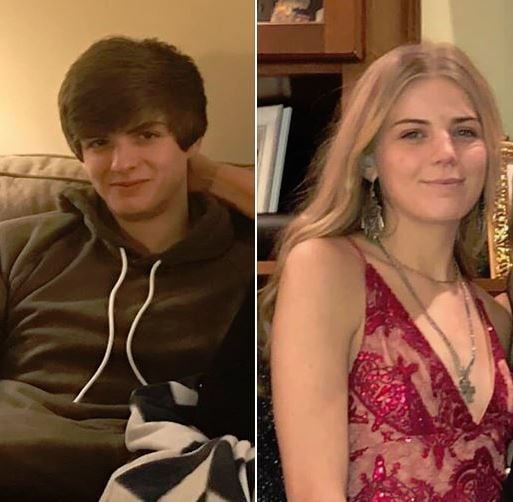 VALPARAISO — A 17-year-old boy is expected to be charged Monday with two counts of murder in connection with the disappearance last week of two Lake County teenagers, according to Porter County Prosecutor Gary Germann.
The identity of the boy and the details behind the charges will not be released until Monday, Germann said.
The news comes a day after the Porter County Sheriff's Department announced it had a suspect in custody and had located a burned-out car in the southern part of the county.
The department has refused to release any further details, referring inquiries to the upcoming charges.
Thomas M. Grill Jr., 18, of Cedar Lake, and Molley R. Lanham, 19, of St. John, were reported missing by their families last week, prompting the St. John Police Department to open an investigation.
The pair was last seen Feb. 25, police said.
Grill and Lanham were believed to possibly be traveling in a black 2012 Honda Civic four-door with Indiana license plate RY9007, police said.
At the time, police were reporting they could possibly be in Valparaiso or the New Lenox, Illinois, areas.
The Porter County Sheriff's Department said Sunday it was leading the investigation. The department has been working with St. John and Cedar Lake police.
Porter County police said Saturday they were following up on several tips regarding the missing teens.
"This is still an active investigation and no further information will be released at this time," county police said.
Porter County Coroner Cyndi Dykes issued a news release Sunday afternoon announcing she would not be releasing any information about the case.
She said all inquiries were being addressed by the Porter County Sheriff's Department.
Attempts to reach family members of the missing teens were not immediately successful Sunday.
Police were also searching this weekend for two women who went missing at the same time and were allegedly last known to be in Gary. 
Jessica Flores, 36, of South Chicago Heights, and Melina Cottrell, 26, of Gary, were last seen on Feb. 25, Gary Cmdr. Jack Hamady said.  
Anyone with information on Flores should contact Detective Kris Adams at 219-755-3855. 
Anyone with information on Cottrell should contact Sgt. Mark Salazar at 219-881-1209 or the Crime Tip Line at 866-CRIME-GP.
Sign up for our Crime & Courts newsletter
Get the latest in local public safety news with this weekly email.