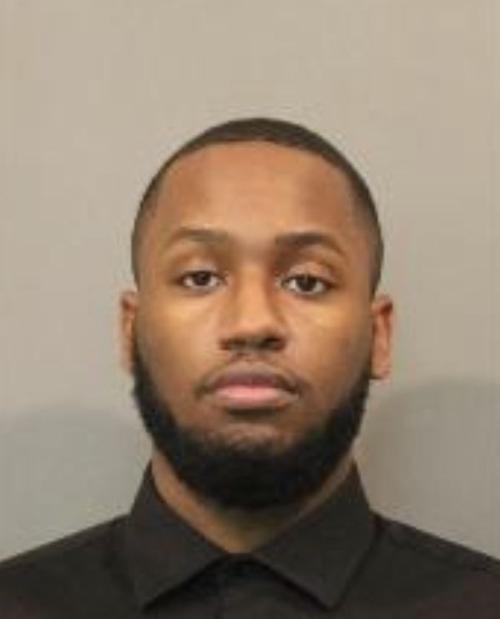 CROWN POINT — A Lake Criminal Court judge told a former Aspire Charter School employee, "You're a con man," before sentencing him Wednesday to eight years in prison for sexually grooming and molesting a girl when she was between the ages of 11 and 13.
Carlos Perkins, 30, of Hobart, must serve the final two years of his 10-year sentence on probation. He pleaded guilty in November to one count of child molesting, a level 3 felony.
Judge Natalie Bokota listened Wednesday as Perkins tearfully apologized to his wife and family and testified he was suffering from depression and feelings of inadequacy before his arrest in November 2019.
Bokota said there are some things in life everyone shares, including suffering.
"All of us know what it is to suffer, some of us more than others," she said.
However, being too proud to ask for help, having anxiety or marital problems, and feeling needy or unwanted did not explain why Perkins groomed a troubled child and made her become his sexual partner, she said.
Bokota said she found Perkins to be self-absorbed and manipulative.
"You're a con man, Mr. Perkins, and you have a lot of people who are buying into it," she said.
Bokota refused to care more about Perkins' two children than he did, when he chose to sexually abuse someone else's child.
"It's just despicable. It's just hideous and despicable what you did," Bokota said. 
Before the judge pronounced his sentence, Perkins testified staff at Aspire Charter Academy in Gary had specifically assigned him to work with the girl because her grades had dropped and she was acting out in class.
Under questioning from Lake County Deputy Prosecutor Nadia Wardrip, Perkins admitted he knew the girl had expressed suicidal thoughts and talked about dropping out of school before he began sexually grooming her.
Wardrip said Perkins lied to a mental health professional, failing to admit to the specific type of sexual abuse he inflicted on the girl. She asked Bokota to give little weight to the evaluator's finding that Perkins was at low risk to re-offend.
Instead of using his own credit card to rent a hotel room where he had planned to have sex with the girl, he used a credit card the girl's mother had given to her so she could access funds she received through child support, Wardrip said.
Perkins lied to the girl about his age and told her his wife and children had died in a car crash in an attempt to manipulate her, Wardrip said.
The girl didn't appear in court, but her mother read a statement in which she repeatedly called Perkins insecure.
"You're nothing but a liar. A sick man," the girl wrote.
The girl continued to contemplate suicide after the sexual abuse, in part because it seemed people at school talked about it every time she entered a room, she said.
The girl's mother said Perkins preyed on her daughter during a difficult time, after she lost custody and her daughter was placed in foster care.
"My hands were tied," she said. "This man robbed my daughter of her innocence."
Perkins said he became depressed after his wife's two "unplanned" pregnancies. 
His wife is an independent woman, and he fell further into depression after she started her own wellness-focused businesses because he wanted to be someone's "rock," he said.
He began pursuing the girl because his work with her made him feel needed, he said.
After his arrest, he went to counseling and learned he was using sex as a coping mechanism, he said.
He and his wife went to marriage counseling, and her forgiveness gave him a purpose in life, he said.
He apologized to the girl and her family, but then broke down in tears as he thanked his family for not "abandoning" him.
Perkins' attorney, Christopher Eskew, said Perkins deserved leniency because he had no prior criminal history and did not force the girl to be questioned by attorneys or testify in court.
Eskew asked that Perkins' sentence include placement in a work-release program and nine years of probation.
Wardrip asked for a maximum sentence of 16 years, including at least 14 in prison and the final year or two in the Community Transition Court program.
Bokota sentenced him to 10 years, with the last two suspended in favor of probation. She ordered him to receive new mental health evaluations and complete any recommended treatment.
The judge also granted Perkins' request to appoint a public defender to help him appeal his sentence.