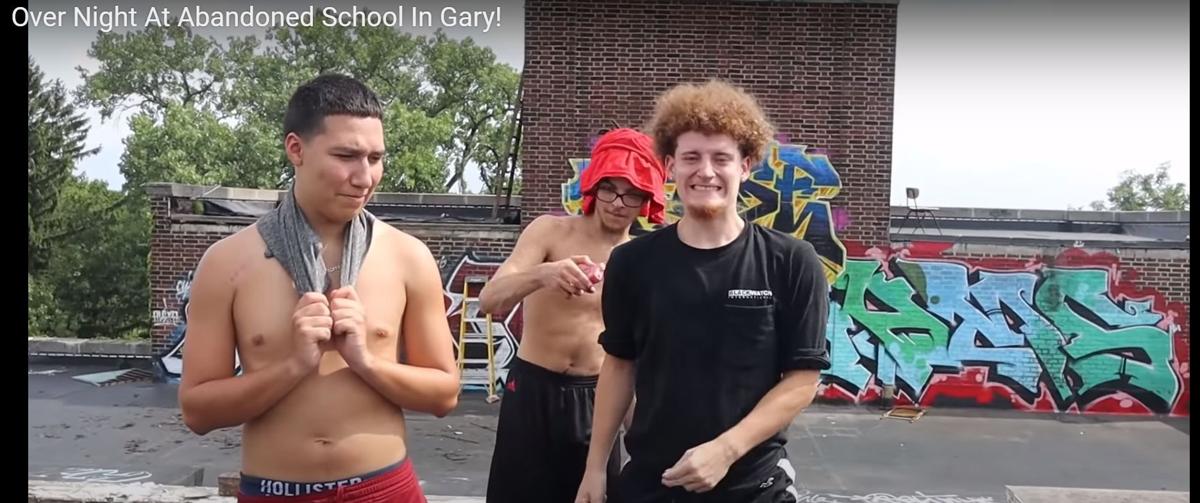 GARY — The Gary Police Department has opened an investigation into a 13-minute YouTube video showing young men defecating into a file cabinet, stun gunning each other, and running naked through the gym of the abandoned Lew Wallace High School, which closed in 2014.
Gary Mayor Jerome Prince said he ordered a police investigation into the video "Over Night At Abandoned School In Gary!" Poster Stephen Nelson, who has 163 subscribers, uploaded the video that's captioned "my boys and I stay the night in an abandoned school in Gary, IN attempting to stay 24 hours but only stayed 17. Enjoy us messing around and doing stupid stuff."
It shows a group of young men exploring the vacant high school where they play football on the roof, vomit off the side of the building, set off fireworks, run directly through a fire, see how long they can endure the stench of the abandoned cafeteria meat locker, work out in the weight room, and race nude around the track in the gym. One zaps himself with a stun gun in the butt for the amusement of the 7,000-plus people who viewed the video online.
"Obviously, we certainly can't tolerate this of behavior in the city," Prince said. "They provided enough information that we have passed on to police and prosecutors in addition to the obvious charges of trespassing and breaking and entering."
Named after Civil War general and "Ben Hur" author Lew Wallace, an Indiana native, the high school at 415 W. 45th Ave. was built in 1926 in the Steel City's Glen Park neighborhood. Lew Wallace graduated generations of Gary residents, including Super Bowl champion Hank Stram and former Duke University basketball coach Vic Bubas.
The school board decided to shutter Lew Wallace, home of the Hornets, after years of declining enrollment in 2014 to avoid a $2.8 million bill in deferred maintenance that was no longer possible to put off.
Prince, who has sought to demolish vacant schools and other abandoned structures in the city during his administration, had just appealed last week to the governor's chief of staff for funding to tear down Lew Wallace, Edison Middle School and Norton Elementary. Edison was targeted for demolition as deterrent to criminal activity, Norton because its location near the Gary/Chicago International Airport made it an ideal spot for redevelopment, and Lew Wallace because of the impact its blight has on the surrounding residential neighborhood.
"Ironically, we just sought funds for its demolition and will continue to pursue it," he said. "We're showing them the video in the hope it captures their eye and illustrates the need for the building to come down."
A church had expressed interest in acquiring Lew Wallace years ago, but the school board declined its offer and no one else has stepped forward since then, Prince said. The city ideally would like to see more housing built there in keeping with the surrounding neighborhood, but it's unlikely any developer would be interested until the school building was razed, he said.
"The cost of demolition would make it cost-prohibitive to get any return on investment," he said.
Lew Wallace has been broken into many times since it closed, and was the site of an arson in June.
"During a time when we are laser-focused on providing quality educational instruction and resources to the 4,500 youth currently enrolled in our schools, it is both hurtful and unacceptable to see the vandalism that is taking place in our closed buildings," Gary Community School Corporation Manager Paige McNulty said. "We are well are appalled by this most recent criminal act at Lew Wallace and are cooperating with the City of Gary and the Gary Police Department to ensure that these individuals are brought to justice."
Gallery: Gary's closed, abandoned school buildings
Gallery: Gary's closed, abandoned school buildings