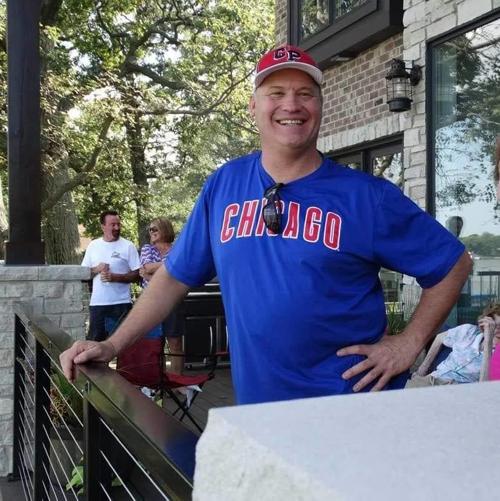 CROWN POINT — Over the last seven weeks, the Phillips family has experienced a lot of highs and lows. 
On March 27, Jim Phillips, of Crown Point, came down with a fever. Then, his head hurt, his body ached, he had chills and later developed a cough — all symptoms of COVID-19. 
A week later, Phillips, a manager at U.S. Steel, checked himself in to Franciscan Health hospital in Crown Point, where he remained in the intensive care unit (ICU) for five weeks. 
Now, he's recovering in a long-term care facility, his wife of 21 years, Kate Phillips, said Friday. 
"I call it a gift of where he's at right now because by all rights ... his outcome is definitely a gift," Kate Phillips said. "People in his position at the hospital were not as lucky as he was." 
The pair was reunited for a short time while Kate helped Jim get settled. 
"It was the best day of my life," she said. "We were both relieved, I think, to see each other. ... To tell him that he was going to be OK and to hold his hand and to try to hug him and everything — I think it was something we both needed." 
Jim Phillips was moved in to the facility nearly a week ago, but his journey there was riddled with uncertainty. 
"He would make one step forward and the next day it was like two steps back," Kate Phillips said. 
Though he's still regaining strength and working on getting off the ventilator, Phillips said her husband continues to be positive. 
On Friday, the couple had their first conversation in weeks. 
He said, "Hi," to Kate, shared his excitement to walk his kids through properly fertilizing the lawn — a project he began before he was hospitalized — and talked about his progress.
"He was talking about how he's thinking more clearly, and he knows it now," Phillips said. "He was glad that he's starting to think clearly because it was scary. He didn't know where he was at, things like that."
Phillips is unsure when her husband might be able to come home. After his stay at the long-term care facility, he will head to a rehab center to continue to regain strength.
Even then, she's unsure of what lies ahead.
"There's a lot of unknowns. I don't know what his new normal is going to be. I don't know what the virus, what kind of damage it will leave, if it will leave any ... I don't know. No one knows because it's just all so new," Phillips said. "There's a lot of unknowns, but I do know that he's getting better."
She is sure of one thing, though: prayer helped heal her husband. 
"Thousands upon thousands upon thousands of people were praying for Jim and that alone was a gift I think for Jim, and I do believe that was a big thing that helped him through all of this," she said. 
Gallery: Regionites show off shaggy hairdos, DIY cuts during quarantine