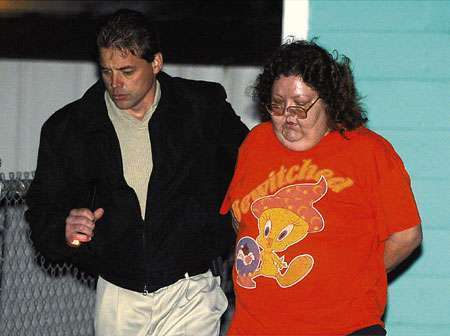 HOBART -- The daughter of the woman who allegedly killed her husband by repeatedly injecting him with insulin has also been charged in connection with the crime.
Tammy Garcia, 42, who lived with her parents in the 300 block of North Cavendar Street in Hobart, was charged Monday with helping her mother move her father's body from the scene of a crime. The Class D felony is punishable by up to three years in prison and a maximum fine of $10,000, if she is found guilty of the crime.
Hobart police arrested Tammy Garcia on a warrant Monday night and she was transported to the Lake County Jail. The amount of her bond was not immediately available.
While Garcia said she wasn't aware her mother had killed her father, police said she didn't report the death and chose to instead help hide the body after her mother told her she couldn't survive without his pension checks.
Garcia's mother, Barbara Garcia, was charged Nov. 10 with killing her husband of 43 years, Cipriano Garcia, by allegedly repeatedly injecting his body with insulin until he was dead. She remains in the Lake County Jail without bond and is expected back in court Friday for a formal appearance with her attorney Larry Rogers.
After Barbara Garcia was arrested and charged, family members grew angry that Tammy Garcia remained free. Tammy Garcia was Barbara Garcia's biological daughter and Cipriano Garcia's adopted daughter. But family members said Cipriano Garcia adopted her soon after she was born.
When news of the arrest hit, Tammy Garcia's uncle, John Miranda, said he was more at ease now. Since the incident, he said he has been moping around and unable to eat or sleep just knowing that she remained free.
He said the arrest serves as justice for his brother.
"I want everything to come out fair," Miranda said. "They're both wrong and guilty and they should pay the penalty."
In a probable cause affidavit, Tammy Garcia told police that when she arrived home on Oct. 30 her mother greeted her at the back door and said her father had died. Her mother then told her she was going to pay her bills. Soon after, Barbara Garcia told Tammy Garcia that no one could know her father died because she could not afford to live without his Social Security and pension checks.
Later, Tammy Garcia told police she entered the house and saw her father's body in what she believed was a rug. Both she and her mother then moved the body from the living room into an outdoor garage.
Tammy Garcia told police they continued to try and move the body onto a pickup truck for the next couple of days. At this point, she told police she "was afraid of losing her mother and her mother losing the house and losing everything."
On Nov. 2, the two managed to move her father's body onto the pickup truck by attaching extension cords to his feet and using a car to pull the body onto the bed of the truck. Tammy Garcia was operating a separate car that pulled the body onto the truck.
After the body was placed on the truck, Tammy Garcia told police that she told her mother she "didn't want to know anymore and she didn't want to know anything." Her mother allegedly drove the truck to Illinois and dumped the body in a wooded area in Bloom Township, Ill., where it was discovered the next day.
Barbara Garcia told police she "decided that she would have to kill her husband" because he was about to discover she had withdrawn $4,000 from savings to cover gambling losses, according to the probable cause affidavit.
In addition to the Indiana charges, the two could possibly face Illinois charges, such as concealing a homicide.