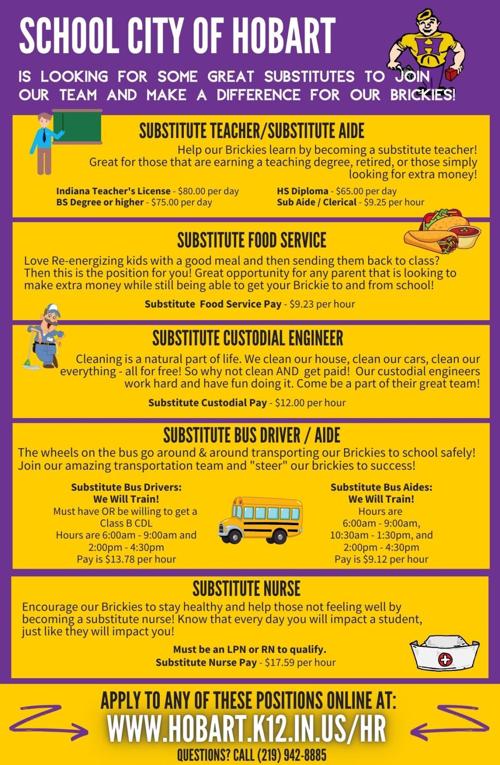 Have you ever thought of being a substitute teacher? Well, now may be the right time to try it out. 
Districts across the Region are looking for substitutes to fill the shortage they're facing. Some have even increased their pay rate to help draw more interest. 
School City of Hammond increased its daily substitute teacher rates this month in the face of a shortage. 
The board voted to up the rates to "encourage more interest," the district said. The previous model of four rates was consolidated into two. 
Now, someone with less than a bachelor's degree will earn $100 a day. Someone with a bachelor's degree in any area, or a higher degree, will earn $125 a day. 
Previously, subs with a bachelor's in education received $100 a day, those with a bachelor's degree in another area received $90. Someone with an associate's degree was paid $70 and community residents made $65 a day.
Bonuses, to be paid at the end of each semester, were also approved by the board. An extra $250 will be awarded for subbing 15 to 30 days, $500 for 31 to 60 days and $1,000 for 61 days or more. 
Long-term subs — those who work in one particular class rather than floating between buildings and classes — will receive starting teacher salary rates, $41,000, after 16 consecutive days. 
The School Town of Munster said it increased its rates to "be proactive" in building a pool of substitutes and become "more competitive" before a shortage becomes an issue for the district. 
The new daily rates for subs are $95 with an Indiana Substitute Permit, $100 with a bachelor's degree and permit, $110 with an Indiana Teaching Permit and $120 for retired Munster teachers with a permit. 
Everyday substitutes now get $100 with no degree, $110 with a bachelor's degree and $120 with an Indiana Teaching Permit. People can apply online. 
School City of Hobart posted a photo on Twitter saying it is looking for substitutes in all departments including nurses, bus drivers, custodial engineers, teachers and food service workers. 
Different pay rates are offered for each department, but the district said it will train people to be sub bus drivers and bus aides. People can apply online.