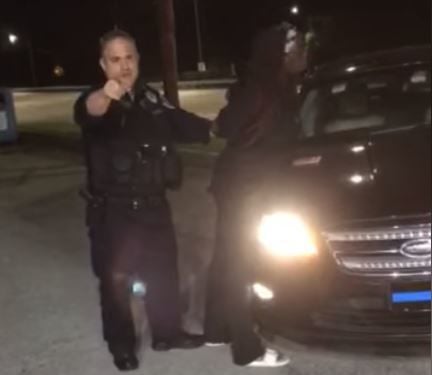 GARY — Documents obtained by The Times, court records and a video that recently circulated on social media appear to show a pattern of allegations of police brutality by Gary Officer Terry Peck.
Peck, the past president of Fraternal Order of Police Lodge 61 in Gary, is facing termination over allegations he pushed a man's head into a police vehicle in March 2019 with enough force to chip the man's tooth.
It's not the first time Peck has been accused of using excessive force.
Allegations that Peck was overly aggressive, used profanity and failed to give people enough time to comply with his orders were a common theme among documents reviewed by The Times.
Elizabeth Bemis, Peck's attorney in the disciplinary action linked to the March 2019 case, said, "Officer Peck denies ever using unnecessary or excessive force, nor has he engaged in a pattern of unnecessary or excessive force, and he looks forward to defending his work as a Gary police officer."
A disciplinary complaint alleges Peck pulled a man from his car March 19, 2019, as the man was unbuckling his seat belt to comply with Peck's orders to get out and produce his driver's license and registration.
The man, Rasaan Hamilton, of Gary, testified during Peck's disciplinary hearing last week that he repeatedly asked Peck why he had been pulled over but was reaching for his seat belt when Peck removed him from his mother's car.
Hamilton's paperwork, which was in his hand, ended up all over the street, he said.
Hamilton later yelled out Peck had broken his tooth after Peck aggressively pushed his face into a squad car, Gary Detective Olivia Vasquez and former Indiana University Northwest police Officer Sarah Storm testified during Peck's disciplinary hearing Tuesday.
Vasquez, who filed a complaint against Peck, said she didn't think Peck gave Hamilton a chance to comply with numerous orders.
"It seemed like it was one order after another," she said.
Records: Peck was officer in viral video
A lawsuit in U.S. District Court alleges Peck used profanity and dented a man's car with a flashlight as the man was complying with orders to leave in 2017.
Another lawsuit filed in July in Lake Superior Court alleges Peck punched a man who was detained in handcuffs in the backseat of a squad car after the man's phone rang in 2018. The man claims Peck failed to search the man before putting him in the car.
Court records also show Peck is the police officer who arrested Andre James in mid-July as Peck attempted to arrest a woman at a Gary gas station.
James' video of his encounter with Peck circulated widely on social media. In the video, James can be heard asking Peck why he was being rough with the woman and if Peck was going to "break her arm."
The video prompted the Gary Police Department to issue a statement earlier this month that the officer involved was on leave and the incident was under investigation.
"Videotaping police is a hot-button issue right now," Gary Police Chief Brian Evans told The Times earlier this month. "Police have no right to privacy and should expect to be recorded, and we are trained on that policy."
James, who suffered an injury to his finger during his arrest, hired attorneys to pursue a lawsuit against Peck and the city and defend him in Gary City Court on four misdemeanor counts of resisting law enforcement.
James' criminal defense attorney, Michael Campbell, said it's not illegal to videotape police or state an opinion.
"The video speaks for itself," he said. "At no point in time did he ever physically interfere with the arrest."
Gary City Court records partially handwritten by Peck allege James "interfered with the arrest of a reckless driver." Peck also wrote James backed away and told Peck not to touch him when Peck attempted to arrest him, refused to be placed in handcuffs and refused to provide his identification.
The Times has not yet confirmed the identity of the woman Peck was attempting to arrest in James' video. It's unclear if she was arrested or charged with any crimes.
In the video, the woman looks at James as Peck holds her arms behind her back and says, "Don't you leave me here."
"When (the woman) pulled into the parking lot, she was screaming and yelling on the phone to 911 that, 'This guy was still following me,'" James said. "Then he pulls up in an unmarked car. Not once did he say he was a Gary police officer."
Peck has been suspended twice, records obtained by The Times show.
Officer previously suspended twice
In March 2008, he served a one-day suspension without pay for conduct unbecoming of a police officer. He also violated a Gary Police Civil Service Commission rule against making arrests in personal quarrels without permission of a superior officer, according to a memo signed by Acting Police Chief Lawrence Wright.
The city did not released any records detailing Peck's violations.
Former Police Chief Wade Ingram suspended Peck again in October 2013 — this time for 60 days without pay — for violating the sick leave policy. Peck appealed the Gary Police Civil Service Commission's decision to Lake Superior Court, which upheld the suspension.
During Peck's disciplinary hearing Tuesday, City Attorney Rodney Pol asked internal affairs investigator Sgt. Gary Carter about the progressive discipline model.
Because of Peck's two previous suspensions, his alleged mistreatment of Hamilton warrants termination, Carter said.
The investigator noted two sworn officers — Vasquez and Storm — said they thought Peck used excessive force against Hamilton.
Peck is expected to testify on his own behalf during the second part of his hearing, which had not been scheduled yet.
During Tuesday's hearing, many of attorney Bemis' questions focused on whether Hamilton complied with Peck's orders, whether he was confrontational with police, and how Vasquez and Storm defined resisting law enforcement.
Hamilton's run-in with Peck began about 3 a.m., when he encountered a group of police officers responding to a domestic violence call at a high-rise building in the 3200 block of Pierce Street.
Hamilton testified he drove up to the officer and asked if he would be able to get through, and one of them — whom he could not identify — responded with a comment that included the F-word.
Hamilton testified he said, "You can't be talking to me like that." The disciplinary complaint says someone in Hamilton's car exchanged words with Peck.
Testimony suggests falsified charges
As police concluded their work at the scene, Peck told other officers he wanted to visit the residence of the man involved in the domestic dispute because he suspected the people in Hamilton's car may have wanted to fight the man, the complaint states.
As the officers drove toward the man's home, Peck radioed he had spotted Hamilton's car at a McDonald's drive-thru. Peck pulled Hamilton over about two blocks north of the McDonald's on Grant Street.
Police accused Hamilton in court records of misdemeanor driving while suspended, operating while intoxicated, disorderly conduct, resisting law enforcement and refusal to identify self. Hamilton also was cited for unsafe lane movement.
Hamilton testified he had not been drinking alcohol or using drugs before Peck stopped him, and Vasquez testified she never smelled alcohol on Hamilton.
Peck never asked him to take a portable breath test or perform field sobriety tests, he said. Hamilton said he took two breath tests at the police station, but never learned the results.
Vasquez also testified she did not see Hamilton commit any traffic violations before Peck pulled him over. She was watching from her own squad car as Peck stopped Hamilton, she said.
The charges against Hamilton were dropped in February, records show.
Hamilton testified Peck approached his car on Grant Street and said, "Get out of the (expletive) car."
He didn't feel comfortable getting out and repeatedly asked Peck why he had been stopped, he said.
Hamilton testified he became agitated after Peck pulled him from the car and told officers he thought their actions were racially motivated because he believed he was the only black person there. One of the officers responded, "I'm albino," he said.
Iraq War veteran alleges mistreatment
In a lawsuit filed in U.S. District Court, Russell Hillard II, an Iraq War combat veteran, accused Peck of denting his car with a flashlight during a confrontation Feb. 5, 2017, outside the Voodoo Lounge in Gary.
The lawsuit also names Officers Timothy Komoscar and Antoine Goffin and the city as defendants.
Shelice R. Tolbert, one of the city attorneys representing the officers, declined to comment on pending litigation.
Hillard went to the nightclub in the 5000 block of Broadway after learning a female cousin was involved in a fight in the area, the suit states.
Hillard claims he legally parked his car and got out as several Gary officers arrived and ended the fight by spraying "mace" into the group of women fighting.
Hillard was walking back to his car when Peck asked him if the car belonged to him, the suit says.
Hillard claims he told Peck, "Yes," and Peck replied, "Hurry up and get in your car before I bash the (expletive) up."
According to the suit, Hillard continued walking to his car as Peck hit the trunk twice with a flashlight, leaving large marks.
Hillard drove about 20 yards away and stopped to check on his cousin, who was standing on a sidewalk. In his rear-view mirror, Hillard saw Peck and Komoscar pointing at his car, the lawsuit says.
Hillard claims Komoscar then walked up to the driver's side of his car, opened the door and told him to get out without asking for his driver's license or registration or explaining why he should exit.
Hillard said he was checking on his cousin, and complied with Komoscar's repeated order to get out of the car, the suit says.
Hillard alleges Komoscar grabbed him, forced his hands on the roof of the car and kicked his feet apart. Peck pushed him into the car and began frisking him, the lawsuit alleges.
When Peck discovered Hillard's concealed gun, which he is legally permitted to carry, Peck yelled, "He's got a gun!"
Hillard alleges Komoscar put him in a chokehold, Goffin shocked him with a Taser, and officers threw him to the ground backward, where Komoscar smashed his face into the concrete with a knee.
Officers handcuffed Hillard, pulled him up by his arms from a prone position and shoved him into Peck's police car by violently pulling his hair, the lawsuit alleges.
Hillard suffered injuries to his face and ankle. During the arrest, he alleges officers verbally abused him and referred to him as a "parasite" and a "bottom feeder."
Hillard claims he requested medical attention for his ankle when he arrived at the police station, but was told, "This isn't a hospital."
He also alleges his three-minute phone call was cut short when Peck hung up his phone without consent.
Hillard was charged in Gary City Court with disorderly conduct — unreasonable noise. The charge was dismissed in June 2018, and records detailing the allegations against Hillard could not be obtained by press time.
Lawsuit: Man in handcuffs punched
A lawsuit filed in July on behalf of Portage resident Shaquille Hughes, 26, alleges Peck insisted on taking Hughes to the police station for booking after another officer stopped Hughes as he was driving July 29, 2018.
Peck failed to search Hughes before placing him in a squad, and Hughes' cellphone rang on the way to the station, the suit says.
Peck pulled over, opened the back door and hit Hughes with closed fists as Hughes sat handcuffed and secured in the seat belt, the lawsuit alleges.
Gary City Court records show Hughes was charged with misdemeanor counts driving without a license and battery resulting in bodily injury and cited for disregarding a traffic signal and no valid license.
Peck wrote in court filings that Hughes kicked him in the head, arm and shoulder while he was transporting Hughes to the station.
"Despite being handcuffed behind his back, prisoner Hughes was able to twist and maneuver and remain combative with the officer, due to his build and size," a police report stated. "Both prisoner Hughes and Officer Peck were injured during prisoner Hughes' subjugation."
Both Hughes and Peck were taken to a hospital, the report said.
Hughes is currently being held at the Lake County Jail on a bond of $30,000 surety or $3,000 cash on a charge of dealing in cocaine, a Level 5 felony. He's also charged in Porter Superior Court with dealing in cocaine as a Level 2 felony.
Gary residents Reginald S. Harris and Summer C. Snow were convicted after a trial in Lake Criminal Court in January 2016 of charges alleging they assaulted Peck after he responded Nov. 30, 2014, to Snow's call for help removing Harris from her vehicle.
Attorney Russell Brown, who represented Harris and Snow and also is Hughes' attorney, told jurors at that trial the couple were defending themselves when they fought with Peck in the 1100 block of Jennings Street.
The jury ultimately believed Peck and convicted Snow and Harris of battery against a public safety official and resisting law enforcement.
Snow was sentenced to six months in Lake County Jail, followed by two years of probation. Harris was sentenced to two and a half years of probation.
"When (the woman) pulled into the parking lot, she was screaming and yelling on the phone to 911 that, 'This guy was still following me.' Then he pulls up in an unmarked car. Not once did he say he was a Gary police officer." — Andre James 
"Officer Peck denies ever using unnecessary or excessive force, nor has he engaged in a pattern of unnecessary or excessive force, and he looks forward to defending his work as a Gary police officer." — Elizabeth Bemis, Peck's attorney in the disciplinary action linked to the March 2019 case