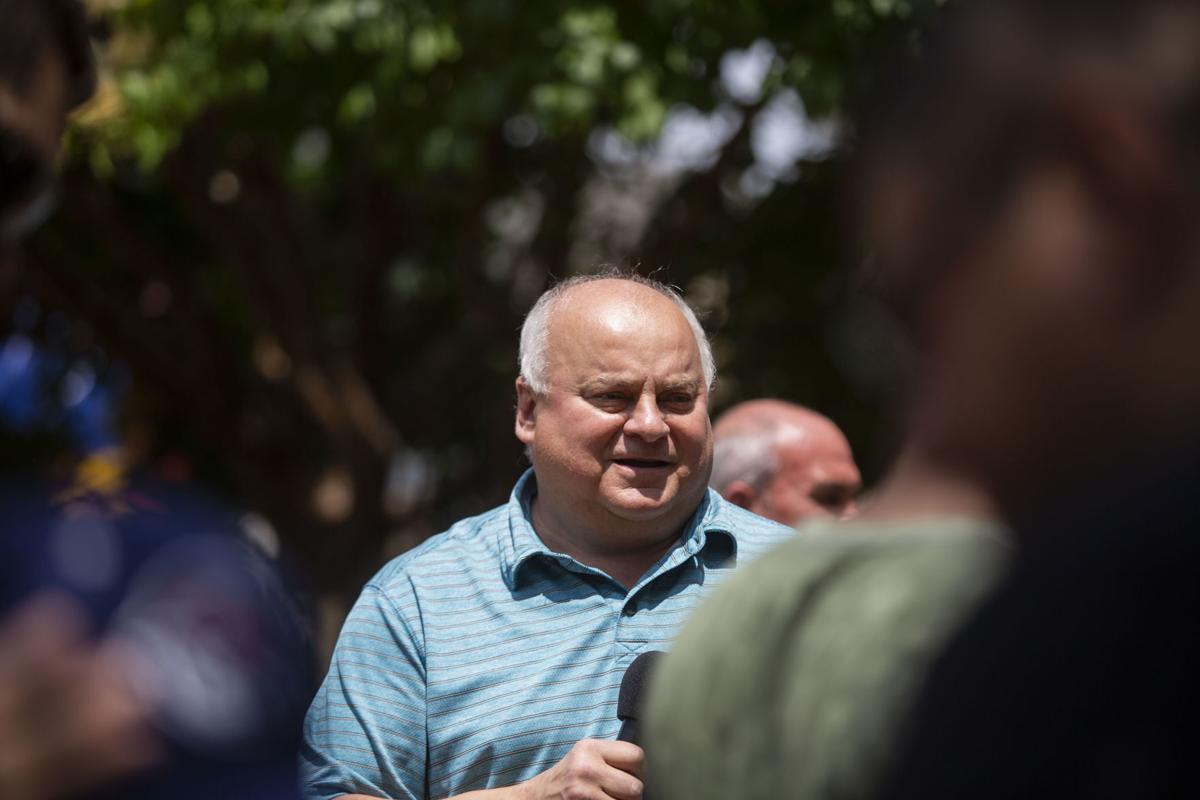 HAMMOND — Former Whiting Mayor Joseph Stahura admitted in open court he looted his campaign donations to gamble and for other personal uses over the last five years.
The 64-year-old Whiting native appeared late Wednesday morning before U.S. District Court Magistrate Judge Joshua P. Kolar to formally plead guilty to charges of wire fraud and filing a false tax return.
The charges, filed last month, have ended a long, illustrious political career and may land Stahura in prison.
He told the court Wednesday he knew it was illegal to convert reelection campaign funds to his personal use, but did it repeatedly between 2014 and 2019.
Assistant U.S. Attorney Philip C. Benson laid out more than a dozen examples of Stahura and his wife, Diane, making about 57 withdrawals from his Committee to Elect Joe Stahura campaign fund and transferring the money to their personal bank account, which was often too low to pay bills that had nothing to do with his reelection campaigns.
Benson said Diane Stahura had the authority to transfer money from the mayor's account and did so during these years, but she is not being charged with any crimes at this time, on condition she and her husband cooperate with federal authorities investigating how much they owe in tax penalties.
Joseph Stahura's illicit withdrawals from his campaign account included more than $55,700 in their combined gambling debts at the Horseshoe Casino in Hammond; the Horseshoe Casino in Council Bluffs, Iowa; and Blue Sky Casino in downstate French Lick.
They twice withdrew about $10,000 to meet their credit card debts, more than $37,000 in state and federal taxes they owed and $2,000 of the family's medical bills. The illicit diversions over the five-year period totaled about $255,000, according to the charges lodged against him.
The mayor also admits filing a false 2018 federal income tax return that didn't account for the diverted money from his campaign account, as well as a false 2018 campaign finance disclosure report to the county that overstated his repayment of money he took from his campaign fund.
Benson said Stahura committed these crimes being fully aware of Indiana election laws that forbid the personal use of political campaign funds and knowing he cannot under-report his personal income on tax returns.
Stahura, a veteran public speaker, said little himself during the hour-long plea hearing, mostly answering "Yes" to questions from the court about whether he understood the rights he was giving up by pleading guilty and that, "I'm here to plead guilty."
Stahura did so as part of an agreement with U.S. Attorney Thomas L. Kirsch II.
Stahura agreed to waive his right to a jury trial and force the government to prove its case against him. Stahura also resigned last week as mayor as part of his deal with the U.S. Attorney.
Kirsch's part of the deal is to recommend Stahura receive leniency. Kirsch also is opting not to charge Diane Stahura with any involvement in misusing campaign money.
Highland defense attorney Kerry C. Connor was at Stahura's side Wednesday and did most of the talking for him.
The only turbulence between Benson and Connor arose after Benson had finished his recitation of Stahura's criminal acts.
The magistrate asked Stahura if he agreed with everything Benson said. Connor said they aren't disputing anything the assistant U.S. Attorney said, but commented that Benson's recitation went beyond the factual basis needed to establish that Stahura had committed the felonies.
Benson said every instance he cited was in the five-page narrative of the plea agreement Stahura signed. Benson challenged Connor and Stahura to say in open court that his recitation of crimes was accurate.
"It's accurate," Stahura said.
If U.S. District Court Judge James T. Moody accepts Stahura's guilty plea and the plea deal, he will likely sentence Stahura in the first week of December, the magistrate said.
Stahura also has agreed to pay the Internal Revenue Service at least $28,977 in delinquent taxes.
Stahura's downfall comes after decades of public service as a Whiting city councilman and mayor. He coordinated the revitalization of the city's downtown retail district and lakeshore recreational area during his time as mayor.
Because Stahura was nominated to public office by the Democratic Party, state law requires the city's Democratic precinct committee members to caucus within 30 days of his resignation to select another Whiting Democrat to serve as mayor until Stahura's term expires, a little over three years from now.
Lake County Democratic Chairman Jim Wieser said Wednesday the city's six precinct committeemen will caucus Sept. 19 at Whiting City Hall to pick the next mayor.
Recent arrests booked into the Lake County Jail
Get local news delivered to your inbox!
Subscribe to our Daily Headlines newsletter.