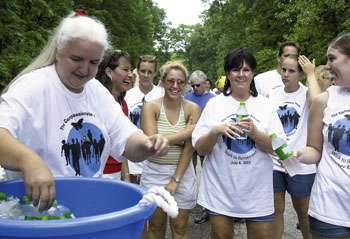 LEROY -- Jacob Hamm was a young charmer with a goofy grin that gave him away when he was up to something and a big heart that always wanted to help others.
It's no wonder, then, that a large contingent of Jacob's family and friends came out to help others Sunday during the two-mile "Walk to Remember" at Stony Run County Park sponsored by the local chapter of Compassionate Friends, an organization that serves as a support group to those that have lost a child.
Jacob's parents, Kris and John Hamm, of Lowell, said that Compassionate Friends has been a help since Jacob's death at age 9 on July 3 of last year in a four-wheeler accident.
"It's a feeling that no one should ever feel," Kris Hamm said of losing a child, adding, "I got into Compassionate Friends through friends. It's everybody who's been through what you've been through."
Carol Campbell, of Shelby, now leads the chapter which began in Valparaiso, in 1977, and now serves Lake and Porter County and also has a satellite group in Crown Point. Campbell has been where the Hamms are now.
"You think you're going crazy," Campbell said of the gamut of emotions she felt after the loss of her two daughters in a car and train accident 13 years ago.
"You go to meetings, talk to parents that are further along than you. You see others are going through it and surviving," she said. "That's why I help others now."
More than 120 people collected pledges and walked Sunday, wearing placards with the name of the child to whom their participation was dedicated. The funds raised will go to support brochures that are sent to the recently bereaved, a regular newsletter and books on loan, Campbell said.
Kris Hamm said she thinks the name, "Walk to Remember," is appropriate to the cause. "Everyone's fear is that their child will not be remembered," she said.
Jacob Hamm's legacy is already in place, however.
The Jacob Hamm Scholarship Fund has been established through the Tri-Creek Education Foundation. His aunt, Judy Walters, of Lowell, said the extended family intends to annually raise money that will be deposited into the fund on Jacob's birthday. Their plans are to award the scholarship to a member of the Lowell High School Class of 2011, the year Jacob would have graduated.
A fine student and athlete, who also was a student council member at Oak Hill Elementary School, Jacob has a permanent place in history, because his classmates purchased a star through the Federal Star Registration in his memory.
Subsequently, the Shining Star Award was established by the Hamm family to be given annually to a member of the Class of 2011 for "kindness, friendliness and admirable character." The first award was presented by Jacob's aunt, Janet Hamm, to 10-year-old Hannah Burns recently.