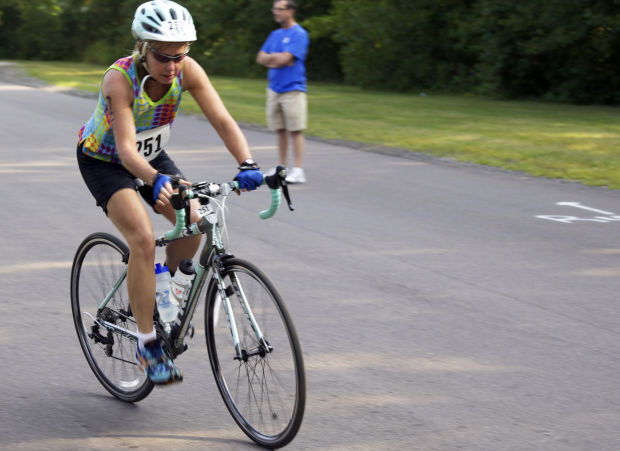 *It is recommended to verify information with venues as hours may change and class sizes may be limited due to COVID-19; early registration or online scheduling may be necessary, and some opportunities may be limited to members only.
LaPorte County Family YMCA 41st Annual Triathlon
JUNE 5, 8 a.m., Soldiers Memorial Park at the Stone Lake Beach House, 350 Grangemouth Road, LaPorte. runsignup.com. This race is a quarter-mile lake swim, a 12.4 mile bike and 3.4 mile run. Swimmers will be assigned a wave on race day. Swim cap color will determine the wave you're designated in. Bike helmets are mandatory. Course map at lpymca.org/special-events/triathlon.
St. Stan's/Trail Creek 5K Run & Walk
JUNE 5, 8 a.m., Edgemoor and Whippoorwill streets, Trail Creek. runsignup.com. This race is a fundraiser for St. Stanislaus Parish Renaissance Campaign to help money to pay for much-needed rappers at the parish.
Burn It to Earn It - 3 Mile Fun Run/Walk
JUNE 9, 6 p.m. Valparaiso Events, 150 W. Lincolnway #1006, Valparaiso. Join the Extra Mile Fitness Company, Valparaiso Events and Brooks Running for a 3-mile fun run or walk followed by raffle drawings for all registered participants. Brooks Running will have shoes to test out during the run. After race, spend your evening exploring downtown Valparaiso.
Munster Rotary Run A Round
JUNE 12, 8:15 a.m., Munster High School Football Field, 8808 Columbia Ave., Munster. This 5K run and walk will begin at the football field and include paved roads. Registration closes at 6 p.m. June 11. Special pricing for families of four.
ONGOING, 11-11:45 a.m., Wednesdays. Whiting Family YMCA, 1938 Clark St., Whiting. 219.270.5091. crymca.org. Aqua Zumba blends the Zumba philosophy with water resistance. There is less impact on your joints during an Aqua Zumba class so you can really let loose. Water creates natural resistance, which means every step is more challenging and helps tone your muscles.
ONGOING, 9-9:45 a.m., Fridays. H-F Racquet & Fitness Club, 2920 183rd St., Homewood. 708.799.1323. hfracquetandfitness.com. If you one of 50 million Americans that suffer from arthritis, this is the class for you. One of the best ways to control pain, increase flexibility and improve daily function is through aquatic exercise. This gentle exercise class helps participants decrease pain and stiffness, improve or maintain joint flexibility and gain muscle strength, balance & coordination. Although the class is structured for people with arthritis, anyone is welcome. Activities are tailored to participants' abilities and skill levels in the club's 82-degree pool. Participants do not need to be able to swim.