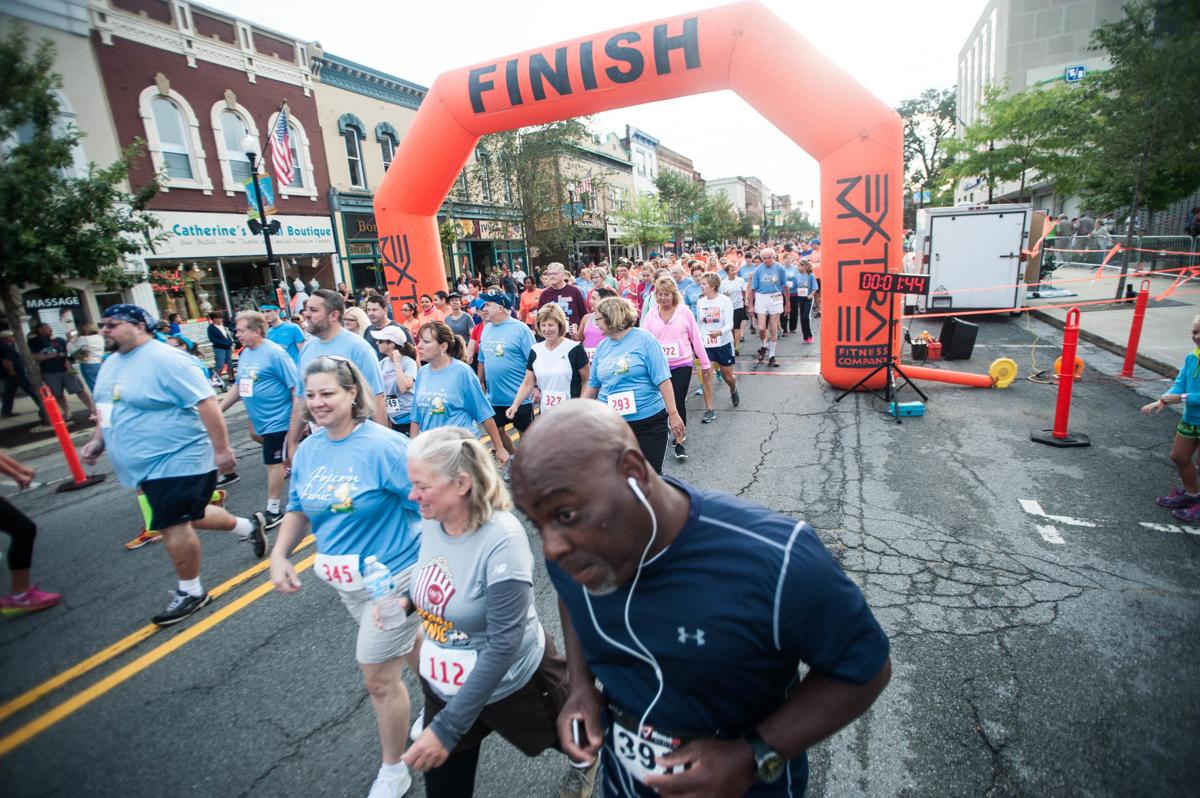 Verify information with venues as hours may change, pre-registration may be required and class sizes may be limited due to COVID-19.
World Trade Center Stair Climb
SEPTEMBER 11, 6 p.m., Lake County Fairgrounds, 889 S. Court, Crown Point. yourhometownevents.com. This event honors the heroes of 9/11 and each participant is given the name of one of the 412 emergency workers who lost their lives on 9/11/01. The tower climb includes 1,980 stairs — 40 times up and down the 50 steps in the Lake County Fairgrounds Grandstand. It takes about 45 minutes at a casual pace. This year participants will be limited to help with social distancing and groups will be split into two sides and will start at one of five time slots. There is a registration discount for the first 50 police, firefighters, EMTs and nurses.
SEPTEMBER 12, 7:30 a.m. Central Park Plaza, 63 Lafayette Street, Valparaiso. valpoparks.org/209/Popcorn-Panic-2020. The race is normally part of the Popcorn Festive, but with the fest cancelled this year, there will be a modified format. There is a new race course designed to minimize traffic disruption, the number of participants will be limited and there will be rolling start times for this 5K race with times designated between 7:30 and 8:30 a.m.
SEPTEMBER 13, 6:30 a.m. full marathon, 7:30 a.m. half marathon, 8:00 a.m. 5K. Lake County Fairgrounds, 889 S. Court Street, Crown Point. Entrance fee is free when you run for charity by raising $500 or becoming a "SoleMate" for Girls on the Run of Northwest Indiana. Due to cancellation of the Chicago and Boston marathons, the Hub City Races will now include a full marathon (by running the half marathon course twice). There is a suggested time limit of five hours.
ONGOING, 10:00-10:30 a.m. Thursdays. Hammond Family YMCA, 7322 Southeastern Avenue, Hammond. 219.845.1507. crymca.org. If you're looking for a fun workout, this is for you. Zumba takes the "work" out of your workout by mixing low-intensity and high-intensity moves for an interval-style, calorie burning dance fitness class with Latin sounds to keep you moving.
ONGOING, 8-8:50 a.m., Mondays and Fridays, GRIT Fitness Cedar Lake, 12937 Wicker Ave., Unit E, Cedar Lake. 219.390.7600. gritfitnessnwi. This is a plyometric fat burning class. Weighted bars, and a mat are used for push-ups and planks.
ONGOING, 10 a.m.-12 p.m. Wednesdays, Lynwood Sport Center, 2030 Glenwood-Dyer, Lynwood. 708-474-5900. skatelynwood.com. Roller skating makes for a fun workout. Lace up your skates and head indoors where it's air conditioned for some laps around rink to lively organ music.
ONGOING, 5:15-6:15 p.m., Tuesdays. Dean & Barbara White Southlake YMCA, 100 W. Burrell Drive, Crown Point. 219.663.5810. crymca.org. Yin yoga is a type of yoga that practices techniques to work into the body's fascia or connective tissue system with deep stretches held for longer periods of time.