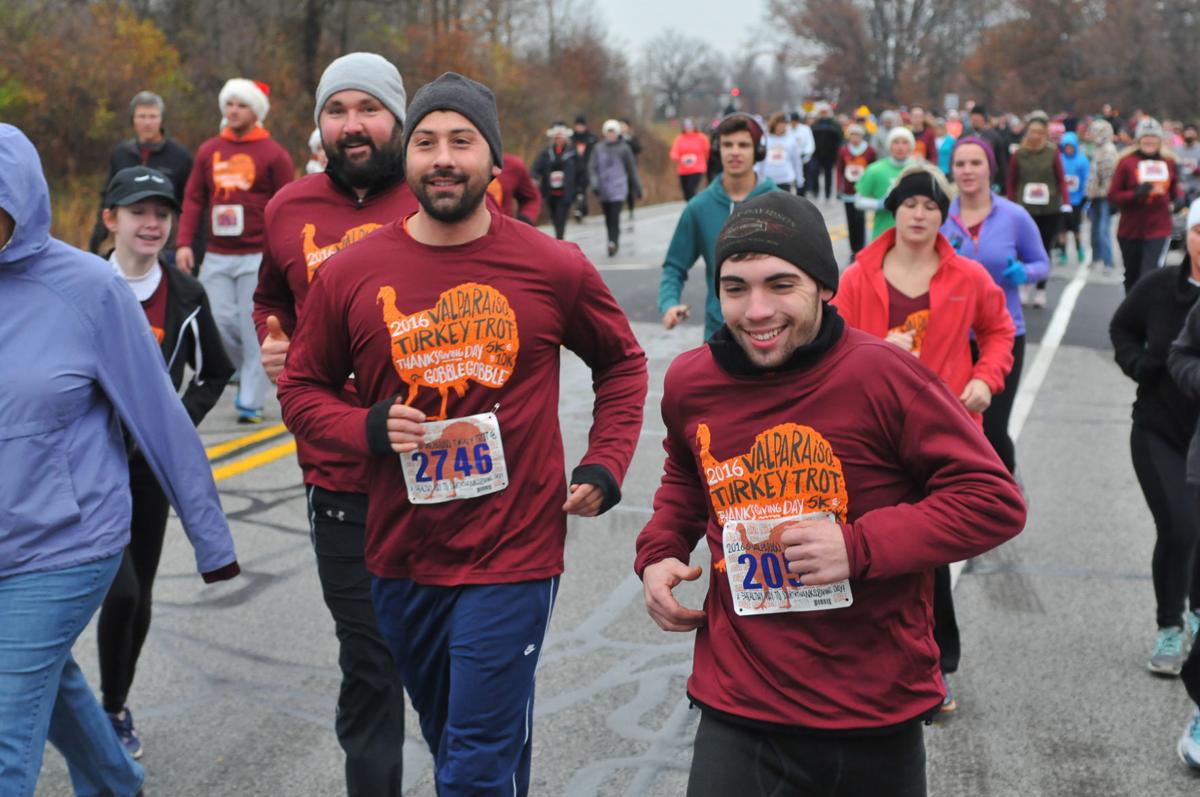 *This listing has been updated to fix the day of the Strong class at Fitness Pointe.
New Lenox Gobbler Gauntlet 5K
NOVEMBER 20, 8 a.m., Sanctuary Golf Course, 485 N. Marley Road, New Lenox. runsignup.com. Dash your way to the finish line! The terrain of this race/walk is mostly flat with a few rolling hills. The route will have a water station and electronically timed finish line. Participants receive a complimentary drink in the clubhouse upon finishing.
Anything is PAWSible 5K/2K
NOVEMBER 20, 8 a.m., Matthias Hall, 101 W. Burrell, Crown Point. yourhometownevents.com. Earn your final medal of the 3-medal challenge. There will be pets available for adoption at this event. There will be unique race awards for top finishers. Vote for the local animal cause you wish to support and those receiving 10 or more votes will share in the event proceeds. Donations will be accepted at the event of pet supplies and food for participating animal shelters.
NOVEMBER 25, 8 a.m. Valparaiso High School, 2727 Campbell, Valparaiso. runsignup.com. This holiday tradition began in 2003 and brings together friends from Indiana and beyond on Thanksgiving Day. Hosted by Porter-Starke Services Foundation and event proceeds benefit mental health and wellness programs and resources in Northwest Indiana.
NOVEMBER 25, 9 a.m. The Lincoln Center, 2450 Lincoln St., Highland. runsignup.com. This the 46th annual race, a USATF certified flat and fast 10K course and unofficial 5K course. The 10K is a competitive, timed event, and traditional pumpkin pies will be awarded to the top finishers overall and in age groups. Race begins at Highway and Kennedy Avenues and loops through the streets of Highland, finishing at The Lincoln Center.
Chicago Gaelic Park Carriage Challenge 5K/1.5 Mile Walk
NOVEMBER 28, 10 a.m. Chicago Gaelic Park, 6119 W. 147th St., Oak Forest. racetime.info. This race has an indoor heated prep/waiting area with bathrooms and at finish a food table with hot soup. Discounted entry for families and students. Proceeds go to Chicago Gaelic Park Charities.
ONGOING, 10-10:50 a.m., Tuesday. Fitness Pointe, 9950 Calumet Ave., Munster. 219.924.5348. fitnesspointe.org. Stop counting the reps and start training to the beat. STRONG combines body weight, muscle conditioning, cardio and plyometric training moves synced to original music designed to match every single move.
ONGOING, 5-5:50 p.m. Tuesday and Thursday, Valparaiso Family YMCA, 1201 Cumberland Crossing Drive, Valparaiso. 219.462.4185. valpoymca.org. This class involves barre burning moves mixed with elements of Pilates, yoga and functional fitness training. It's an intense class combined with light weights and resistance bands to create a total body workout for all levels.