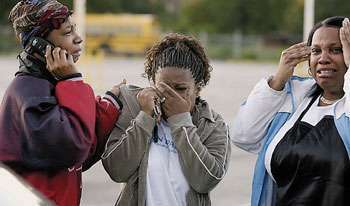 A Gary man who repeatedly threatened to kill his family shot four relatives to death and wounded a fifth before taking his own life early Saturday morning.
The bodies of Terry Lee Dennie, 20, and four of his victims were found inside the family's home at 1176 Porter Ave. a little after 5 a.m. by Gary police. Killed were Angela Walton-Scruggs, 41; her 18-year-old daughter, LaDanna "Mandy" Dennie, a senior at Gary Westside High School; Walton-Scrugg's 17-year-old son, Darion L. "Winslow" Dennie, a junior at Westside; and Isaiah "Peanut" Dennie, the 2-year-old son of LaDanna Dennie.
A sixth family member, Elizabeth Walton, 81, was seriously wounded, but reportedly played dead until she heard the final gunshot, which took the life of her 20-year-old grandson. She was admitted to The Methodist Hospital Northlake Campus in Gary with gunshot wounds to her torso and right arm, and was alert and talking late Saturday morning, relatives said.
"The evidence and preliminary forensics testing suggests that Terry Lee Dennie was the shooter in this incident of domestic violence," said Lake County Coroner David Pastrick. "There has been a long history of mental illness and of threats and violence toward his family."
All six people were shot with a 9mm high-point firearm, Pastrick said.
Pastrick said Angela Walton-Scruggs died of a single gunshot wound to the head, as did Darion Dennie. LaDanna Dennie sustained multiple gunshot wound to the body while trying to protect Isaiah; the child also died of multiple gunshot wounds to the body, Pastrick said. Terry Dennie died of a single self-inflicted gunshot wound to the head, he said.
Gathered in the parking lot of Teamsters Union Local 142 across the street from the trim white and black 1-1/2-story home, relatives said Dennie on several occasions had threatened to kill his immediate family.
"They put him on medication, but he stopped taking it," said Tyrone Walton, brother of Angela, and son of Elizabeth Walton.
"He said he was going to take 17 people with him just like at the Last Supper," Walton said, tears streaming down his face.
Two years ago, Gary police found Terry Dennie in the alley near his grandmother's home armed with two shotguns and trying to burn the house down, said Louvinia Walton, Angela Walton-Scruggs' sister.
"They shot him down with a beanbag and knocked him out," she said. "He was supposed to be locked up. The family went before a judge (to have Dennie committed to a mental hospital), but they released him. This is the worst thing I've ever seen."
Pastrick said Elizabeth Walton recently had taken in Dennie despite his threats.
"A lot of family members told her not to, but he was her grandson. She couldn't turn her back on him," Pastrick said.
According to Tyrone Walton, Dennie waited outside the house until all his victims arrived home from a party celebrating another relative's recent college graduation.
"He waited for Mandy to get in sometime after 3 this morning and then he started shooting," Tyrone Walton said.
Large trees shade the yard of the home where nine Walton children, including Angela, grew up. Looking across the street at her childhood home, Louvinia recalled good times in the house where her mother and late father moved in 1958. Bicycles leaned against a shed in the side yard, and a tiny red and silver metal tricycle stood several feet away.
However, Louvinia said the home had been ruled by fear in the past few years. Although she had recently taken him into her home, Elizabeth was growing increasingly nervous about Dennie and his threats, Louvinia Walton said.
"Momma began asking different relatives to stay with her because she was so nervous," she said.
As family, friends and neighbors gathered across from the murder scene, distraught relatives had to be restrained from entering the house. Five relatives, including Louvinia and Tyrone Walton, held onto their niece, Linda Haney, who said she wanted to get at the body of Terry Dennie.
The Rev. Eddie Shields Jr., pastor of nearby Evening Star M.B. Church, appeared shaken as he talked with police at the scene. The Walton and Dennie families were members of his church, he said.
"This is a time to come together, to be united," Shields told the crowd of several dozen relatives and friends. "This is not a time for violence, for hatred. We've seen enough of that."