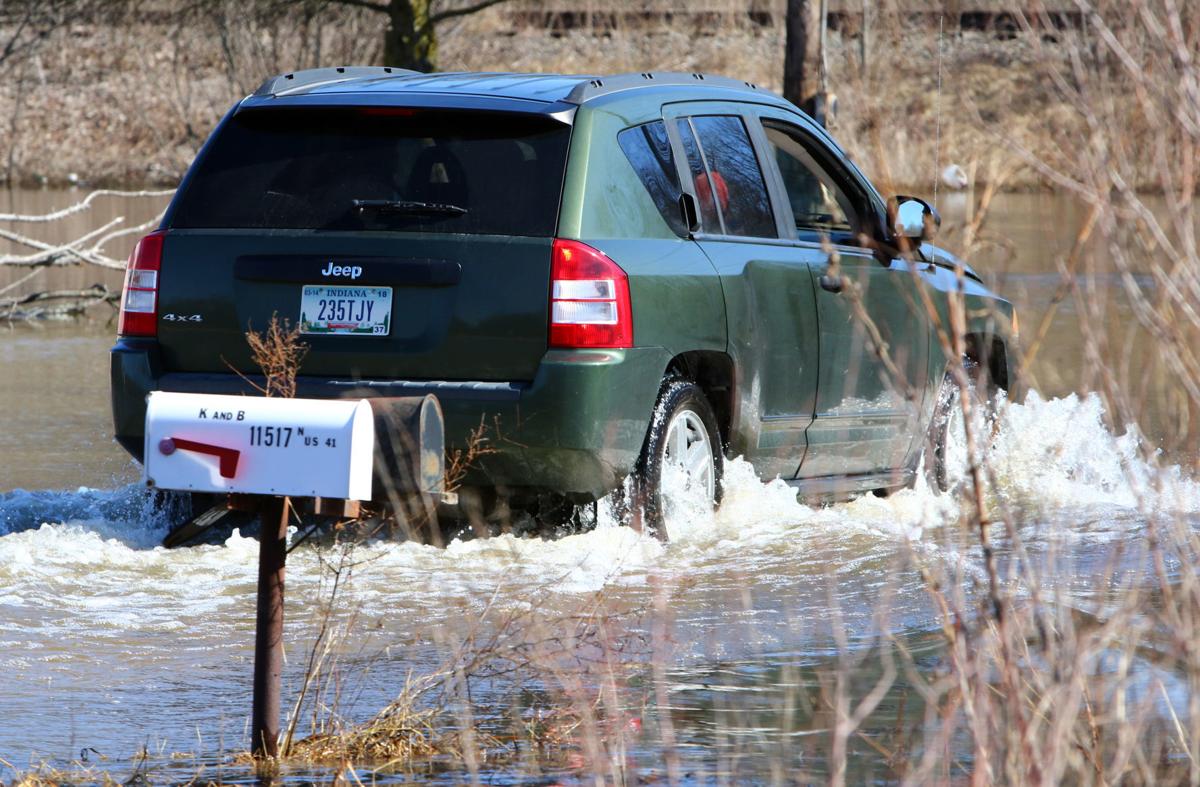 Lake Station, Hobart and residents along the Kankakee River continued to clean up Tuesday after last week's floods.
Lake Station residents packed a meeting Monday night at City Hall to learn about assistance options, talk with officials about damage and pick up donated items such as food and hygiene products.
About 75 homes in Lake Station were affected by flooding. Gas service to about 30 customers remained shut off Tuesday, a NIPSCO spokeswoman said.
Along the Kankakee River, water levels remained at or near record highs as residents kept a watchful eye on levees. NIPSCO said 26 customers along Ramsey Road in Jasper County remained without gas service.
In Hobart, public works and parks department crews worked to clean up debris and pick up property damaged by floodwaters.
"Document, document, document," said Bob Fulton, assistant to Hobart's mayor. "Inventory what you've lost. Get pictures of it. Go to the website and fill out the form."
Homeowners, renters, businesses and private nonprofit organizations with uninsured damage caused by severe storms and flooding starting on or after Feb. 15 can report damage at bit.ly/2018rainfall.
Residents who don't have access to computers should go to Lake County public library branches for help, Fulton said. 
Filling out the form will help emergency management officials determine the scale of damage and work with the federal government. Indiana Gov. Eric Holcomb has declared an emergency for 22 counties, including Lake and Jasper, St. Joseph and Starke.
A meeting for residents in far Lake County affected by flooding has been scheduled for March 9, Lake County Commissioner Jerry Tippy said as he and other officials headed into a meeting with the Indiana Department of Homeland Security.
Tippy said he planned to release more information after the meeting.
Last week's flooding was unusual, Fulton said. 
"It wasn't the biggest rainstorm we've ever had," he said. Rather, a combination of factors created a perfect storm.
Hobart officials watched early one morning last week as a section of Deep River rose 3 feet in a half hour, he said. An unprecedented amount of water came down Duck Creek, leading to the closure of Fifth Street. Wisconsin Street, near the confluence of Deep River and Turkey Creek, also had to be closed.
"When you have that kind of rush of water coming all at once, all sorts of things are going to happen," Fulton said. "It was just like 100 percent runoff. We had all that snow and all that rain, and it had nowhere to go."
Some residents who had water in basements also experienced sewer backups, Fulton said. Those residents should check to see if their insurance policy might cover the damage. The Lake County Economic Development Department might also have some emergency funds for residents to repair damage caused by "an act of God."
It's illegal, but some property owners route water from sump pumps and downspouts into sanitary sewers, Fulton said. Those property owners may not flood, but routing water that way causes problems for their neighbors, he said.
Hobart employees eventually will need to remove debris, including entire trees, from between the Lake George dam and bridge, Fulton said. Workers with chainsaws will need to enter the water, but the flow is still too high for them to safely do that.
The city also plans to thoroughly inspect the dam. The Lake County Highway Department handles bridge inspections, Fulton said.
Ramsey's Landing levee fix planned
Jasper County officials on Tuesday were moving in equipment and supplies to the levee at Ramsey's Landing in Jasper County, with plans to make temporary repairs on Wednesday, according to Jody Melton, executive director of the Kankakee River Basin Commission.
The Kankakee River still was running south into Jasper County farm fields, he said. Before any repairs can be made, officials must build a temporary road with large stones just to access the site, Melton said. 
"They're going to try to close that levee tomorrow because there's water running right through that hole," Melton said. 
After the levee at Ramsey's Landing broke, even more water filled the fields around a little white house where Gianna Kallemeyn, her husband, Matt, and their 6-month-old daughter live. The house sits just south of the river, along U.S. 321.
The house has been surrounded by water for about a week, but the flooded basement is unfinished and the upstairs is dry, Kallemeyn said.
Matt Kallemeyn has been driving a small boat down the driveway to get to his truck, which is parked closer to the road, she said.
Jasper County sheriff's officers stopped by Monday to check on the family, but they're doing OK, she said. They packed emergency bags just in case.
Kallemeyn said her family rents from a member of their church, who farms the 200 acres around the house. Their landlord grew up on the property and used to take a boat to his vehicle during floods, but even the landlord has never seen the water so high.
"We look like we're in pretty bad shape back here," Kallemeyn said, but she worried about residents at Ramsey's Landing, who are closer to the rushing river water.
"Hopefully, this water has someplace to go sometime soon," she said.