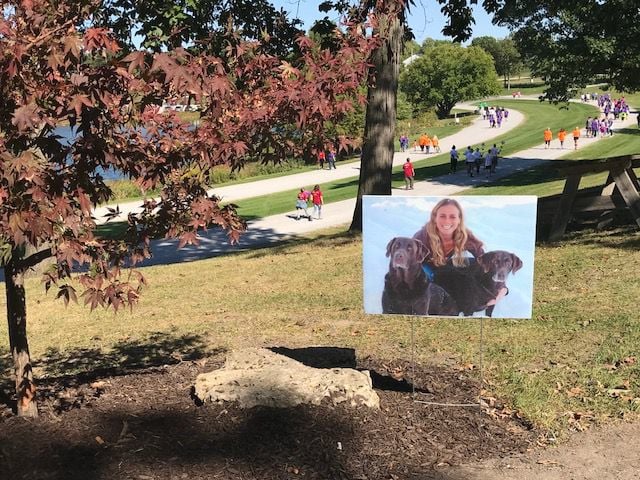 A yearly fundraiser to honor a Cedar Lake native killed in the line of duty while a trainer at SeaWorld will be held Sept. 22 in Crown Point.
The ninth annual Dawn Brancheau Foundation Dream Big Walk will be a scenic, two-mile walk through the Lake County Fairgrounds, 889 S. Court St. There will be community service, an animal presentation by SeaWorld Orlando, family fun games, and a picnic dinner.
The Dawn Brancheau Foundation is dedicated to improving the lives of children and animals in need, inspiring people to follow their dreams and promoting the importance of community service. Brancheau, who grew up in Cedar Lake and attended Andrean High School in Merrillville, was killed by an orca during a 2010 show at SeaWorld Orlando, where she had been a trainer for 15 years.
The event kicks off with registration, T-shirt pick up, an animal presentation and onsite community service projects from 1:30 to 3 p.m., followed by welcoming remarks and the walk at 3 p.m. and a picnic celebration dinner at 4 p.m. Fees, which include an event T-shirt, are $25 for adults and $10 for youth 17 years old and younger.
Proceeds will benefit Boys & Girls Club of Cedar Lake, South Lake Sailing School, the Lake County Fairgrounds, St. Jude House, Nazareth Home, Sojourner Truth House, Mercy Home for Boys and Girls, Matanya's Hope, Horizons for Youth, South Suburban Family Shelter, Roseland Christian Ministries, Savior Children Foundation, All God's Children, South Suburban Humane Society, 4 Paw Sake Canine Rescue and the Dream Big Scholarship at Andrean High School.
Dogs are welcome but must be kept on a leash. Strollers and baby joggers also are welcome.