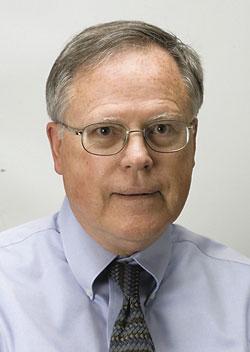 East Chicago resident. He and his wife, Sylvia, have two children: Richard and Sioban. Bachelor's degree in philosophy from St. Mary of the Lake University. Master's degree in urban studies from Loyola University. Law degree from Northwestern University. Doctorate of Ministry degree from Catholic Theological Union in Hyde Park. Employed by City of East Chicago. Member of St. Patrick Church in East Chicago. Enjoys reading, playing golf and going to baseball games.
Accomplishments: Richard Morrisroe was recently named Citizen of the Year by East Chicago Noon Lions Club. He was recognized for his community service, both past and present, along with work done in Alabama in the 1960s; Morrisroe was shot and almost killed after a civil rights demonstration. "I was surprised," he said. "I had been asked to go to their dinner with my wife and was surprised to find that I wasn't simply going to dinner." Morrisroe is active in community organizations including Inter Faith and United Citizens. At church he is a member of the parish life committee and serves as a lector and Eucharistic minister. He is the East Chicago city planner and teaches part time in the religious studies department at Calumet College of St. Joseph. In the past, Morrisroe was very involved in the East Chicago chapters of NAACP and Exchange Club as well as the Chicago chapter of Catholic Inter Racial Council. He also participated in the Leadership Northwest Indiana program.
Personal hero: "My longtime friend, David James, who has been a role model for many, many years. And my family."
What I read: "Usually history - history of the civil rights movement and of the Civil War."
Advice: "Be sensitive to the people around you because they have a lot to give, and keep on hoping."
How to get involved: Contact a local Lions Club to inquire about membership and its service projects.
People might be surprised to know: "In my youth I was a Catholic priest for eight years."