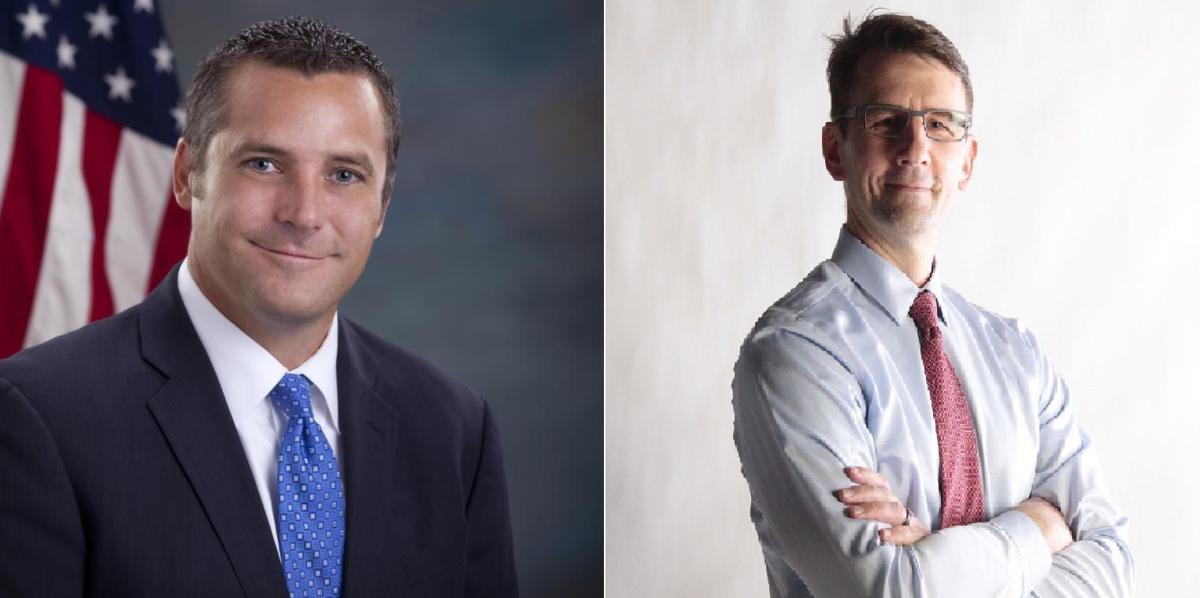 HAMMOND — Buckle up, Northwest Indiana voters — you're already on board for a wild election.
In the race are Hammond Mayor Thomas McDermott Jr., who already had been eyeing a Democratic primary challenge to the Region's long-serving congressman, and North Township Trustee Frank J. Mrvan.
Neither wasted any time in trying to distinguish himself from each other, and, to some extent, from Visclosky.
McDermott, 50, said he's running to change Congress and the hyperpartisanship that he said is causing the national legislature to be "dysfunctional," "ineffective" and "not good for America."
"We're the best country in the world and we better start acting like it," McDermott said. "Washington D.C. is broken. They need people like me because I'll go in there and try to fix it."
The four-term Hammond mayor, who won reelection to a fifth term Tuesday, said he would model his House service on the bipartisan, problem-solving example set by former U.S. Sen. Joe Donnelly, D-Ind.
Now that our local elections are over, and Congressman Pete has announced his intentions to not seek re-election, I want everyone to know that I am a candidate for this office in 2020, and that I intend to be Northwest Indiana's next Congressman.#MayorTomforCD1

— Thomas McDermott (@tommcdermottjr) November 6, 2019
"Just because I'm part of the Democratic Party doesn't mean I can't work with the other side. I will. I want to work with people on the other side. I want to change the culture in Washington D.C.," McDermott said.
"I don't want to go there and just investigate and try to bring down the president, whoever the president is. It may be a Democrat, it may be a Republican, I want to support the president and get stuff done."
Specifically, McDermott said he is "100%" committed to continuing Visclosky's efforts to secure federal funding for the expansion of the South Shore Line from Hammond to Dyer in west Lake County, and the double-tracking of the existing commuter rail line between Gary and Michigan City.
He said he'd also try to take the Region's rail connection to high-wage Chicago jobs even further by extending the West Lake corridor south to Lowell and constructing a spur off the main line to Valparaiso.
"I'm going to fight for the South Shore," McDermott said. "It's a project that's well down the tracks already and I'm going to jump on board where Congressman Pete left off."
Mrvan envisions similarly carrying on a top Visclosky priority if he's elected to the U.S. House: supporting and protecting organized labor in Northwest Indiana, particularly in the steel industry, as well as aiding other Region residents in need.
The 14-year township trustee said he excels at bringing people together in North Township, which covers Hammond, Whiting, East Chicago, Highland and Munster, and wants to do the same for all residents of the 1st Congressional District.
"I've looked in the eyes of people who don't know where to turn when they lose employment, and I've helped them get through those moments," Mrvan said.
He acknowledged in Congress he generally would be removed from the type of direct assistance he now provides.
But Mrvan said in Washington he could ensure Northwest Indiana continues to have a good economy, along with advancing transformative projects giving people more reasons to move to or stay in the Region, such as the South Shore Line.
"Ultimately, we want to be able to provide the greatest amount of mass transportation to be able to get to the second or third largest economy in the world — Chicago," Mrvan said. "We also have to look at public transportation as far as buses to get people to the train."
"All that has to have a vision, and you have to be able work with all communities and be able to know what their vision is and their strategic plans."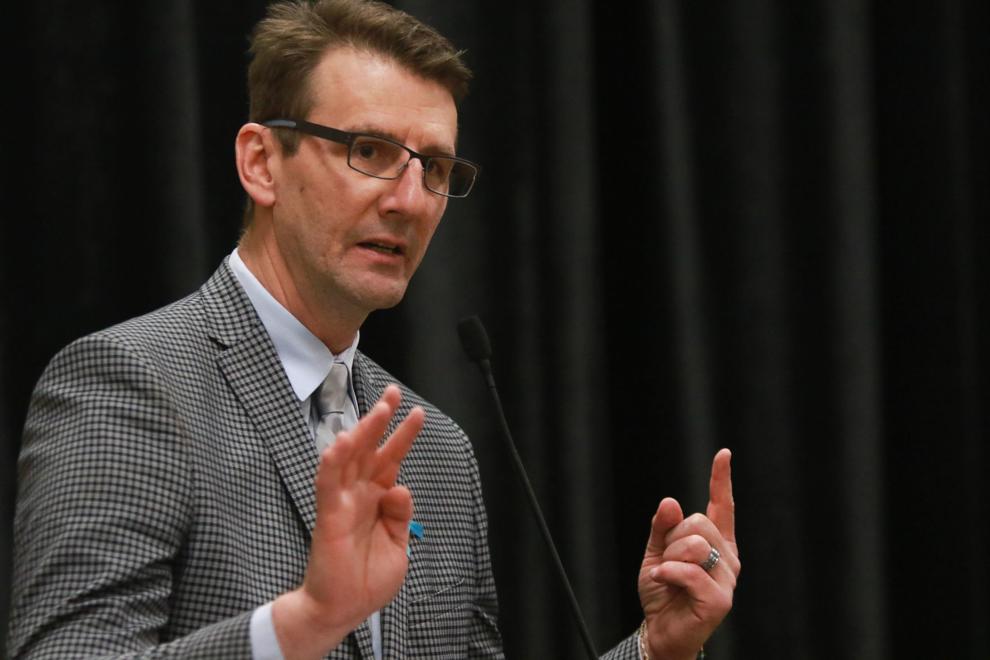 He said that's a different approach than McDermott, whose combative style occasionally has been known to rub people the wrong way.
Mrvan, 50, said his other priorities in the House include ensuring economic stability, promoting good jobs, supporting quality education, funding school safety initiatives and impeaching President Donald Trump.
"Everything that I've read and researched, I believe that impeachment is the total process," Mrvan said. "The concept that it is going to stall progress in Congress, they really haven't gotten anything done anyway over the last three or four years. So I think that's a myth."
McDermott almost certainly enters the contest as the front-runner given his preparation toward challenging Visclosky in the primary; a fact Mrvan admitted in describing the campaign as a "David vs. Goliath" scenario.
At the same time, Mrvan said anything can happen when there's a race with no incumbent, and this is the first open seat election in the 1st Congressional District since Visclosky won in 1984.
"We're all starting fresh," Mrvan said. "So everyone has to build upon the relationships that they have, hopefully strengthen them, and be able to move on upward and onward."
"This is something I have always wanted to do. I have prepared myself my entire career by caring about people, by looking out for children, by being there when the unions were on strikes. There are multiple ways that I have proven that I care about our district."
McDermott said he's confident the plans he made to launch a primary challenge to Visclosky, including a campaign logo that he posted online Wednesday and an established campaign headquarters in Hammond, will give him the momentum needed to prevail against anyone who enters the race.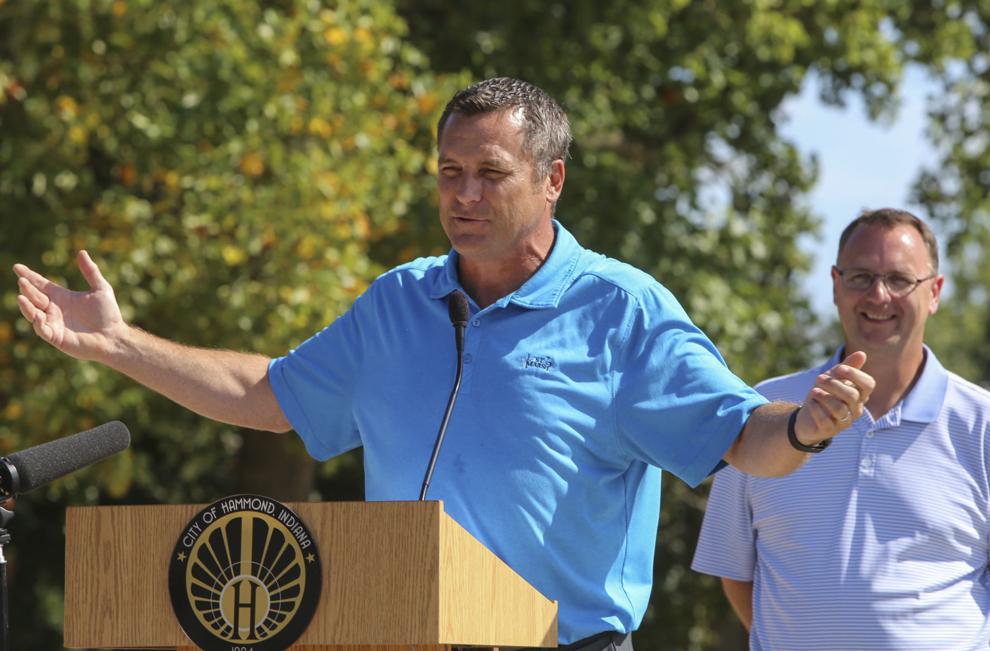 "I'm way ahead of the game as far as any other opponents that are going to run against me," McDermott said.
"It was the worst-kept secret in Northwest Indiana that I was planning to run. I wanted to run against Pete because I think I would have beat him. But obviously, with him not running, it's a totally different race now."
It's too soon to say how many other candidates will compete to represent the district, which includes all of Lake County, Porter County, and western LaPorte County.
Valparaiso lawyer Jim Harper, the 2018 Democratic secretary of state nominee, said he's "strongly considering" making the race.
"It's obviously a really important decision that our Region is going to make and so I'm going to take a little time to think about it," Harper said.
State Rep. Mara Candelaria Reardon, D-Munster, who once worked in Visclosky's district office, also is eyeing a campaign.
"Continuing to serve my community at the national level would certainly be a privilege," Candelaria Reardon said. "Congressman Visclosky is not easily replaced, and, as such, a decision to run would take much thought and discussion with family and friends."
In Gary, state Rep. Ragen Hatcher, who previously announced a bid to succeed Democratic gubernatorial candidate Eddie Melton in the Indiana Senate, said she's now also considering a congressional run.
"All options are on the table," Hatcher said.
While the 1st District is heavily Democratic — it last was represented by a Republican in 1931 — the Region potentially could see an experienced Republican candidate also run next year, since he or she won't have to compete against Visclosky.
According to the secretary of state, filing for the race opens Jan. 8 and closes Feb. 7. The primary election is May 5, 2020.
Election Day: Complete Region results
Lake County results
| Candidates | Total |
| --- | --- |
| PRECINCTS REPORTING | 301/301 |
| CEDAR LAKE | |
| CLERK-TREASURER | |
| Jennifer N. Sandberg (R) | 1,069 |
| WARD 2 | |
| John C. Foreman (R) | 802 |
| Steven Rudzinski (I) | 513 |
| WARD 4 | |
| Ralph J. Miller (R) | 1,055 |
| WARD 6 | |
| Colleen D. Schieben (R) | 1,021 |
| WARD 7 | |
| Mary Joan Dickson (D) | 710 |
| Richard (Rick) S. Sharpe (R) | 713 |
| CROWN POINT | |
| MAYOR | |
| David D. F. Uran (D) | 4,543 |
| Kristie Dressel (R) | 1,254 |
| CLERK-TREASURER | |
| Shelli Vandenburgh (D) | 2,577 |
| Dave Benson (R) | 3,214 |
| CITY JUDGE | |
| Casey J. McCloskey (D) | 2,285 |
| Kent A. Jeffirs (R) | 3,358 |
| COUNCIL AT LARGE (2) | |
| Zack Bryan (D) | 2,983 |
| Scott David Evorik (R) | 3,077 |
| James Crook (R) | 2,856 |
| DISTRICT 1 | |
| Chad J. Jeffries (D) | 742 |
| Crystal Cliborne (R) | 378 |
| DISTRICT 2 | |
| Dawn Stokes (D) | 647 |
| Robert Clemons (R) | 592 |
| DISTRICT 3 | |
| Andrew S. Kyres (D) | 542 |
| DISTRICT 4 | |
| Tina Stath (D) | 575 |
| Laura Sauerman (R) | 634 |
| DISTRICT 5 | |
| James A. Myers (D) | 614 |
| Carol Drasga (R) | 783 |
| DYER | |
| CLERK-TREASURER | |
| Barb Bonner (D) | 1,110 |
| Debbie J. Astor (R) | 1,158 |
| WARD 1 | |
| Joseph (Joe) Cinko (D) | 1,052 |
| Robert (Bob) Starkey (R) | 1,219 |
| WARD 3 | |
| Conne Trepton (D) | 1,040 |
| Alan Brooks (R) | 1,227 |
| EAST CHICAGO | |
| MAYOR | |
| Anthony Copeland (D) | 1,708 |
| Arthur Santos (R) | 152 |
| CITY CLERK | |
| Adrian Santos (D) | 1,760 |
| JUDGE OF THE CITY COURT | |
| Sonia Morris (D) | 1,777 |
| COUNCIL AT LARGE (3) | |
| Kenny (Coach) Monroe (D) | 1,078 |
| Emiliano (Jr.) Perez (D) | 948 |
| Dwayne (Tuss) Rancifer Jr. (D) | 1,041 |
| DISITRICT 1 | |
| Monica Guzman Gonzalez (D) | 226 |
| DISTRICT 2 | |
| Lenny Franciski (D) | 257 |
| DISTRICT 3 | |
| Terence (Terry) Hill (D) | 231 |
| DISTRICT 4 | |
| Stacy Dixon-Winfield (D) | 498 |
| DISTRICT 5 | |
| Robert Garcia (D) | 206 |
| DISTRICT 6 | |
| Gilda Orange (D) | 339 |
| GARY | |
| MAYOR | |
| Jerome A. Prince (D) | 6,100 |
| Write-in | 30 |
| CLERK | |
| Suzette Raggs (D) | 5,965 |
| JUDGE OF THE CITY COURT | |
| Deidre L. Monroe (D) | 5,941 |
| COUNCIL AT LARGE (3) | |
| Mike Brown (D) | 4,542 |
| Clorius L. Lay (D) | 3,684 |
| Ronald G. (Ron) Brewer Sr. (D) | 3,863 |
| Willie L. Miller (R) | 1,640 |
| DISTRICT 1 | |
| William G. Godwin (D) | 1,298 |
| DISTRICT 2 | |
| Cozey Weatherspoon (D) | 963 |
| DISTRICT 3 | |
| Mary Brown (D) | 1,014 |
| DISTRICT 4 | |
| Tai Adkins (D) | 1,174 |
| DISTRICT 5 | |
| Linda Barnes-Caldwell (D) | 683 |
| DISTRICT 6 | |
| Dwight A. (Twin) Williams (D) | 824 |
| GRIFFITH | |
| CLERK-TREASURER | |
| Gina Smith (R) | 1,079 |
| WARD 1 | |
| Jim Marker (R) | 1,081 |
| WARD 2 | |
| Stephanee Asche (D) | 559 |
| Larry Ballah (R) | 897 |
| WARD 3 | |
| Rick Ryfa (R) | 1,157 |
| WARD 4 | |
| Melissa Robbins (R) | 1,094 |
| WARD 5 | |
| Tony F. Hobson (R) | 1,093 |
| HAMMOND | |
| MAYOR | |
| Thomas M. McDermott Jr. (D) | 4,631 |
| CLERK | |
| Robert J. Golec (D) | 4,526 |
| COUNCIL AT LARGE (3) | |
| Daniel Spitale (D) | 3,496 |
| Janet Venecz (D) | 3,397 |
| Katrina D. Alexander (D) | 3,550 |
| Charles B. Kallas (R) | 1,687 |
| DISTRICT 1 | |
| Mark Kalwinski (D) | 734 |
| DISTRICT 2 | |
| Pedro (Pete) Torres (D) | 328 |
| DISTRICT 3 | |
| Barry Tyler Jr. (D) | 883 |
| Jeffrey E. MacDonald (R) | 90 |
| DISTRICT 4 | |
| William J. Emerson Sr. (D) | 843 |
| DISTRICT 5 | |
| Dave Woerpel (D) | 924 |
| DISTRICT 6 | |
| Scott M. Rakos (D) | 798 |
| HIGHLAND | |
| CLERK-TREASURER | |
| Michael W. Griffin (D) | 2,597 |
| WARD 1 | |
| Bernie Zemen (D) | 2,180 |
| WARD 2 | |
| Mark Herak (D) | 2,239 |
| WARD 3 | |
| Martin Delrio (D) | 1,383 |
| Mark Schocke (R) | 2,286 |
| WARD 4 | |
| Steven Wagner (D) | 1,637 |
| Thomas (Tom) Black (R) | 1,926 |
| WARD 5 | |
| Konnie Kuiper (D) | 1,779 |
| Roger Sheeman (R) | 1,814 |
| HOBART | |
| MAYOR | |
| Brian K. Snedecor (D) | 2,470 |
| CLERK-TREASURER | |
| Deborah A. Longer (D) | 2,290 |
| JUDGE OF THE CITY COURT | |
| William J. Longer (D) | 2,288 |
| COUNCIL AT LARGE (2) | |
| Dan Waldrop (D) | 1,891 |
| Matthew Claussen (D) | 1,770 |
| Joseph Conn (G) | 863 |
| DISTRICT 1 | |
| Mark A. Kopil (D) | 401 |
| DISTRICT 2 | |
| Josh Huddlestun (D) | 486 |
| DISTRICT 3 | |
| P. Lino Maggio | 537 |
| DISTRICT 4 | |
| David Vinzant (D) | 436 |
| DISTRICT 5 | |
| John G. Brezik (D) | 292 |
| Chris Wells (R) | 333 |
| LAKE STATION | |
| MAYOR | |
| Bill Carroll (D) | 1,020 |
| Cynthia Robbins (R) | 266 |
| CLERK-TREASURER | |
| Brenda Samuels (D) | 1,026 |
| JUDGE OF THE CITY COURT | |
| Josh Matejczyk (D) | 1,034 |
| COUNCIL AT LARGE (2) | |
| Jason L. Pedroza (D) | 718 |
| Dewey R. Lemley (D) | 703 |
| Randall Alexander Sr. (R) | 436 |
| DISTRICT 1 | |
| Neil M. Anderson (D) | 218 |
| Randall Alexander Jr. (R) | 84 |
| DISTRICT 2 | |
| Lisa Krebs (D) | 241 |
| DISTRICT 3 | |
| Fred Williams (D) | 184 |
| Kathy Caldell (R) | 71 |
| DISTRICT 4 | |
| Ericka Lynn Castillo (D) | 216 |
| DISTRICT 5 | |
| Rick Long (D) | 156 |
| LOWELL | |
| CLERK-TREASURER | |
| Judith Walters (D) | 583 |
| JUDGE | |
| Christopher A. Buckley (R) | 570 |
| WARD 1 | |
| Mike Gruszka (D) | 428 |
| Brandon Newcomb (R) | 416 |
| WARD 3 | |
| Will Farrellbegg (D) | 466 |
| Manny Frausto (R) | 379 |
| WARD 5 | |
| John M. Yelkich Jr. (D) | 421 |
| Joshua Henshilwood (R) | 414 |
| MERRILLVILLE | |
| WARD 5 | |
| Rick Bella (D) | 415 |
| Chrissy Barron (I) | 237 |
| WARD 7 | |
| Leonard White (D) | 157 |
| Keesha Hardaway (I) | 137 |
| MUNSTER | |
| CLERK-TREASURER | |
| Jennifer Pizzuto-Dean (D) | 1,984 |
| Wendy Mis (R) | 2,106 |
| WARD 1 | |
| Kenneth J. Schoon (D) | 2,250 |
| Richard J. Flahaven (R) | 1,867 |
| WARD 2 | |
| Lee Ann Mellon (R) | 2,617 |
| WARD 3 | |
| Charles (Chuck) Gardiner (R) | 2,561 |
| WARD 4 | |
| Steve Tulowitzki (D) | 2,387 |
| David B. Nellans (R) | 1,707 |
| WARD 5 | |
| Andy Koultourides (R) | 2,663 |
| NEW CHICAGO | |
| CLERK-TREASURER | |
| Lori (Newsom) Collmar (D) | 207 |
| Dorothy R. Zimmer (I) | 227 |
| WARD 1 | |
| Jimmy R. Gibson (D) | 295 |
| WARD 2 | |
| Pamela Richard (D) | 200 |
| David Anderson (I) | 226 |
| WARD 3 | |
| Sharon Szwedo (D) | 251 |
| Kenneth R. Collmar (I) | 176 |
| WARD 4 | |
| Tara L. Pelfrey (D) | 262 |
| Jamie Murga (I) | 159 |
| WARD 5 | |
| Brenda Swallow (D) | 311 |
| SCHERERVILLE | |
| CLERK-TREASURER | |
| Michael A. Troxell (D) | 2,312 |
| Mark Borst (R) | 2,053 |
| JUDGE OF THE TOWN COURT | |
| Randy Wyllie (D) | 2,740 |
| WARD 1 | |
| Robin (Miss Robin) Arvantis (D) | 2,244 |
| David Dejong (R) | 2,117 |
| WARD 3 | |
| Rob Guetzloff (D) | 2,257 |
| Peggi Calderaro (R) | 2,097 |
| WARD 5 | |
| Vanessa Welty (D) | 2,059 |
| Caleb S. Johnson (R) | 2,285 |
| SCHNEIDER | |
| CLERK-TREASURER | |
| Jenny Beier (R) | 34 |
| COUNCIL AT LARGE (3) | |
| Crista J. Stavros (D) | 33 |
| Steve Wilson (D) | 17 |
| Brenda L. Zink (D) | 4 |
| David Harris (R) | 38 |
| Jack Jeralds (R) | 34 |
| Cliff McKeethern (R) | 7 |
| ST. JOHN | |
| CLERK-TREASURER | |
| Bethany (Beth) Hernandez (R) | 2,213 |
| COUNCIL AT LARGE (2) | |
| Gina Fezler (D) | 635 |
| Richard (Rick) Thomas (D) | 496 |
| Bryan Blazak (R) | 1,839 |
| Wayne (Waterman) Pondinas (R) | 1,912 |
| WARD 1 | |
| Paul Panczuk (R) | 2,055 |
| WARD 2 | |
| Michael Schilling (R) | 2,157 |
| WINFIELD | |
| Clerk-Treasurer | |
| Rick Anderson (R) | 427 |
| COUNCIL AT LARGE (5) | |
| Bridget Baird (D) | 280 |
| Joe Mays (D) | 305 |
| Zack Beaver (R) | 354 |
| Gerald Stiener (R) | 353 |
| Jon Derwinski (R) | 366 |
| Timothy Clayton (R) | 409 |
| David M. Anderson (R) | 361 |
LaPorte County results
| Candidates | Total |
| --- | --- |
| PRECINCTS REPORTING | 47/47 |
| LAPORTE | |
| MAYOR | |
| Matt Wilhelm (D) | 489 |
| Tom Dermody (R) | 2,161 |
| CLERK-TREASURER | |
| Courtney Parthun (R) | 2,274 |
| COUNCIL WARD 1 | |
| David J. Schmidtt (D) | 129 |
| Julie West Schroeder (R) | 182 |
| COUNCIL WARD 2 | |
| Karyl Machek-Feikes (R) | 347 |
| COUNCIL WARD 3 | |
| Laura Cutler (D) | 395 |
| Cary Kirkham (R) | 223 |
| COUNCIL WARD 4 | |
| Roger A. Galloway (R) | 415 |
| COUNCIL WARD 5 | |
| Miles Fettinger (D) | 262 |
| Sarah Brown (R) | 424 |
| COUNCIL AT LARGE (2) | |
| Joseph (Joe) Mrozinske (D) | 1,137 |
| Robert M. O'Donnell (D) | 706 |
| Tim Franke (R) | 1,641 |
| Paul Vincent (R) | 1,339 |
| LONG BEACH | |
| CLERK-TREASURER | |
| Bill De Funiak (R) | 470 |
| TOWN COUNCIL (5) | |
| Mary Lou McFadden (D) | 358 |
| Thomas McDonald (R) | 319 |
| Mike Johnstone (R) | 315 |
| Kathleen Beeler (LBP) | 342 |
| Robert Lemay (LBP) | 349 |
| Nick Meyer (LBP) | 365 |
| Anita S. Remijas (LBP) | 330 |
| John Wall (LBP) | 345 |
| Jim Dehner (I) | 312 |
| John Kocher (I) | 361 |
| MICHIANA SHORES | |
| CLERK-TREASURER | |
| Joan M. Lewis (R) | 104 |
| TOWN COUNCIL (5) | |
| Alex Sprovtsoff (D) | 45 |
| Mike Lancioni (D) | 91 |
| Pamela (Pam) Dubie (D) | 81 |
| Daina M. Dumbrys (D) | 108 |
| Bob Uryga (D) | 35 |
| Rich Pliske (R) | 63 |
| Richard Young (R) | 65 |
| Jean V. Poulard (R) | 39 |
| Michael A. Martinez (R) | 77 |
| MICHIGAN CITY | |
| MAYOR | |
| Ron Meer (D) | 1,563 |
| Duane Parry (R) | 1,639 |
| Damon Carnes (I) | 1,467 |
| James T. LaRocco (I) | 821 |
| CITY CLERK | |
| Gale Neulieb (D) | 4,070 |
| COUNCIL WARD 1 | |
| Bryant Dabney (D) | 728 |
| COUNCIL WARD 2 | |
| Paul Pryzbylinski (D) | 582 |
| Alena Ursida (R) | 215 |
| COUNCIL WARD 3 | |
| Michael Mack (D) | 267 |
| Keith Devereaux (R) | 153 |
| COUNCIL WARD 4 | |
| Sean "Fitz" Fitzpatrick (D) | 619 |
| COUNCIL WARD 5 | |
| Tracie Y. Tillman (D) | 579 |
| Nathan Patrick (R) | 499 |
| COUNCIL WARD 6 | |
| Gene Simmons (D) | 653 |
| Dan Granquist (R) | 264 |
| Franklin O. Anderson (I) | 74 |
| COUNCIL AT LARGE (3) | |
| Angie Nelson Deuitch (D) | 2,916 |
| Donald C. Prybylinski (D) | 3,358 |
| Johnny Stimley (D) | 3,166 |
| William (Billy) Greene (R) | 2,308 |
Porter County results
PRECINCTS REPORTING
77/77
BEVERLY SHORES
CLERK-TREASURER
Ellen Hundt (D)
266
COUNCIL AT LARGE (5)
John M. Blackburn (D)
215
Susan H. Loeb (D)
216
Thomas Weber (D)
210
Geof Benson (D)
238
Matrona Malik (D)
137
Michael Ganz (R)
127
Carol A. Westbrook (I)
98
BURNS HARBOR
CLERK-TREASURER
Jane M. Jordan (D)
198
COUNCIL AT LARGE (5)
Eric Hull (D)
136
Nicholas Loving (D)
170
Raymond (Ray) Poparad (D)
139
Toni Biancardi (R)
153
Rosann Bozak (R)
154
Walter (Wally) Macchiarella (R)
71
James P. McGee (R)
76
CHESTERTON
CLERK-TREASURER
Stephanie Kuziela (R)
712
Courtney Udvare (D)
954
COUNCIL DISTRICT 1
Jim Ton
1,221
COUNCIL DISTRICT 2
Lloyd (Buck) Kittredge Jr. (R)
1,204
COUNCIL DISTRICT 3
Robert Allison (D)
1,214
COUNCIL DISTRICT 4
Sharon Darnell (D)
1,233
COUNCIL DISTRICT 5
Emerson Delany (R)
732
Jennifer L. Fisher (I)
876
HEBRON
CLERK-TREASURER
Jamie Uzelac (D)
337
COUNCIL AT LARGE (2)
Jeff Grogan (D)
170
Dave Peeler (D)
221
Todd P. Adamczyk (R)
241
Howard L. O'Connor (R)
152
COUNCIL DISTRICT 1
Justin Albright (R)
294
COUNCIL DISTRICT 2
Kevin T. Joseph (D)
233
Jonathan Peceny (R)
170
COUNCIL DISTRICT 3
John H. Spinks Jr. (D)
330
PORTAGE
MAYOR
Sue I. Lynch (D)
3,684
John Cannon (R)
3,324
CLERK-TREASURER
Nina Rivas (D)
4,026
Deborah Lee (R)
2,926
COUNCIL AT LARGE (2)
Ferdinand Alvarez (D)
3,485
Debbie Podgorski (D)
3,590
Austin Bonta (R)
3,036
Victoria Gresham (R)
2,447
COUNCIL DISTRICT 1
Gina Giese-Hurst (D)
723
Dennis M. Wells (R)
442
COUNCIL DISTRICT 2
Patrick Clem (D)
931
Michael C. Cooper (G)
473
COUNCIL DISTRICT 3
Scott Williams (D)
1,017
Antonio C. Gutierrez (R)
678
COUNCIL DISTRICT 4
Brian M. Gulley (D)
531
William P. Fekete (R)
501
COUNCIL DISTRICT 5
Collin W. Czilli (D)
1,274
PORTER
CLERK-TREASURER
Carol Pomeroy (R)
455
COUNCIL DISTRICT 1
Erik Wagner (D)
467
COUNCIL DISTRICT 2
Greg Stinson (D)
481
COUNCIL DISTRICT 3
William (Bill) Lopez (D)
461
COUNCIL DISTRICT 4
David Phillips (D)
326
Jim Burge (R)
276
COUNCIL DISTRICT 5
Brian Finley (R)
441
VALPARAISO
MAYOR
Bill Durnell (D)
3,885
Matthew R. Murphy (R)
4,399
CLERK-TREASURER
Erin Stojic (D)
3,695
Holly Taylor (R)
4,559
COUNCIL AT LARGE (2)
Todd Etzler (D)
3,451
Elizabeth (Liz) Wuerffel (D)
3,487
Evan Costas (R)
4,268
George Douglas (R)
4,219
COUNCIL DISTRICT 1
Diana Reed (D)
396
Holly Howe (R)
365
Susan (Sue) Brown (G)
69
COUNCIL DISTRICT 2
Robert (Bob) Cotton (D)
877
Tom Krueger (R)
672
COUNCIL DISTRICT 3
Drew Wenger (D)
948
Casey Schmidt (R)
1,037
COUNCIL DISTRICT 4
Angela Crossin (D)
986
Jack Pupillo (R)
1,234
COUNCIL DISTRICT 5
Gilles Charriere (D)
782
Peter M. Anderson (R)
871