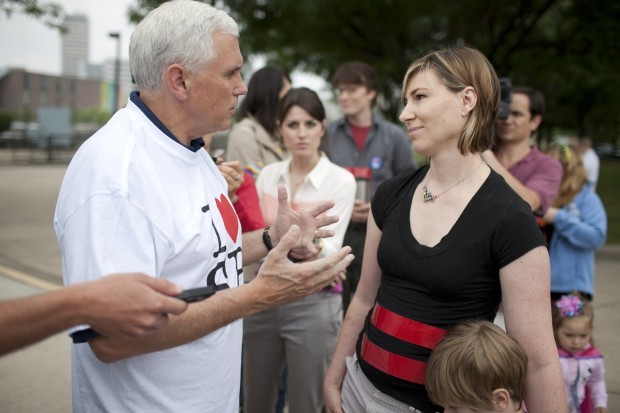 INDIANAPOLIS | A same-sex couple applying for a marriage license in Indiana, where gay marriage is expressly prohibited by law, could face up to three years in prison for submitting the application to their county clerk -- even if it's denied.
A 1997 state law declares it a Class D felony to submit false information on a marriage license application or lie about the physical condition, including gender, of a marriage license applicant.
Two men or two women seeking to marry inevitably would trigger the law, as the state's electronic marriage license application specifically designates "male applicant" and "female applicant" sections for gathering required background data.
It's not known how often Hoosiers, gay or straight, are prosecuted for submitting false information on a marriage license application.
In any case, the recently approved reform of the state's criminal code will, starting July 1, 2014, drop the crime to a Level 6 felony, punishable by a maximum of 18 months in prison and a potential fine of up to $10,000.
The law also penalizes a clergyman, judge, mayor, city clerk or town clerk-treasurer who solemnizes a marriage between two people of the same gender. Those who conduct a gay marriage ceremony can be charged with a Class B misdemeanor, punishable by up to 180 days in jail and a fine of up to $1,000.
Across the country, elected officials and ordinary Americans have been rethinking their stances on gay marriage following two U.S. Supreme Court rulings last month.
Those decisions require the federal government recognize gay marriages performed in states where they are legal and upheld a federal court ruling striking down a gay marriage ban in the California constitution.
Indiana is poised for a two-stage fight next year over whether to add its existing ban on gay marriage to its state Constitution.
The Republican-controlled General Assembly must decide during the January-March 2014 legislative session whether to submit the proposed constitutional amendment -- which also prohibits any form of civil unions -- to Hoosier voters for ratification.
If lawmakers approve the amendment, supported by Gov. Mike Pence and other top Republican leaders, the question of a constitutional gay marriage ban will be on the Nov. 4, 2014, general election ballot.
Also part of Indiana's law, a county clerk determined to ignore Indiana's gay marriage ban would face comparatively minimal punishment if he or she issued marriage licenses to same-sex couples.
The same law that makes it a felony to submit false information on a marriage license application declares it only a Class B misdemeanor for a clerk to issue a marriage license based on information the clerk knows is false.
But because the charge is not a felony the clerk would not face removal from office upon conviction -- assuming the county prosecutor chose to file charges in the first place.
Judges also are authorized to suspend without conditions any punishment for a misdemeanor conviction or may place the person on probation for up to one year.
Recent polls have found a majority of Hoosiers oppose a constitutional amendment prohibiting gay marriage and civil unions, which is similar to the California constitutional amendment that was found to infringe on the 14th Amendment requirement of equal treatment under the law.
The origin of California's constitutional amendment and the subsequent legalization of gay marriage in that state can be traced to a 2004 decision by San Francisco Mayor Gavin Newsom and other city officials, believing the state's prohibition on gay marriage violated the constitution's equal protection clause, to begin issuing marriage licenses to same-sex couples.
The California Supreme Court halted the issuance of marriage licenses to gay couples after a month, but legalized the marriages in a 2008 ruling that described marriage as a fundamental right that cannot lawfully be denied based on sexual orientation.