CROWN POINT — A good hard rain is enough to remind us that much of Lake County was built on wetlands.
Lake County has expended a lot of money and effort to keep storm surges at bay, but it never seems to be enough.
Earlier this month, Schererville residents gathered at the town's plan commission meeting to complain of past flooding of their backyards and basements — and question whether a 78-lot development planned nearby will bring a fresh deluge.
Schererville Town Council President Michael Troxell said new construction typically worries nearby residents who have experienced prior flooding issues, because their older subdivisions weren't designed for stormwater management, or the infrastructure has failed over the years. 
Troxell said Schererville's current subdivision ordinances are written to retain runoff within the new subdivision and channel it into the town's larger drainage system.
Elsewhere, however, rain regularly has been overwhelming stormwater retention systems. This happens often, for instance, in residential areas around 133rd and Ind. 55, a rural area south of Crown Point, flooding both the highway and local subdivision streets.
The problem doesn't involve any of Lake's regulated drains, and county drainage officials in the past have avoided meddling on private property.
But Lake County Surveyor Bill Emerson Jr. and the county drainage board recently took the unprecedented step of declaring Guy Addison's farm to be an obstruction to public drainage and will hire an excavating firm to open what Emerson says is a silted-in waterway across its 90 acres.
Addison asked the drainage board last month why they are blaming him and risking his property's resale value.
"That highway has been flooding for the last 50 years, and the problem has been compounded by (residential) construction on 133rd Avenue," Addison said.
"How much water is coming from that subdivision? Don't go in and devalue my property, because you want to drain a problem that was created by a subdivision."
Emerson said last month he respects Addison's concerns, but must balance them against the interests of Addison's neighbors.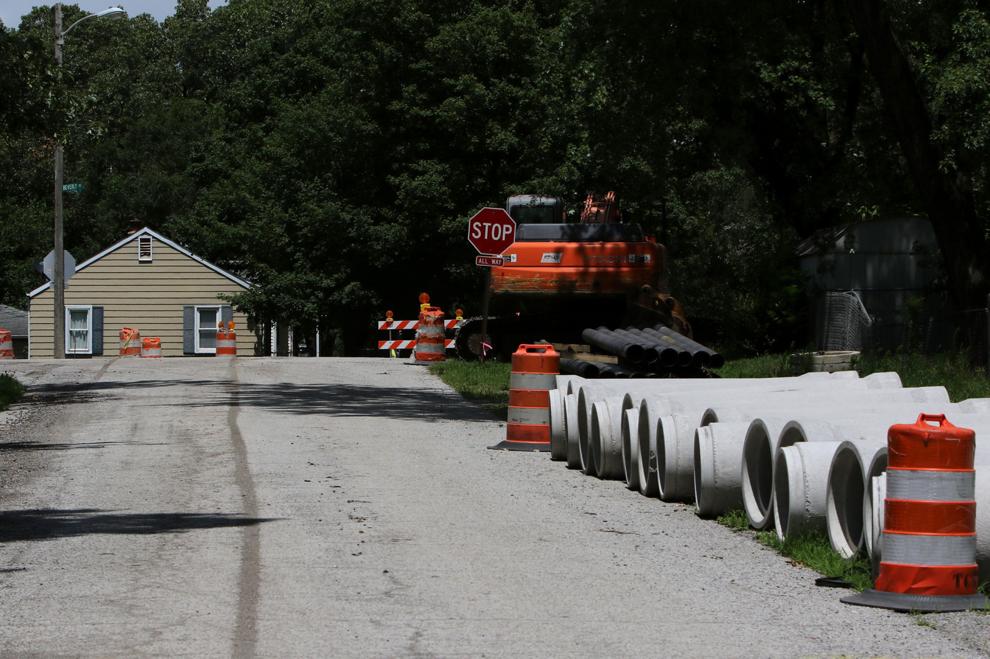 Water, water everywhere
The U.S. Field and Wildlife Service has designated 8 percent of Lake, 10 percent of Porter and 9 percent of LaPorte counties as wetlands, but it used to be much more.
The state's surveyors reported in 1816, the year Indiana became a state, that about half the surface area of Northwest Indiana ponded during six months of the year, according to the Indiana Department of Natural Resources.
John Bacone, a DNR division director, said prehistoric glaciers carved out a landform with few outlets for water to flow out, creating one of the largest interior wetland complexes in the country.
"It was one of the last parts of the state to be settled, because it was so wet. But once settlers figured out how to drain and plow the prairie, it became super-productive," he said.
The state sponsored the dredging and straightening of the Kankakee River as well as lesser waterways and drained its flooded landscape into open ditches and underground field tile networks to make agriculture possible.
In recent decades, however, farm fields have given way to roofed buildings, streets and other impervious surfaces that quickly concentrate stormwater into the lowest grounds.
Dan Repay, executive director of the Little Calumet River Basin Development Commission, said much of the Little Calumet River watershed in the northern third of the county was swamp until Gary, Griffith, Highland, Hammond and Munster built homes and streets over it.
"Now we look at the Little Calumet as the big storm sewer," Repay said.
Building levees, trapping beavers
Taxpayers recently were tapped for a quarter of a billion dollars to construct miles of levees to keep its high water away from more than thousands of businesses and homes.
Those levees were incomplete in September 2008 when a 200-year rain event caused the Little Calumet to crest at 20.16 feet. The Calumet Avenue and Interstate 80/94 interchange became a shallow lake, and surge waters caused millions of dollars in damage to more than 15,200 homes and businesses in Munster, Hammond, Schererville, Merrillville, Hobart, Lake Station and Gary.
Repay said the Little Calumet commission is now engaged in acquiring low-lying areas near and within the watershed to serve as detention preserves, like park and recreation acreage, that could hold stormwater outside the main channel until it could be released after the peak flow period.
County officials spend more than $1 million a year to maintain a century-old 600-mile system of waterways known as legal drains to channel flood waters away, largely from the suburbs and farmland of unincorporated south county.
That includes dredging out silt, removing fallen trees and relocating beavers and breaking up their dams.
Repay said, "Beavers clog up the streams. You have the wind knocking down trees. Communities and the county require retention ponds initially, but after the development is done, who watches it? If you don't ensure it works properly, you didn't solve anything."
St. John Town Manager Steve Kil said the complaints swell after heavy weather floods streets in his community and others.
"They get afraid when the detention basin near their house starts to fill up. But that is good news, because that is what it is designed to do — fill up and drain out slowly. I haven't seen one fail yet," Kil said.
Jeff Huet, Schererville public works director, said, "Streets are designed and shaped to hold water. If somebody calls us and says their street is flooding, I will ask if the water is threatening their house. They typically say no."
Milan Dakich, of Ross Township, is a 10-year veteran of the county drainage advisory committee, which hears complaints from landowners outside city and town limits who sometimes blame their municipal neighbors for overflowing waterways.
"Somehow, these communities really don't do a good job in planning," Dakich said. "They lay out a subdivision that is high, and they really don't have any accountability of where that water goes. So someone who has built a home at a lower level gets flooded."
Kil said of St. John officials, "We are intimately tuned in to drainage concerns and how they affect our downstream neighbors.
"A lot of our developments are large, so we look at stormwater management on a regional level and work with the Lake County surveyor on future proposals," he said. "I hope we can jointly take care of problems that aren't necessarily within our community, but around the community as well."