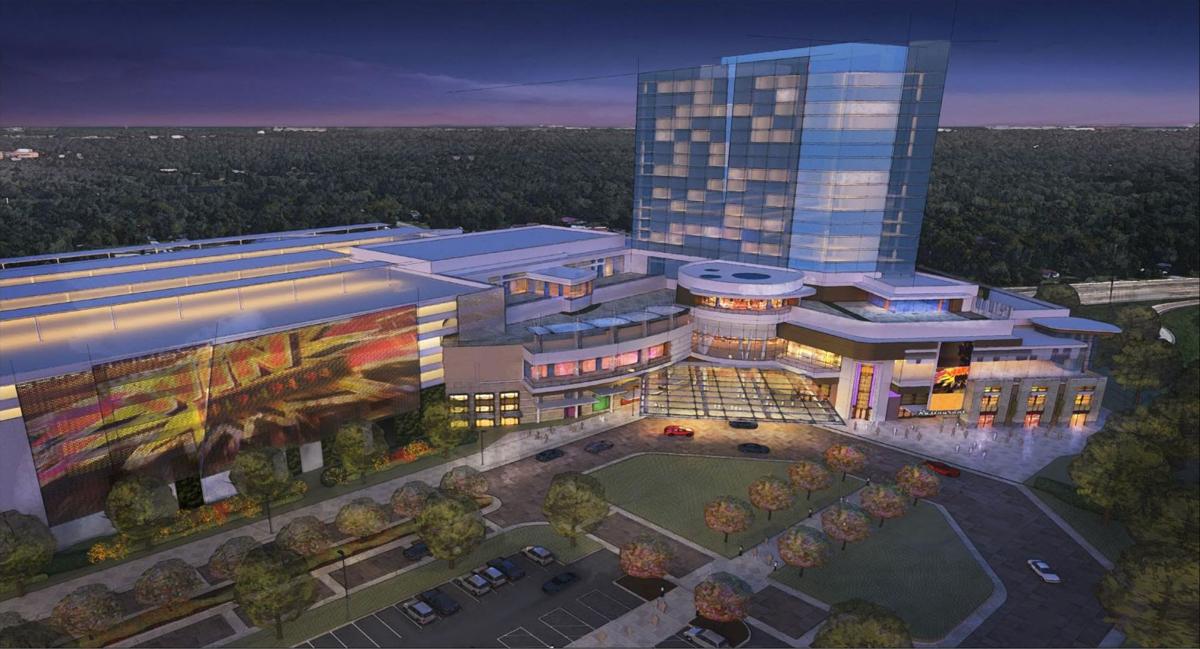 INDIANAPOLIS — Hoosier lawmakers gave final approval Wednesday to a transformational change in Indiana's gaming landscape by authorizing the relocation of Gary's Majestic Star casinos to a land-based site and legalizing sports wagering, including on mobile devices.
House Enrolled Act 1015 fulfills the long-sought dream of Gary leaders to move the city's casinos off Lake Michigan to a more accessible spot, likely adjacent to the Borman Expressway, and to open Buffington Harbor for redevelopment as an intermodal shipping and warehousing alternative to Chicago.
"Gaming is just one component of this — a very key and essential component," said state Sen. Eddie Melton, D-Gary. "But, I think, when we look from a longevity standpoint and for the future, the intermodal opportunity that is there is going to be vast."
Under the measure, which now goes to Republican Gov. Eric Holcomb, Spectacle Entertainment is required to pay a $20 million fee to the Indiana Gaming Commission as a condition of moving and consolidating its two Gary casino boats into a single inland facility.
Spectacle also must give up the second Gary gaming license as a condition of moving, and is subject to a second $20 million fee if it sells the new Gary casino to another operator within five years of receiving state regulatory approval to relocate.
Lawmakers deleted from the final measure a tentative plan to provide Spectacle tax credits worth $40 million in recognition of the value of the second Gary license it is giving up.
Instead, the company will be permitted until 2025 to continue dividing its revenue for state gaming tax purposes as though it still is two separate casinos.
The new Gary casino also can have up to 2,764 gambling games to match the maximum combined gaming positions offered at the two Majestic Star boats, instead of limiting the inland casino to the gaming capacity of a single boat.
In addition, the legislation requires Spectacle to invest at least $150 million in the new casino project, with at least 35% dedicated to non-gaming amenities.
The company also must continue employing all its workers at the time of the casino move, and to give hiring priority to any person laid-off from the East Chicago Ameristar Casino following the move.
"You never can predict how this process is going to turn out. But we're happy and grateful," said John Keeler, Spectacle general counsel. "I think it represents a great compromise among the competing interests."
Spectacle previously announced plans to construct a $300 million casino, including a 200-room boutique hotel, at a to-be-announced Gary site if state lawmakers approved the first-ever Indiana casino move away from a dockside location.
Keeler said once the measure is signed into law, the company plans to move quickly to make the land-based Gary casino a reality.
"There's a process that's laid out in the bill that we've got to follow," he said. "We've got to finance the new project. We've got to design it. We believe we have the land located to situate it. Now, it just gets down to the nuts and bolts of putting this thing together."
The legislation includes a "hold-harmless" provision for Hammond, East Chicago and Michigan City, so that if a new Gary casino grows Gary's gaming tax revenue beyond its 2019 level, and causes a drop in gaming tax collections for the other Region casino communities, Gary's growth would be used to restore those cities to their 2019 receipts for four years after the new casino opens.
Hammond Mayor Thomas McDermott Jr., who has aggressively campaigned against the legislation, shrugged off the hold-harmless component, since he believes it's unlikely to produce any revenue for his city.
"They're just trying to make us feel good by putting it in there," McDermott said.
Other provisions in the legislation include legalizing sports wagering at casinos and on mobile devices; authorizing a new, land-based casino in Terre Haute; reducing wagering tax rates for all Indiana casinos; and permitting live dealers at the central Indiana horse track casinos starting Jan. 1.
"Where we've gotten to is where a lot of people think is probably the right spot," said state Rep. Todd Huston, R-Fishers, the sponsor. "It was a group and uniform effort to get to this place, and I thank everybody."
The measure was approved 37-12 by the Senate, and passed the House, 59-36. Both chambers are Republican-controlled, though the final vote cut across party lines and largely was driven by local affection for, or opposition to, casino gambling.
The governor is likely to decide next week whether to sign the proposal into law or issue a veto.