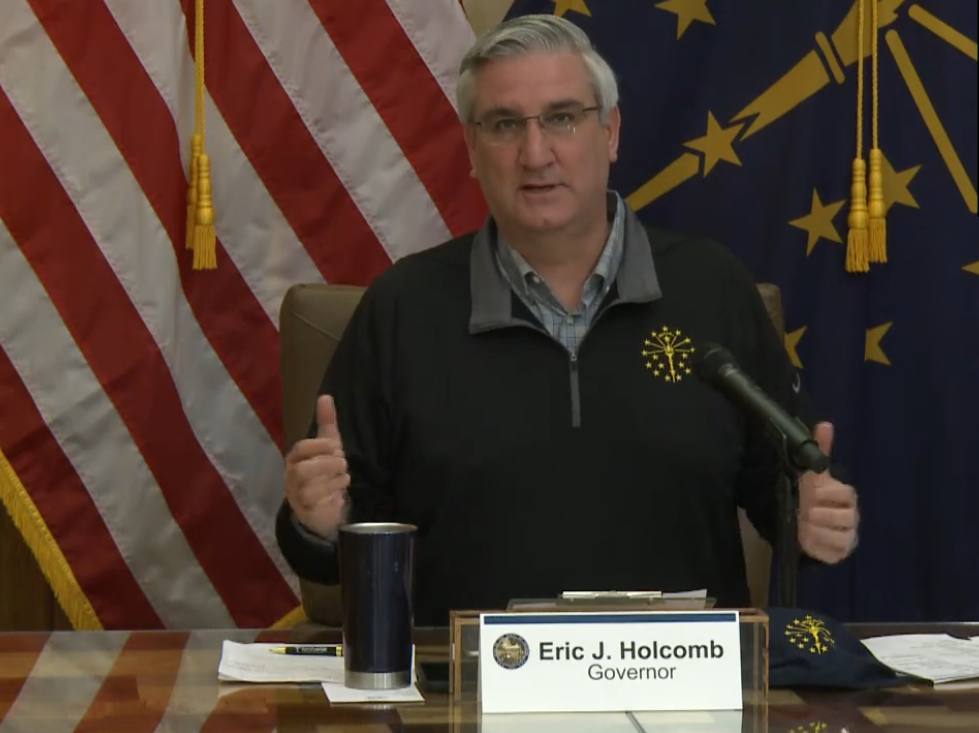 While some businesses and retailers in Porter and LaPorte counties opened on a limited basis Monday, the first entities due to restart operations in Lake County under the state's relaxed coronavirus guidelines will be religious institutions.
Gov. Eric Holcomb last week announced that all houses of worship may resume normal services, statewide, beginning Friday, even though the reopening of most other places likely to attract a crowd is gradually being rolled out about every three weeks through July 4.
The Republican governor said Monday he deliberately chose places of worship to go first because Holcomb believes leaders of religious entities will be most likely to look after their flock, and carefully follow the state's reopening and COVID-19 safety guidance.
"What we're going to do is learn from these steps that we're taking. We just thought a good place to start, or a good place to have a test or a control group, would be houses of worship," Holcomb said.
"If we can manage this, this gives us a lot of confidence in some other arenas as well."
According to Holcomb's "Back on Track Indiana" road map, the state is recommending — but not requiring — families be seated 6 feet apart at in-person religious services, hand sanitizer be available, masks be worn, frequently touched surfaces be cleaned regularly, and person-to-person contact be avoided for greetings, communion and collections.
The state also suggests people over age 65, and those with an underlying health condition, avoid in-person attendance at houses of worship, and instead continue to watch services online for the foreseeable future.
"When it came down to making the ultimate decision on places of worship, we said going forward that we would recommend allowing this now to see, as we look back 14 days or 21 days in terms of houses of worship, what effect it might have," Holcomb said.
Joe Heerens, the governor's general counsel, said unlike shopping malls and other retailers that currently only can operate at 50% capacity in most counties, there's no limit on the number of people who can attend a religious service — provided the social distancing and sanitation guidelines are followed.
But Heerens also was quick to note that receptions and other fellowship events at houses of worship still have to abide by the 25-person recommended cap on social gatherings.
"There is a difference between religious services and the public gathering aspect of it," Heerens said.
The governor acknowledged it will be difficult for the state to enforce the guidelines, even with the assistance of local law enforcement, if needed.
But Holcomb said the number of Indiana coronavirus cases at the end of the month, along with the number of critical care beds and ventilators in use by coronavirus patients, will reveal whether Hoosiers have followed the guidelines, and whether the state can continue relaxing its coronavirus prevention restrictions.
"People in our state, 6.7 million Hoosiers, will determine where we are in July and in June," Holcomb said. "The brunt of the responsibility falls on me and you. We'll have the most impact on where we are and how the virus spreads."
More testing
Dr. Lindsay Weaver, chief medical officer for the Indiana State Department of Health, announced the state's expanded COVID-19 testing program through OptumServe will begin Wednesday at 20 locations, including the National Guard armories in Valparaiso and LaPorte.
Hoosiers with coronavirus symptoms, who work in health care or another essential job, have an underlying health condition, or live with a person meeting one of those criteria can register for a free test online at LHI.care/covidtesting or by calling 888-634-1123.
After registering, participants will be assigned an appointment time and location.
An additional testing site is expected to be set up next week in Lake County. OptumServe has pledged to establish 50 testing locations statewide capable of testing 100,000 people a month.
A regularly updated map displaying information on all Indiana coronavirus testing sites is available online at: coronavirus.in.gov/2524.htm.