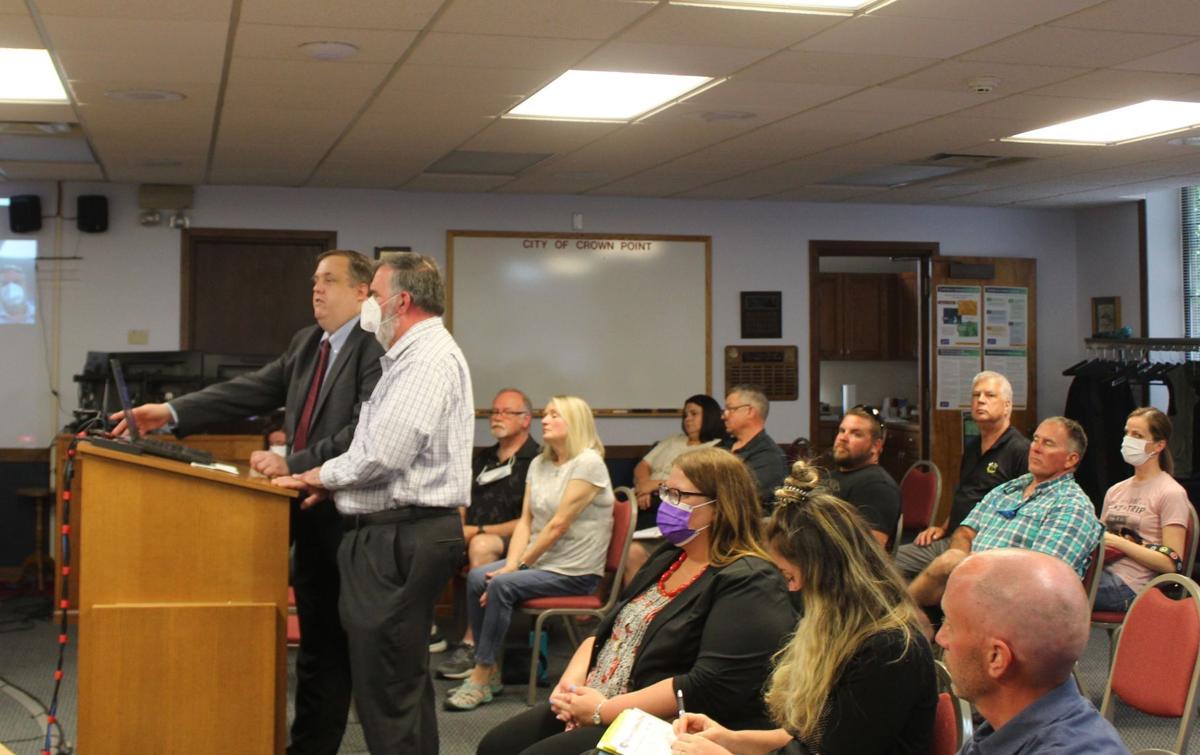 CROWN POINT — A request for a variance was once again deferred following a dispute over what the actual request was for. 
City officials shared similar concerns with Pinnacle Treatment Centers and CapGrow Holdings, LLC, following the Monday meeting of the Board of Zoning Appeals. 
After being delayed 28 minutes due to an executive session, the board again considered and deferred a request from Pinnacle and CapGrow to continue operating a group home in the 1700 block of East 106th Place in the Waterside Crossing subdivision.
Pinnacle Treatment Centers is not affiliated with Crown Point-based Pinnacle Hospital. 
Despite the board's agenda stating the request at hand was a variance to operate a group home, Mark Crandley, Indianapolis-based attorney for Pinnacle and CapGrow, said that wasn't the case. 
Crandley said the request at hand was for a variance to allow more than five unrelated individuals to occupy the residence, which began operating as a recovery home last year, according to neighbors and previous Times reporting.
As presented by Crandley and Tom Delegatto, executive director of Recovery Works, a Pinnacle treatment facility in Merrillville, the variance is to allow eight unrelated individuals reside in the four-bedroom home. 
The variance, Crandley said, is a narrow request, which is being battled out in federal court in two lawsuits, which have been consolidated for discovery and all pretrial proceedings and stayed to allow Pinnacle to pursue a variance with the BZA. 
The request at hand, Crandley emphasized, wasn't for a variance to operate a group home, noting the single-family home isn't characterized as a group home.
Delegatto later clarified to The Times the residence is a recovery home. 
More questions than answers
Board members pressed Delegatto and Crandley for more information about the recovery home Monday, including what happens if a sex offender undergoes treatment at the home; what if someone breaks a rule; why eight patients versus the five allowed under the variance; and if a profit is turned from those living in the home. 
Delegatto said to his knowledge, a sex offender has not undergone treatment at the home, but if a sexual predator did reside at the home, they would be asked to register. 
If someone breaks a house rule, the patient would be addressed individually, and "they may be put on a warning, or they may be dismissed, depending on the severity of the rule that they broke," Delegatto said. 
When it comes to the number of patients in any given home, Delegatto said Pinnacle looks for homes with at least four bedrooms when seeking a residence for a recovery home. 
"We'd like to be able to see at least eight residents in the home, that's the basic criteria," Delegatto said. 
He later added: "Because four or more. So if we found a five-bedroom house, we'd have 10. We have you some facilities across the state — you asked this question last time — across the country within our company, we have 24 recovery-house-type facilities. Some of those are homes that are six or eight beds, some of them are apartment complexes that are 30 beds. It just depends what is available to us and what the facilities can accommodate."
Delegatto later noted the men and women in the home are gone from about 8:30 a.m. to 4:30 p.m. seven days a week for treatment at Recovery Works in Merrillville.  
Delegatto said Pinnacle doesn't make money from those living in the home and added when able, residents pay a $75 fee weekly to stay in the home.
"Their insurance pays for their treatment at the building," Delegatto said, noting the fee doesn't apply for the housing. 
"It gives them an opportunity to extend their recovery and be in a safe living environment," Delegatto said of the home.
'We don't want this' 
Residents from Waterside Crossing again expressed concern over the home, with one resident referring to it as a "no-tell motel" and a "flophouse." 
"As a parent, I'm helpless. We are counting on our elected officials to protect us," parent and Waterside Crossing resident Alicia Henley said while crying.
Henley told board members her then-9-year-old daughter was catcalled by two men in the home while riding her bike last summer.
"What happens? It just takes one person to hurt someone, and that's all it takes. We're not willing to take that chance on our kids. So we're begging you, please send back an unfavorable recommendation," Henley said. "We don't want this in our neighborhood. We don't want this for our family. We don't want this for our community."
Despite more than an hour of back and forth between the parties, city officials said they still had more questions than answers. 
"I came here, and I'm more confused; I have more questions today than I did yesterday," said BZA Chairman Nick Nochevich.
Nochevich said later the board wants to ensure it "totally" understands how the facility will operate before putting the matter to a vote.
"You talk about curveballs, there's been more curveballs coming this way than your way. We're just trying to comprehend, and figure out what's the best situation here," he said. "I don't think we're in the position to want to discriminate against anyone. But we also want to be fair to the city and to the residents, and everybody that lives here that's abiding by certain rules as well."
He later added: "Quite honestly, it's been like a mystery on what goes on over there. And that's part of the problem. And getting these items are helping to better understand what you do, so that we can make the right decision."
The request was ultimately deferred, and the BZA will again consider the variance during a hybrid meeting at 7 p.m. June 1 to be held via Zoom and in person in the City Council Chambers at Crown Point City Hall, 101 N. East St.