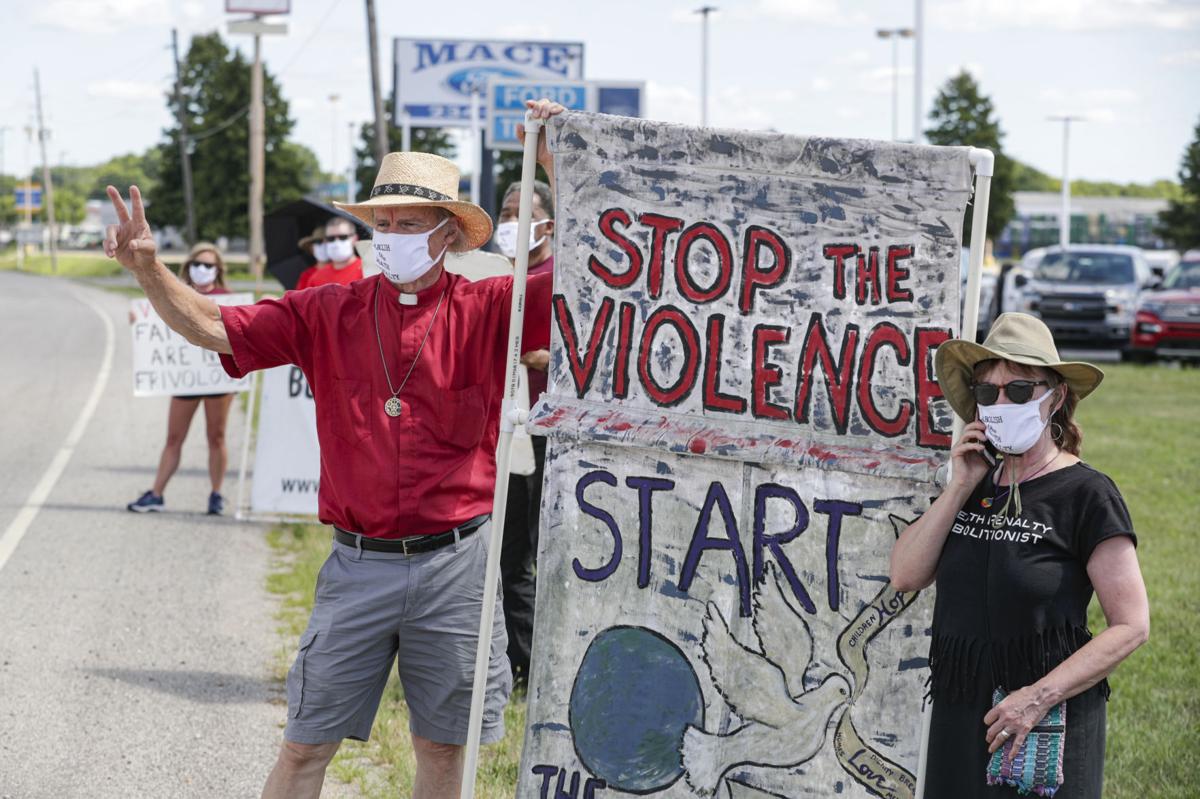 The Indiana chapter of the American Civil Liberties Union is accusing the Indiana State Police of unlawfully preventing death penalty opponents from demonstrating outside the federal prison in Terre Haute during recent executions.
The ACLU filed a lawsuit in Indianapolis Tuesday asking U.S. District Court Judge J.P. Hanlon, a Valparaiso University Law School graduate, to allow individuals and groups favoring abolition of the death penalty to stand vigil outside the prison gates, instead of a significant distance away from the facility housing the sole chamber for executing federal offenders sentenced to death.
According to the lawsuit, the Indiana State Police prevented some two dozen death penalty opponents from standing near a state highway adjacent to the Terre Haute prison complex gates in July when three men were executed — the first individuals put to death by the federal government in 17 years.
Instead, state police barricaded the roads near the prison, strictly limited access to the area, and compelled the death penalty demonstrators to gather near a car dealership parking lot approximately 1.8 miles away from the prison near busy U.S. Highway 41, the lawsuit claims.
"Protesting in the car lot on U.S. Highway 41 was not a satisfactory alternative as the protesters were not able to see the death chamber or even be close to the prison where they could stand in solemn vigil when the execution occurred," the lawsuit says.
The lawsuit asks Hanlon — appointed to the bench in 2018 by Republican President Donald Trump — to affirm the state police violated the plaintiffs' First Amendment rights, and to authorize death penalty foes to gather at the prison gates during the federal executions scheduled for August 26 and 28 and September 22 and 24.
"There is absolutely no justification for keeping plaintiffs' members and the individual plaintiffs this far from the entrance to the institution and doing so severely compromises their ability to express themselves and to express their opposition to the death penalty while in sight of the prison," the lawsuit says.
A telephonic status hearing on the ACLU lawsuit is scheduled for Wednesday before Magistrate Judge Debra McVicker Lynch.
The Indiana attorney general's office, which is representing the state police in the case, said it will "vigorously defend the interests of the state."
The state of Indiana separately maintains its own death chamber at the Indiana State Prison in Michigan City.
Eight men currently are incarcerated on the state's death row while their legal appeals or competency are pending, according to the Department of Correction.
The most recent execution conducted by Indiana was in 2009.